Twitterers showed love (back) to President Zuma's State of the Nation Address last night.
Twitter sentiment for SONA2013 started here…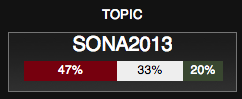 " width="242" class=" wp-image-5002 " height="99" />
SONA 2013: Total Sentiment as at 20H11 (Source: Twendz)
…And ended here.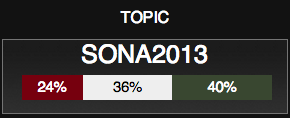 " width="232" class=" wp-image-5003 " height="94" />
SONA2013 Total Sentiment – 20H44 (Source: Twendz) 
The RED bar signifies negative sentiment, while the GREEN bar is for positive sentiment. Ignore the WHITE bar, which is made up of neutral sentiment. Notice how positive sentiment doubled to 40% by the end of the President's address? The simple explanation for the swing is that Zuma must have said things that Twitterers wanted to hear by the end of his speech. Question is, what did he say? More about it in my next post. 
However, according to Brandseye, SONA2012 registered more than 40,5K tweet mentions, while SONA2013 only got just over 10,5K mentions.
You can also read: The Twitterati took to #SONA2012 like wild fire
I shall be exploring possible reasons for the decline in SONA's Twitter mentions in my follow-up post, later today

.
ABOUT THIS BLOG | ABOUT THE BLOGGER | LATEST QUICK DIGI-TIP