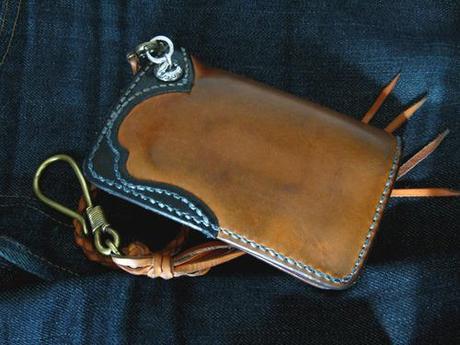 I don't know if I can still rightfully keep my blog's name after this post, but let me tell you about one of my wallets - the one I use when I'm wearing jeans. Back when commerce was still run by cold, hard cash and people had to go to stores to buy things, truckers and bikers kept wallets like this one in their back pockets. They were tethered to their owners with a chain so they wouldn't be accidentally left at diners or fall out during a bumpy motorcycle ride. At some point in the 1980s, they were picked up by Japanese brands (first Redmoon) and remade for the niche market of Americana enthusiasts in Asia. As the Japanese are wont to do, these reproductions had incredibly high-end details, such as handcarved, sterling silver conchos and intricate tooling designs. 
My wallet is made by The Flat Head, a Japanese brand principally known for their denim, though they produce jackets, shirts, and other men's accessories as well. The bulk of the piece is constructed from untreated harness leather, which originally came in this pale, natural color you see below, but eventually darkened to the beautiful, golden, honey brown you see above. All that was required was a few years worth of regular use and exposure to sunlight, and maybe some routine applications of Obenauf's Heavy Duty LP to keep the leather feeling supple. Additionally, the ring at the back is made from sterling silver, and the threads, which have been used to hand stitch the entire wallet, are made from intertwining strands of cow tendon. The interior is also lined with an exceptionally soft, yellow pigskin, giving the area where you'd actually store your cash a nice, smooth finish. 
I love my wallet, and find that it goes well with the kind of things I typically wear with jeans (e.g. leather jackets, motorcycle jackets, etc). My chiropractor hates it though. She noticed it one day and mentioned that I could really do damage to my hips from sitting on such a bulky thing. "Is there a reason why you always have to have it in your back pocket?" she asked. "Can't you get something slimmer, like a card case?"
What could I say? That keeping this in my back pocket helps develop the crucial indigo stains you see below? That those indigo stains give the surface some real visual depth and character? That the threads are made from cow tendon? That the wallet was handstitched in Japan? That I've put years into this wallet so it would develop this beautiful, golden patina? That although this ring prevents me from leaning too far back in my chair (for fear that it will puncture the seat's fabric), it's made from sterling silver? 
I, of course, said none of those things. I just nodded along like I would take her advice, but sheepishly still showed up the following week with the same wallet in my back pocket. She gave me a confused and disapproving look. 
Sometimes we suffer – both physically and socially – for fashion.