As a capital city, Yerevan is one of those places you sense is trying to redefine itself. Which is understandable given the turmoil the country of Armenia has been through during the last hundred years or so. With a holocaust near the start of last century, loss of land to neighbouring countries, an ongoing 'war' with Azerbaijan and the clenching and releasing of the Soviet iron fist, it's no wonder the country's largest populated city looks like it's trying to move on and put itself on the map.
Wandering around the city, it felt like we could have been in a European city with the tree-lined avenues and UK high street stores. English as a spoken language was prevalent, but there was still the question of whether we were Russian – a query that we had become used to in Georgia.
One of the most stunning features of the city is the 'Cascade', a symmetrical terraced structure that stretches up the hill, and can be accessed by outside steps or inside escalators. On each level, there are amazing statues and sculptures – all contemporary. Inside acts as an art gallery, and there were extremely modern installations, which we admired as we ascended the escalators.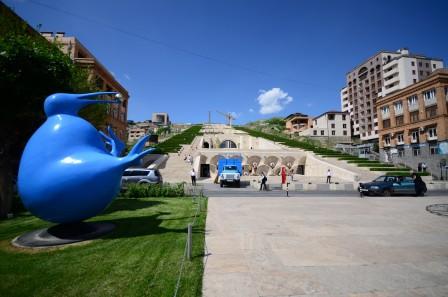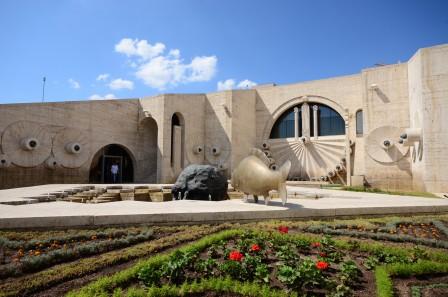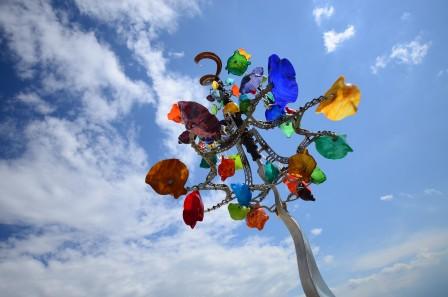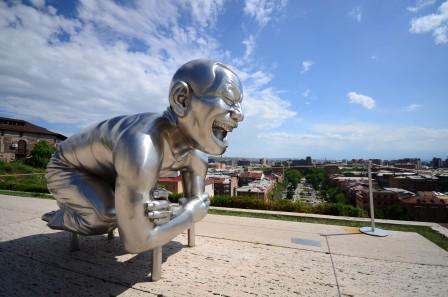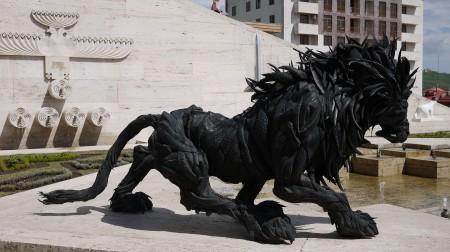 At the top of the Cascade, which is not quite finished, there is a large platform, providing spectacular views of the city. Further on and there was a memorial, and situated randomly next to it, a sculptural and art display with a tiny doll's house, comical cruise-liner and a variety of animals. We then walked through a somewhat forgotten amusement park and stumbled across Victory Park with its war museum with tanks and military vehicles, and the looming statue of Mother Armenia. There was also another viewing platform with even greater views of the city surroundings and the incredible Mount Ararat.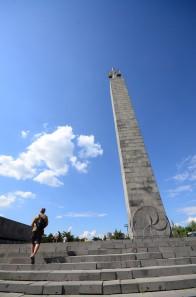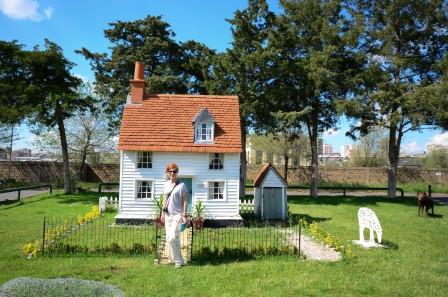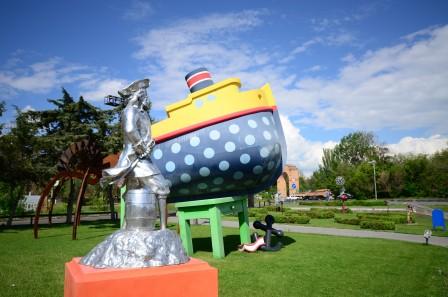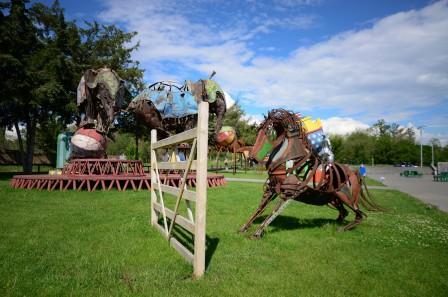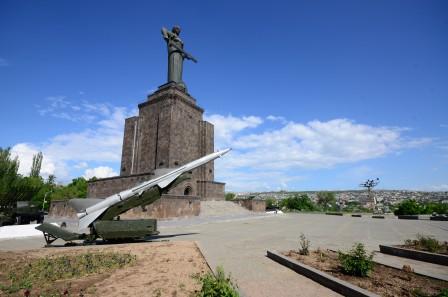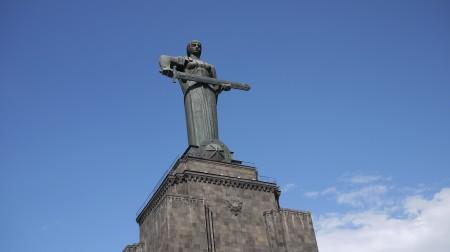 Just down the hill, we visited 'Matenadaran', which is the museum home to the ancient manuscripts and documents. Here we saw a brilliant collection of historical scrolls on leather, a miniature Koran, and bibles with vibrant, paint illustrations. It was impressive to see so many important documents from history and from so many different parts of the world and the empires through time. It was also touching to see a country which is said to have lost so much of its culture, house this significant and varied collection of inscriptions and religious materials.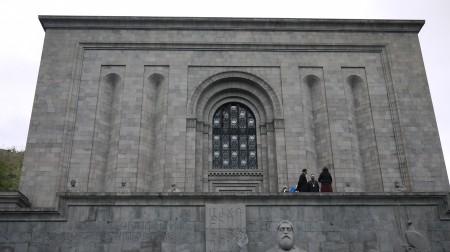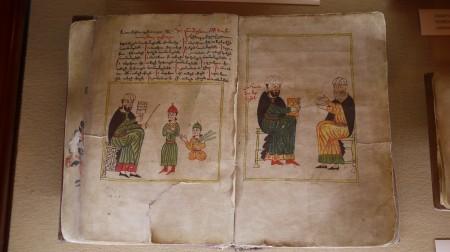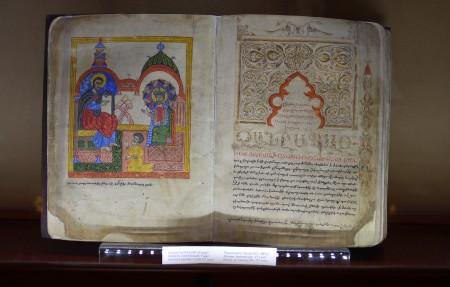 To learn about the atrocities which struck Armenia in 1915, resulting in the death of more than 1 million people, we visited the Genocide Memorial on the outskirts of the city. Although there was not a lot of background information, there were some interesting displays of letters, reports and books, as well as some harrowing photographs. Outside is a circular structure made out of arched pillars. As you approach the memorial museum there are commemorative trees which appear to have been donated from countries acknowledging the holocaust. A somber visit and one that would later make out crossing into Azerbaijan problematic, but it certainly helped us piece some of Armenia's history together, and realize why they seemed focused on the future.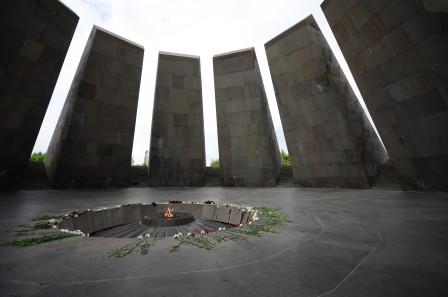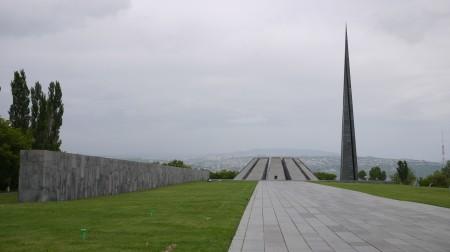 One of the things at the heart of the conflict with Turkey was of course religion. And religious significance is all around Yerevan, as Armenians and some others believe Mount Ararat is where Noah's ark landed. Today, Saint Gregory the Illuminator Cathedral stands tall not far from Republic Square. After seeing so many historical cathedrals, it was bizarre to stand in front of and inside such a 'new' church, only just completed in 2001, but the newness of the structure didn't seem to faze the many young and old worshippers who were popping in for prayer.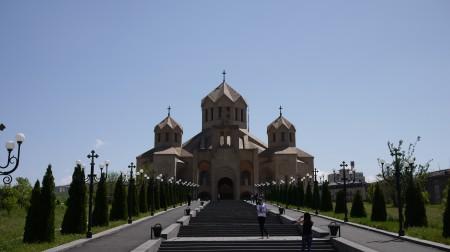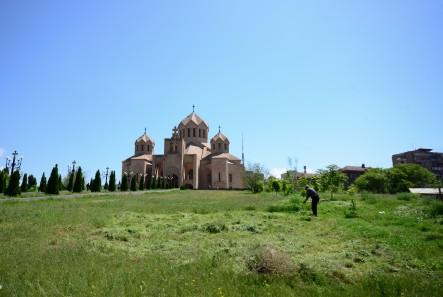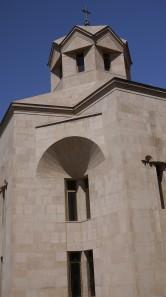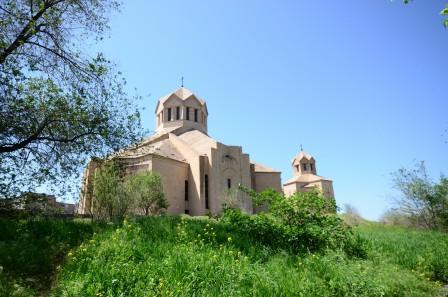 Not far from Yerevan there are several monasteries. The two we visited were Khor Vtrap and Geghard. Khor Vtrap is perched on a small rocky outcrop where we watched a magnificent storm wrap itself around Mount Arayat and then head towards us. Geghard is remarkable because it is carved and built out of rock. The most magical part of the monastery complex however is the acoustics in one of the chambers, which carries your voice up and in an eerie kind of surround sound.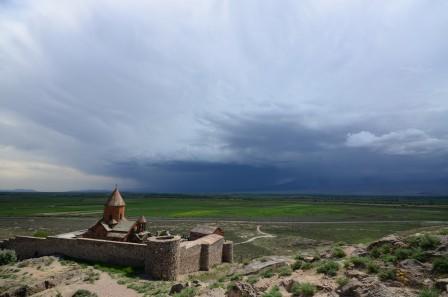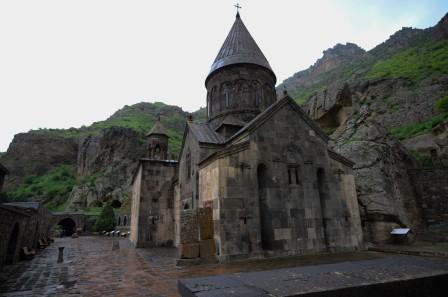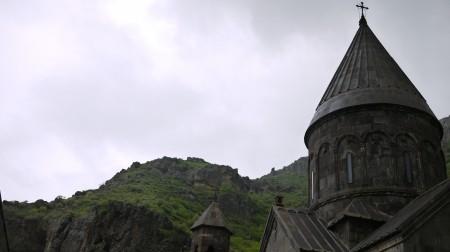 Slightly further afield from Yerevan, we camped on the shores of Lake Sevan. Although a popular holidaying and swimming spot in summer, we didn't catch Lake Sevan on one of its better days. The rain and damp didn't deter the local fisherman however, who were catching tiny lobsters, which they held up for us to see from their small tin boat, brimming with pride.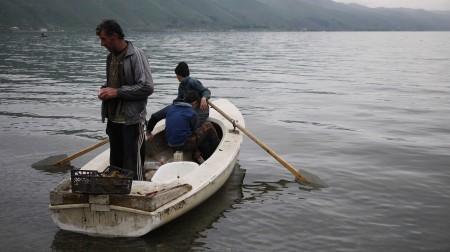 Any red tape or paranoia vanished when Hayden was invited to visit a railway control room near the shores of Lake Sevan. The man in charge even allowed him to wear his hat.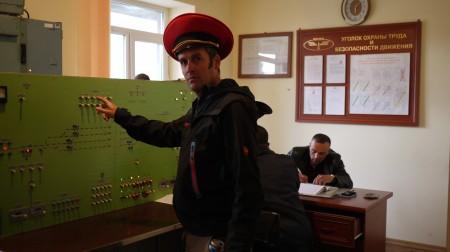 On the surface you wouldn't know that the land of Armenia had been through a rocky, relatively recent past. There are all the usual signs of a being an ex-Soviet state – the cars and some of the high rise communal housing, but mostly what you notice is how friendly, approachable and curious the people are.
Eating and drinking recommendations in Yerevan
For a great coffee or lunch, visit the Green Bean Cafe. We visited this cafe three times we liked it so much. With friendly service, free wi-fi, delicious food and good coffee, we simply couldn't stay away. It has lots of options for vegetarians, a strong focus on organic ingredients and the cafe owner and staff seem interested in running things in a environmentally friendly way, for example, with the recycled and biodegradable packaging they use. I would recommend trying the bagel with egg salad, peanut butter cheesecake, accompanied by a latte.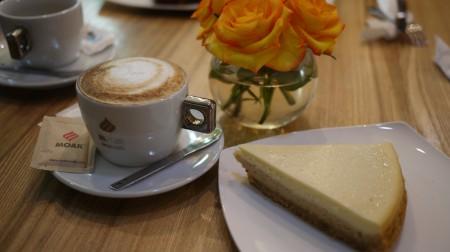 For a quiet and authentic local meal, dine at 'Elen'. We tried popping in on a Sunday evening and they were fully booked, and when we went back for lunch the next day we understood why. Their food is no-fuss, tasty Armenian cuisine at an extremely reasonable price. Although vegetarians are a bit limited for choice, a simple Armenian Salad of tomatoes and cucumbers was more fresh and tasty than thought possible. And for those who do eat meat, apparently the stroganoff is out of this world, with Hayden voting it the best he has ever had. For a low-key and ridiculously cheap meal, try Elen.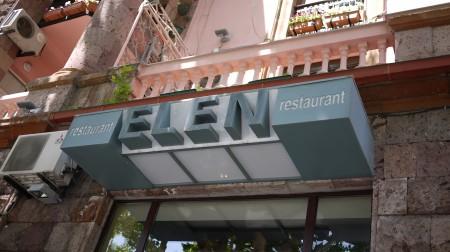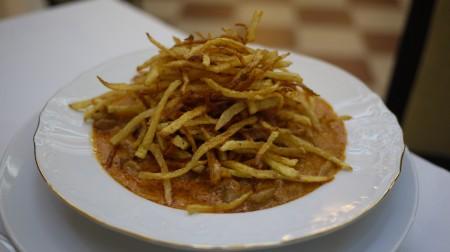 If you're after an Armenian feast and somewhere to accommodate a large group, have dinner at Tavern Caucasus, Erivan. Our group of more than 20 were well catered for here, with countless dishes continuously served and shared among us. As a non-meat eater I was spoilt for choice with cheese platters, hummus, kidney beans, salads and over-sized dolmades in cabbage leaves. The wine, served in ceramic jugs, was very drinkable and extraordinarily inexpensive. Be wary however of the local Brandy, which Armenia is famous for producing. Although there are some high-end options, like Ararat, we opted for a low-priced drop, which was rather strong and not the easiest to swallow.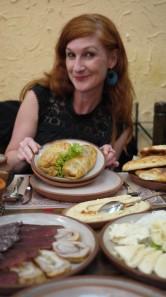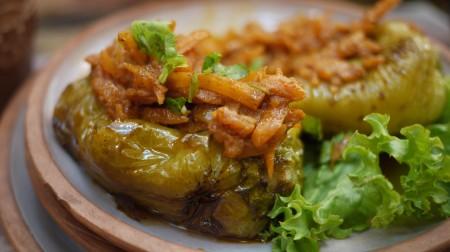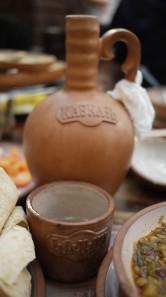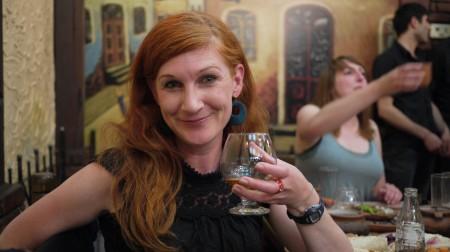 By Kelly Ley-Dahm