For a vintage design dealer seeking a respite 
from the city, architect William Massie conceptualized 
a mostly prefab home around a carefully curated
 furniture collection in upstate New York.
Slideshow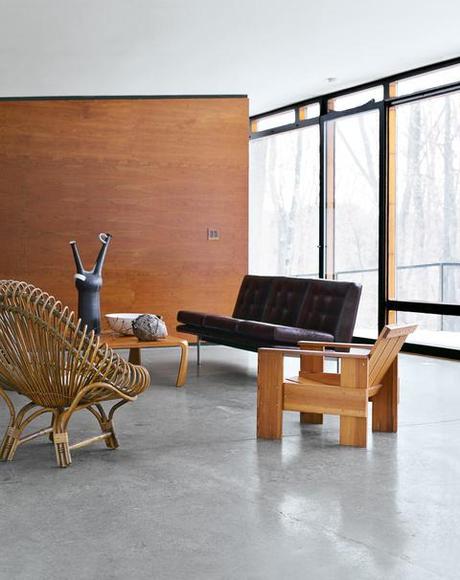 Architect William Massie built a hybrid 
prefab home for vintage retailer Greg 
Wooten, who handled the interiors. In 
the living room is a 1950s Franco Albini 
rattan chair, a Crate chair designed 
by Gerrit Rietveld in 1934, and a 1970s sofa by Edward Axel Roffman. The tall ceramic piece is by Bruno Gambone.
A decade ago, musician and vintage furniture purveyor Greg Wooten began looking for a quiet place where he could escape from New York City. He found a five-acre parcel upstate in the town of Milan and called upon architect William Massie to create something unique. Massie—currently head of the architecture department and an artist-in-residence at Cran-brook Academy of Art in Bloomfield Hills, Michigan—answered with what he calls a "site-driven, 90-percent-prefab social environment, built with Greg's collection of eccentric, beautiful modernist furniture in mind." As such, 
the 2,300-square-foot layout is open (with plenty of floor space for guests who wish to crash there) and enveloped in warm wood panels that embrace Wooten's well-edited furnishings. "Every piece had to really matter," says Wooten. "Most of those pieces have a story, and often that story relates to a friend or an experience. If it wasn't something created by an artist or designer friend, it's the one thing I brought home with me on the plane from Italy or the flea market in Tokyo." Though Wooten has since relocated to Los Angeles, where he recently opened the Window—a shop special-izing in 20th-century furniture and objects—
he gets back to the house as often as he can.
Slideshow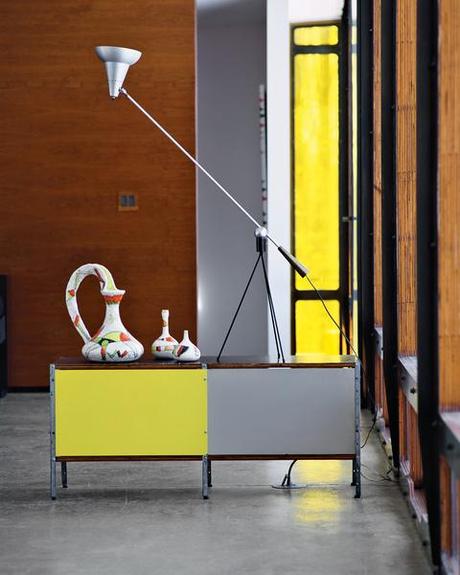 "Materials were a major consideration in this 
house," says Massie, who created a curtain wall 
with steel supports adorned with sandwiched layers 
of birch plywood and amber acrylic. "When light enters that wall, 
the layers of acrylic allow it to come through and glow—it's really quite beautiful," says Massie, who added the same acrylic for the thin 
window at the end. "That plays off the yellows in 
the Gambone ceramics and the Eames storage unit," notes Wooten.
Greg Wooten: It wasn't long after 9/11, and the city felt dark and almost scary. That inspired the idea of having a more tranquil place to spend some time. I had some friends in upstate New York, and I had been exposed to the pocket of paradise that is the Hudson River Valley, so I started looking near there. 
I was lucky enough to stumble onto this land, which is a really special place.
After I bought the land, a friend 
introduced me to a young architect, Bill Massie, and we found that we 
were immediately on the same page. We both love simple materials, and 
we share a love for Case Study houses. I knew I wanted concrete slab floors, radiant heat, massive expanses of glass, a very open plan, and I love steel, concrete, and plywood. Bill took the design to a whole other level with these fantastic curved concrete walls and what we call the "shower tower 
of power." Since there was no budget for a two-story building, and there's 
an incredible seasonal view of the Catskills, Bill designed a periscope inside the master bedroom's shower from which you can see the landscape. On this house, Bill was doing experimental things that were technologically cutting edge, things that he hadn't tried out before. That contributed to the house's design being very unique. It's almost like a big sculpture.
The house quickly became 
known as the Skull, not so much 
for its appearance but for the alphabetic translation of its phone number. 
But people say that the curved 
concrete wall resembles part of a skull, and the name has really stuck. That concrete continues inside, 
and it creates the feeling you get 
from looking at a Richard Serra sculpture—brutalist, in a way. As a rectilinear, minimalist structure with so 
much concrete, it could have been 
just another cold, modernist box. 
But Bill radiused the corners—so it almost feels like a ship inside—
and introduced the puzzle joinery 
for the interior walls, which softens that hardness.
Slideshow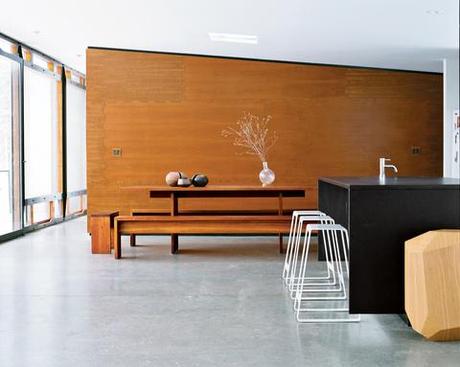 The table in the dining area was found in Venice, California, and the geometric table is 
a prototype by Arik Levy.
Given what I do for a living, it would have felt wrong not to have a vintage element incorporated into the architecture. I had a one-of-a-kind screen Don Drumm made in the 1960s for an Ohio department store—I bought it before the notion of this house even existed. For a while, I had halfheartedly displayed it in my shop, hoping it would eventually end up at my house. I showed it to Bill and asked him to integrate it, and he immediately got it. Then he came up with what 
I think is a perfect use: He mounted it on a center pivot on the back porch, off my bedroom. With its leaf motifs, it serves as a transition between nature and the man-made world.
Each piece in the house has some special significance. There's an Eames chair covered in layers of a swirling, acrylic gloss—it was a housewarming gift, made by an artist friend named Jim Oliveira. The other Eames chair I bought from Gerard O'Brien of Reform Gallery—it's a very early production Zenith shell chair. The Eames geeks who have visited have different theories on the production date. The bar stools were custom-designed by Jonathan Nesci of Hale. He said, "I'd love to produce something for your house," so he made these powder-coated aluminum stools for me. A lot of time gets spent on those stools.
On my buying trips to Italy, I became friends with Bruno Gambone, the 
son of ceramist Guido Gambone. The more colorful pieces in the house are by Guido, and the brown-and-white piece is by Bruno. I bought it from him personally at his studio in Florence. I showed him photos of the house under construction, and he loved knowing that one of his pieces was going back to this modern space, where it would live alongside his dad's work.
The dining table we found at Tortoise on Abbot Kinney Boulevard 
in Venice, California; it was living in 
the courtyard there, and the owner, Taku Shinomoto, reluctantly agreed 
to sell it. I assured him it was going 
to a fantastic modernist home 
back East.
[photo:10:right]When I see the table in 
the house, it feels so architecturally 
inspired, and so many people ask if the architect who designed the house also designed the table. It worked 
out so beautifully. It's the heart 
of where all the socializing happens. When I think about the things in 
the house, there are vintage pieces 
I have hand-selected, but most of what lives there are gifts from people who have spent time at and enjoyed the Skull. It's a cyclic thing—they've given a little something of themselves to the house. I can connect the dots 
between all the pieces and create 
a map of my years of searching 
for things and connecting with peo-‑
ple. It's really cool to look around 
the house and see all the stories.