In case you missed it, yesterday Twitter went public and got even richer than they already were.
Via Yahoo: Twitter (TWTR) finished its first day as a publicly traded company on Thursday with a closing price of $44.90, down from an opening trade of $45.10 but up a cool 73% from its IPO price of $26. The offering made Twitter's founders and leaders rich. Very rich. 
But Twitter wouldn't be Twitter without the users and Time has figured out a way to crunch the numbers and help you get your piece of the pie.  So Twitter, owe up.  You ow me a crisp $10 bill…for now.  See now that I know how to make my money from twitter, I'm just going to ramp up the tweeting until I'm Justin Bieber Twitter Rich (see the image.)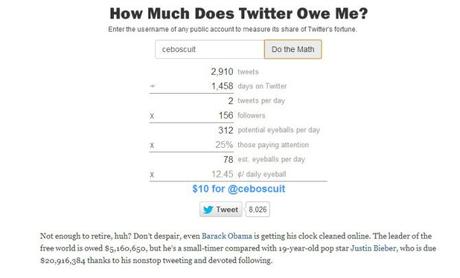 Biebs getting a check for $20 million?  That's pocket change for that guy, just like that $10 is appetizer money for me.  Gotta start somewhere, I guess.  Just know this Twitter, I want my money.
P.S. This was the first ever tweet…ah bro, do you vowel?