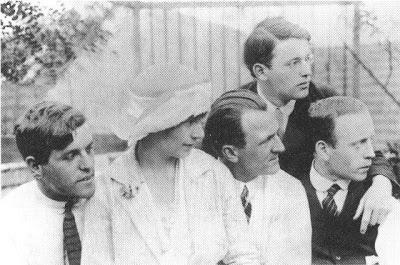 In this 1922 photo are (from left to right):
Wieland Herzfelde
,
Eva
and George Grosz,
Rudolf Schlichter
, and John Heartfield.
A new collection of papers on Weimar culture from
Princeton University Press
:
Weimar Thought: A Contested Legacy
. In includes an article by Frederick Beiser on the neo-Kantians.
Here's the Table of Contents
with abstracts for each paper.
Eileen Battersby reviews
Erich Kästner's
Going to the Dogs: the Story of a Moralist
.
'
Kurt Tucholsky -- Advocate of the dying Weimar Republic
'.
Friedhelm
Greis on Tucholsky
. More Tucholsky: '
In Berlin, Kurt Tucholsky discovered his stage
, he wrote the lyrics for revues and literary cabarets - honed, polemical texts with a shot of ribald humor. His first record appeared, a shellac treasure with the song "When the Old Motor Ticks Again." It was a massive hit.'
Entries on Tucholsky and others at
Berlin: The City as Body, The City as Metaphor
, which is the site for a course at Stanford University.
Avner Shapira on
Irmgard
Keun:
If the two novels she published in the twilight era of the Weimar Republic turned her into a literary star, then the Nazi ban led to her being forgotten for a very long time. Only near the end of her days was she rediscovered and the recipient of widespread recognition. ... "Doris may be a refreshing character - funny, charming and very human," continues [Hanan] Elstein. "But she also embodies the ignorance, systematic blindness and apathy - blinded by the materialistic plenty and the lack of political awareness that aided the rise of the Nazis in 1933."
From 2008,
Ian Buruma on Fassbinder's Berlin Alexanderplatz
.
Recordings of George Mosse's 1979 lectures for a course called 'European Cultural History: 1880-1920'. The lectures that begin with Lecture 23 seem to focus on Weimar.
Historical Dictionary of the Weimar Republic
.