This time of year is the time of year when many of us are dieting and working out to ensure we look our best when we go on holidays and attend many sunny events of the spring/summer period. If you are determined to shed the weight and tone up but you still want to treat yourself to something tasty and healthy now and again then the following recipes that we have gathered together here at The Fashion Visuals will put you in the right direction!!!
Banana Nut – from "1,000 Low Calorie Recipes"
Blend until smooth:
•   2 medium fully ripened bananas, sliced and frozen
•   1 ⅓ cups plain almond milk or unsweetened sunflower beverage, well chilled
•   1 Tbsp + 1 teaspoon no-salt-added creamy natural peanut or almond butter
•   1 ½ teaspoons mild honey or agave nectar
•   ¼ teaspoon pure vanilla extract
•   ⅛ teaspoon pure almond or walnut extract
•   Pinch of ground cinnamon to top (optional)
Nutrition Per Serving (makes 3 servings): 150 calories, 5g fat, 3g protein, 26g carbohydrate, 3g fibre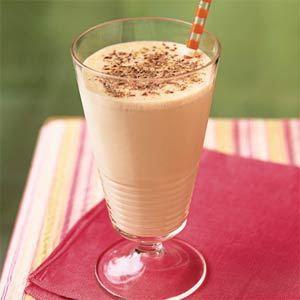 Peanut butter cake – from Shape.com
Ingredients:
1 tablespoon plus 1 teaspoon peanut butter
3 tablespoons unsweetened almond milk
2 egg whites (for vegans, use 1 tablespoon egg replaced with 4 tablespoons water)
2 tablespoons coconut flour
1/2 teaspoon baking powder
1 pinch salt
Sweetener to taste
Directions:
1. Place 1 tablespoon peanut butter and 2 tablespoons almond milk in a small microwaveable bowl or mug. Microwave for 45 seconds to 1 minute, stir, and let sit for a few minutes. Add remaining ingredients and stir until everything is evenly incorporated. Spoon batter into a greased mug and smooth out the top. Microwave for about 2 minutes, keeping a close eye on it since microwave cooking times vary so greatly. Let cool for a few minutes.
2. Meanwhile combine remaining 1 teaspoon peanut butter and 1 tablespoon almond milk in a small bowl. Microwave for 1 minute. Stir. If too thin, microwave another 15 seconds. Drizzle over cake.
Nutrition score per serving: 277 calories, 13g fat, 28g carbs, 15g protein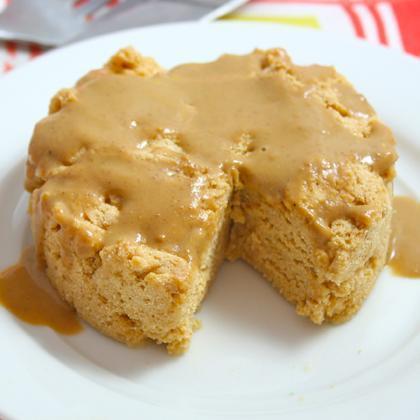 Summer berry puddings with vanilla fromage frais from – channel 4 recipes
Ingredients
•    100g caster sugar, plus 1 tsp extra
•    Pared zest of 1/2 small lemon
•    225g raspberries
•    150g redcurrants, stalks removed, plus extra to decorate (optional)
•    75g blackcurrants, stalks removed
•    12 x 20g slices low-calorie white bread (we used Nimble)
•    5cm piece vanilla pod
•    100g fat-free fromage frais
Preparation:
1. Put 100g sugar, 75ml water and the zest into a pan and bring to a simmer, stirring to dissolve the sugar. Simmer for 5 minutes and discard the zest.
2. Put 11/2 tablespoons of the syrup into a blender with 50g raspberries and blend until smooth. Push through a sieve to get rid of the seeds. Add the redcurrants and blackcurrants to the syrup in the pan and simmer for 1-2 minutes, until just beginning to soften. Remove from the heat and stir in the remaining raspberries and raspberry sauce. Tip the fruit into a sieve over a bowl to collect the syrup.
3. Remove the crusts from 8 slices of bread and cut each into 2 rectangles. Cut 4 discs from the remaining slices to the size of one of the upturned dishes you will use for the puddings.
4. Dip 1 side of each bread rectangle briefly in the syrup and use 4 pieces to line the base and sides of a 200ml dome-shaped teacup or dessert dish, overlapping if necessary so there are no gaps. Repeat to line 3 more cups.
5. Spoon the fruit into each dish and spoon over another teaspoon of the syrup. Dip 1 side of each bread disc into the syrup and use to cover each pudding (syrup side up). Lay a sheet of cling film over each one, cover with saucers or ramekins and weigh down with a can. Chill for at least 4 hours or overnight, along with the remaining syrup.
6. Shortly before serving, split the vanilla pod and scrape out the seeds with the tip of a teaspoon. Mix the seeds into the fromage frais, along with the extra sugar. Carefully run a knife around the edge of each pudding and turn out onto plates. Spoon over the remaining syrup, decorate with extra redcurrants, if you like, and serve with the vanilla fromage frais.
Nutritional Information: Per serving: 281 kcals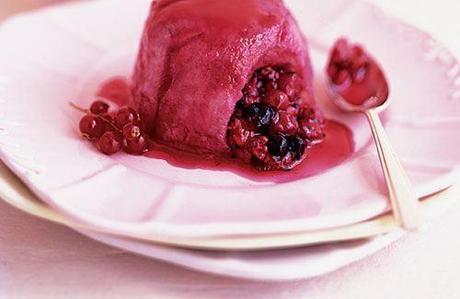 Deep dark chocolate biscotti from – Myrecipes.com
Ingredients
:
•    9.5 ounces whole-wheat flour (about 2 cups)
•    2 tablespoons flaxseed
•    1/2 teaspoon baking soda
•    1/4 teaspoon salt
•    1/3 cup granulated sugar $
•    1/3 cup packed dark brown sugar
•    2 large egg whites $
•    1 large egg $
•    1 1/2 teaspoons vanilla extract
•    2/3 cup dark chocolate chips (such as Hershey's)
•    3/4 cup unsalted almonds $
Preparation
:
1. Preheat oven to 350°.
2. Weigh or lightly spoon flour into dry measuring cups; level with a knife. Combine flour, flaxseed, soda, and salt in a bowl, stirring with a whisk. Combine sugars, egg whites, and egg in a bowl; beat with a mixer at high speed for 2 minutes. Add vanilla; mix well. Add flour mixture to egg mixture; stir until combined. Fold in chocolate and almonds. Divide dough into 3 equal portions. Roll each portion into a 6-inch-long roll. Arrange rolls 3 inches apart on a baking sheet lined with parchment paper. Pat to a 1-inch thickness. Bake at 350° for 28 minutes or until firm.
3. Remove rolls from baking sheet; cool 10 minutes on a wire rack. Cut rolls diagonally into 30 (1/2-inch) slices. Place, cut sides down, on baking sheet. Reduce oven temperature to 325°; bake 7 minutes. Turn cookies over; bake 7 minutes (cookies will be slightly soft in center but will harden as they cool). Remove from baking sheet; cool on wire rack.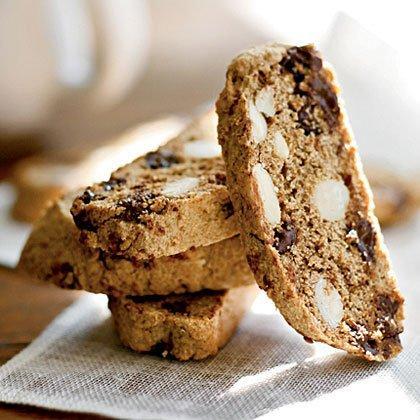 Strawberry filled dark chocolate protein truffles from – Kinetica Sports
Ingredients:
1 small container (0% fat) of Greek yogurt (170g)
1/4 cup of Kinetica Blend – Strawberry (30g)
1/8 cup of coconut flour (18g)
1/8 cup of Kara coconut milk or almond milk (36g)
60g of dark chocolate (90%)
Preparation:
Mix all of the above ingredients together in a bowl to form a soft batter. Then, on a baking tray, sprinkle 1/8 cup of coconut flour. Shape the batter into eight truffles, rolling them on the coconut flour so they become easier to form. Meanwhile, melt your dark chocolate in a bain marie (i.e. a glass bowl on top of a pot of boiling water). Once rolled into truffles, dip the truffles into your melted chocolate and place them on a tray. Leave them to set in the freezer for approximately 30 minutes and, that's it: you're done.
Nutrition: Per truffle (out of the six you get from the mix above): 103.45kcals, 3.65g carbohydrates (1.46g sugars), 8.1g protein, 5.68g fat (3.6g saturated), and 1.2g fiber