Let's face it, everyone can get a little overwhelmed by the sheer amount of chocolate at Easter, especially kids.  I'm going to be 100% honest and say that I don't really like Easter eggs! So when the lovely people at HARIBO sent me some of their Easter range to try out (purely research, you understand) I was thrilled at the chance to have some Easter sweet treats without the chocolate. I'm sure I'm not the only person who would be grateful to receive a little sweetie in amongst the piles of chocolate either.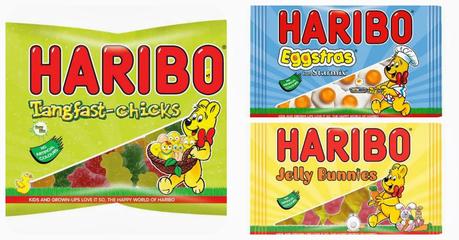 So, what's on offer from HARIBO? The well known, super tasty, sweet people have a great range of Easter sweeties and packs on offer this year. They have added in some new bits and bobs this Easter to bring you a load of special treats, perfect for yourself, for making up an Easter gift basket, or for giving as a gift instead of the traditional egg.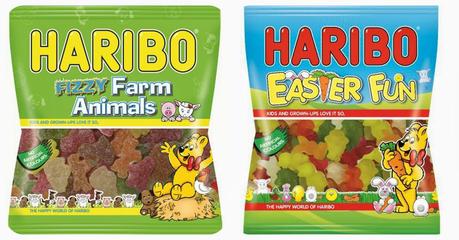 No matter what type of treat you want, HARIBO have something for you this Easter. If you are just after a small packet of sweets for a little Easter basket you can pick up some 'Tanfast-chicks', 'Eggstras' or 'Jelly Bunnies'. Not quite enough for you? Try the big Fizzy Farm Animals or Easter Fun bags.  And if you are after a great gift to give, you could give the lovely Twist n Stick or Chick Mania multi-bag gift sets.
All the sweets are the same tasty jelly and fizzy sweets you know and love from HARIBO, but the special Easter range comes in bunny, chick and farm animal shapes instead.
HARIBO have even sorted the Easter morning egg hunt too! The Easter Fun tub contains 32 mini packs of HARIBO to hide, along with tips for hiding, and some clue cards for your little people. Let them hunt the packs down, and then gobble them up afterwards!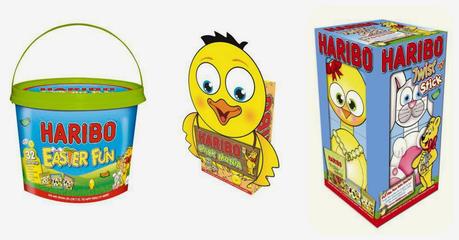 After some very strict taste testing, the Jay household has given our seal of approval to the Easter HARIBO. And Isabelle's grandad definitely gave them his seal of approval too - the HARIBO range are gluten free, so as a coeliac they are one of his favorite naughty treats to snaffle!
So, if you are after something a little different this Easter, grab some HARIBO. You know what they say, kids and grown ups love them so....