This is from the second layer (of three) of graffiti at the northern end of the rear facade of the now abandoned (and soon to be demolished) Pep Boys in the Newport area of Jersey City.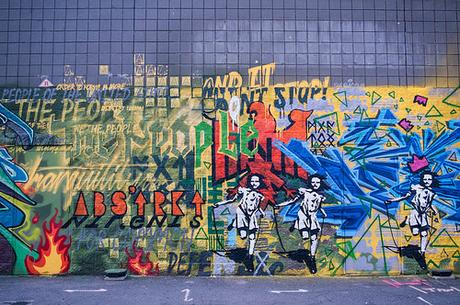 It is by NTEL, of the AIDS crew. If you look closely you'll see wording from the Preamble of the Constitution of the United States: "We the People…" You'll also see (left of center) "ABSTRACT" in orange with shadows cast below. Those shadows hint at "intelligence" or "NTELigence".
I'm not sure what's going on with the three identical little girls jumping rope in a dress out of the 1950s. They're rendered in the style of stencil work and may reference Banksy, the best-known stencilist in the world. Banksy frequently uses images of young girls.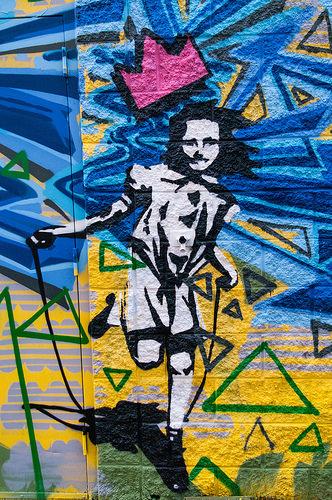 Notice the magenta crown over the heard of the right-most girl and the small crowns above it, as though they were blown from the heads of the other two girls. Crowns do not get on graffiti pieces by arbitrary artistic choice. They have a special meaning in graffiti culture. Crowns are used to mark a so-called King of graffiti. You're a King if you've mastered the three basic disciplines – tags, throw-ups, and pieces – and have executed a large body of work over several years that is visible in many places. Why, then, are these girls being marked as kings, if that's what's being done?