A friend of mine from France told me that she is now going on a journey to Mongolia, also to meet shamans. When I asked her to bring back some nice photos, she replied that she had already been there in 2013 and, "Here some photos from the sacred place called Shamballa."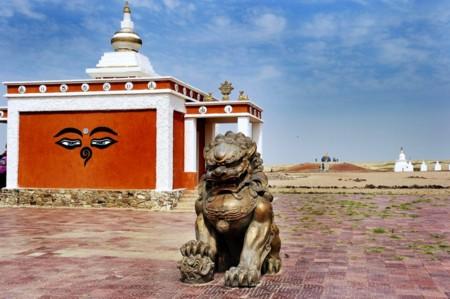 Photos from Shamballa (also spelled Shambhala, the White Island) I thought? I had written blogposts about this mythical place, also about parallels in the African language Kikongo; I had done several paintings about the glory of Shamballa and composed some text on the basis of the Wisdom teachings; but for me it is clear, that Shamballa, the seat of Sanat Kumara, is a place in the etheric plane in the area of Mongolia, near the desert Gobi. It is invisible for the normal eyes, but visible for people who have gained the etheric vision.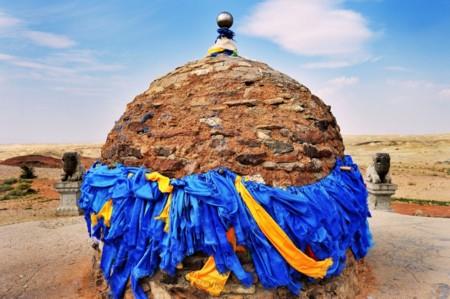 These photos were not something etheric but of a physical place. So I googled for "Shamballa Mongolia" – and found many similar photos of a place called the 'Khamariin Khiid Monastery', or as it is called in Wikipedia, the 'Khamar Monastery' in Mongolia.
Tripfreakz.com has an article about the background of this monastery in the south of Mongolia ("The mystical Shambala of Mongolia"), where they explain that in the beginning of the 19th century there lived Danzanravjaa, a Mongolian monk of the Red Cap Sect, who was very gifted and regarded as a reincarnation. He gave many predictions and also instructions on where to find Shamballa. At the vicinity of this place he erected a monastery in 1812 (or 1820 according to other sources, Wikipedia) near the town of Sainshand in Dorno-Gobi-Aimag  in the eastern Gobi. It was destroyed by the Stalinists in 1937, who killed many of the lamas. Danzanravjaa also predicted the date of his death; he was poisoned by his wife in 1856. Legend tells that he knew he was going to be poisoned, but he took the drink to fulfill his destiny.  The current monastery was built after the 1990 Democratic Revolution in Mongolia.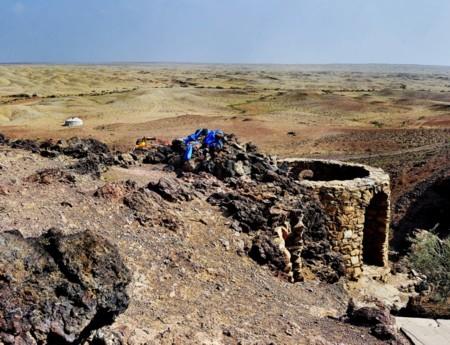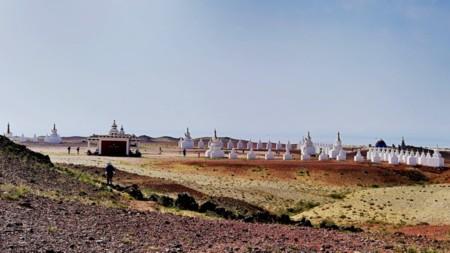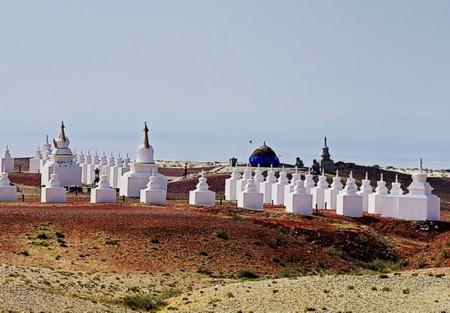 You find the place on Google Maps, even with Street View of the surroundings, and there is a nearby round structure on a mountain called "Energy Centre".
I told this my friend asking if I can use the photos for a blog-post, and she said yes:
"It is necessary to make this place known to people in search of spirituality. It is not a place for tourists !!!! although the visit can make them evolve. It is a magical place in the Gobi Desert. For me it is not the real Shamballa which remains mysterious and inaccessible to humans for the moment. Maybe I'm mistaken. However, everyone talks about it like Shamballa and in any case the vibrations are very strong and it doesn't explain how I felt."
Here are some more impressions from her journey: