You're going to hear me bang on with this theme a few times during this trip: it's the things you come across by surprise, which you had no idea existed, which really stick in your mind on your travels. Today was the perfect example of this, hence this 19-photo blog! There we were in Albuquerque, New Mexico, with only 63 miles to drive to our next destination, Santa Fe. So, let's go downtown and check out Albuquerque, we thought. Naturally enough, being tourists, we headed straight for the charming 'old town' part of Albuquerque (ie, the tourist trap), and we had a lovely time there, we did!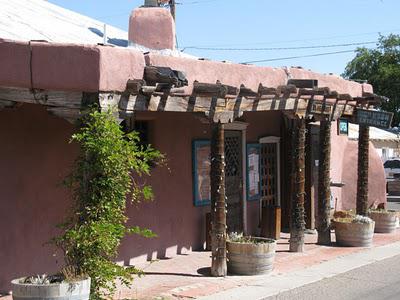 You want to see adobe buildings? Come to New Mexico. Here in the old town the buildings really are old, with the various leans and warps that only time can bestow on a sturdy old building.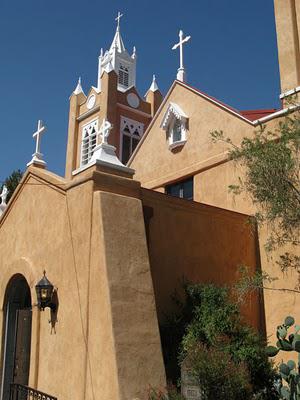 The centrepiece here is the Church of San Felipe, built in 1796, the serenely beautiful Mother Superior of old town buildings.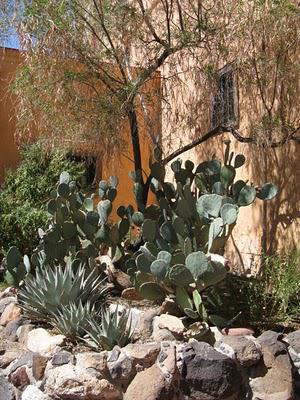 Its gardens look almost as if they were here before the building itself.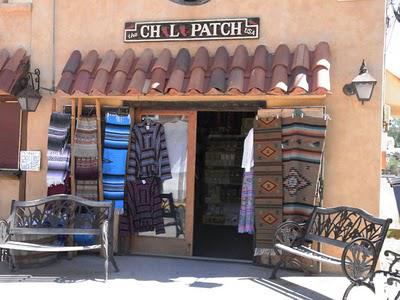 This adobe building looked suspiciously modern, not ramshackle enough, – hell, it might only be 100 years old – but inside we discovered a treasure trove of culinary pleasure and pain (and maybe even some agony, if that's your kinky thing).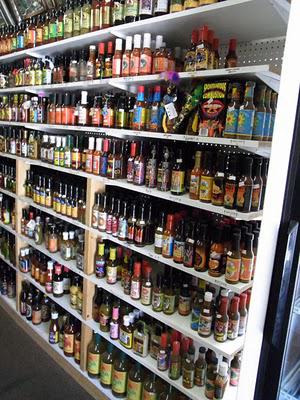 Chilli sauces, hundreds of them. Now, when you're in the business of selling your hot sauce, your only hope of gaining attention in the throng is your little bottle label, and the variety of label designs on display was a little lesson in marketing.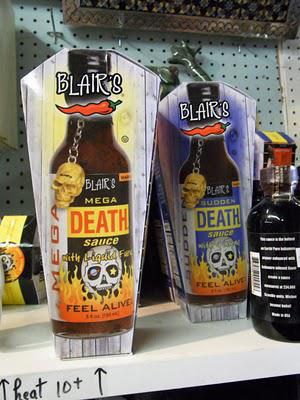 You could try a solemn promise of guaranteed results to your customers. Love that coffin-shape packaging...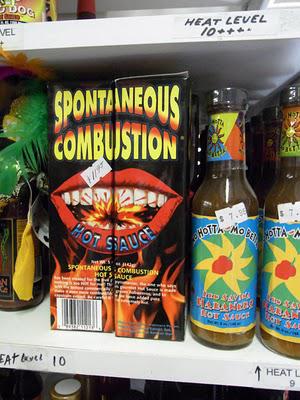 Maybe a twin pack of fiery pain might grab the customer's eye.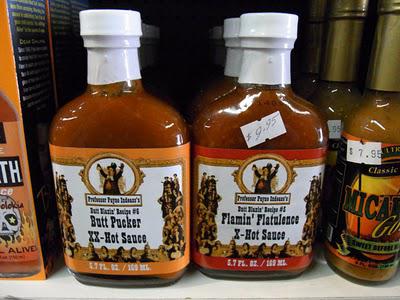 If you're really desperate, sigh, I guess you could resort to vulgarity? Many do...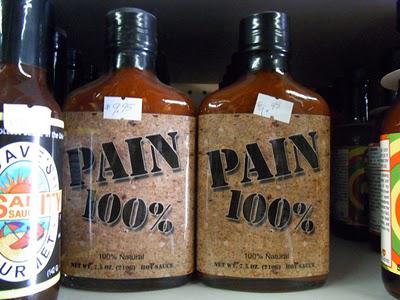 Maybe just relying on one word, painfully honest in its content, might garner a sale? Fortunately for us, we resisted the temptation to buy some guaranteed instant death, but this did set the scene for what was happening outside in the main square, just across the road.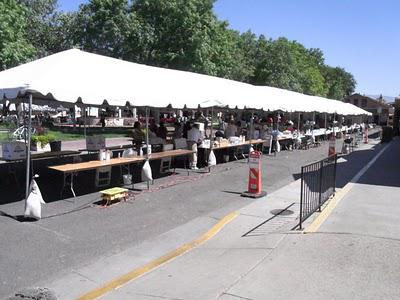 Albuquerque's Seventh Annual Salsa Contest was happening, and it's a serious bit of fun for the whole community. This is just one of the rows of marquees for the contestants. There was another down the other side of the square, and a third across the bottom of the square as well. At a rough guess, maybe there were 100 serious salsa makers vying for the honor of being the best.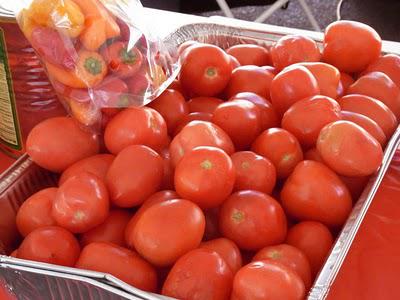 Each of the contestants' stands were piled with the fresh ingredients for making that magic salsa. Ripe Roma tomatoes and red and yellow chillies aplenty.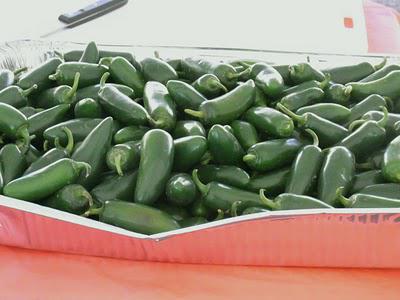 Boxes of green chillies, too.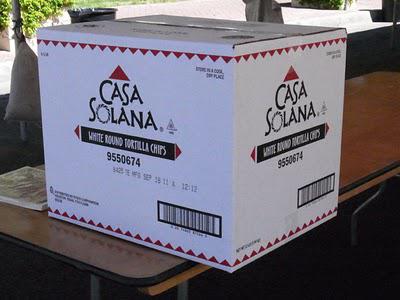 Not sure if this company has cornered the market in tortilla corn chips or is the event sponsor, but every contestant had a big box of these tortilla chips on hand. The idea is that local residents and visitors register as official salsa tasters (they get to wear an official wrist band) and then they wander around tasting all the salsas on offer (dipping the corn chips in then tasting) then voting on their favorite at the end. How their taste buds survive the first few hits of heat I don't know, but being an official tester is about as prestigious around here as being a contestant. You may feel free to boo and hiss at this stage, but we piked out on burning our mouths to smithereens by becoming testers (in a very friendly way they wanted us to become tasters, very hospitable folk indeed here in Albuquerque).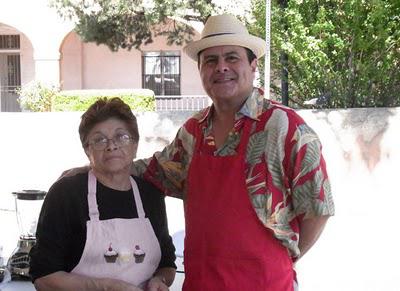 This is Philippe and his mum, newbie contestants at their first-ever salsa contest. Philippe easily would have won the 'best-dressed contestant' title had there been one, but that would have been a bit too frivolous for this serious event.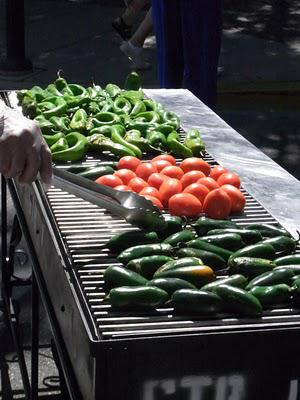 While no-one here would be so foolish as to share their recipe, the basics of salsa-making that all them agreed upon were these: first barbecue your tomatoes and chillies until the skins are blackened.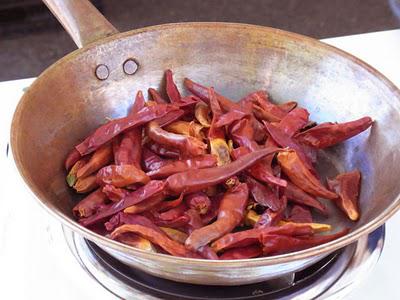 Then add in other flavours, such as these dry-pan roasted dry chillies. After these basic formalities are attended to, then the secret saucery begins, with varying mixes of other spices, coriander, salt, sugar and God knows what going into the winning blend.
(Lots of contestants' stands had modern electric blenders to do the hard work for them).
Now, you might on tenterhooks at this stage and want to see the winner... but sorry, we left for Santa Fe before the whole thing ended sometime late on Saturday night. We photographed the mere beginnings of this long event around midday. The tasting really got underway just before sunset. Wonder how the tasters felt the following morning? We'll never know, but they were probably still glowing.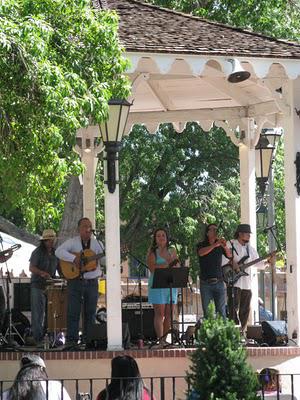 All the time that the salsa makers were barbecuing their chillies and tomatoes, a band in the rotunda in the park outside San Felipe struck up a rhythm, which sounded more South American than Mexican American to my ears. The cool dude second from the right in the black shirt played a long wooden flute that had a bit of that pan-pipe sound we associate with South American music, but with a bass and drums carrying the rhythm along, I'll just call this the Albuquerque sound. It was great.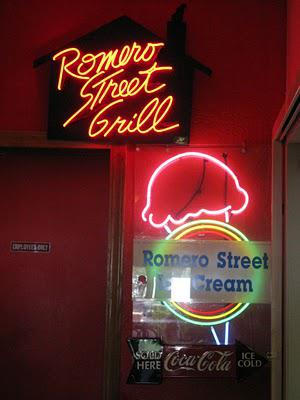 Around lunchtime we were both thirsty and hot, and so we stumbled into this tiny spot just off the main square, for a long, cool drink of their own lemonade (which hit the spot!). And a green chilli cheeseburger for me.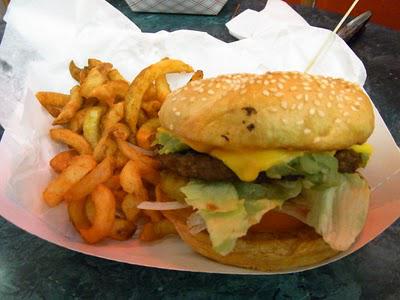 There probably isn't ever going to be a beautiful cheeseburger photo taken for this blog, but let me tell you that this is in the top 10 hamburgers of all time for me. Hell, it might even be the best-ever. The light green stuff squelching out under the top bun, right next to the gooey cheese, is the green chilli salsa, and it's very flavoursome but very mild on the heat scale. Out of 10, it's a 2 for heat. Unlike average burgers with mere tomato or barbecue sauce, which are runny, drippy, messy critters to tackle, this was moist, juicy and yet not messy at all, and the green chilli salsa was the star. I want more of these! And if you think those fries look a bit pathetic, they're Romero's curly fries, a specialty of the house, sprinkled with a very light dusting of spice and, again, not too much chilli. Yum.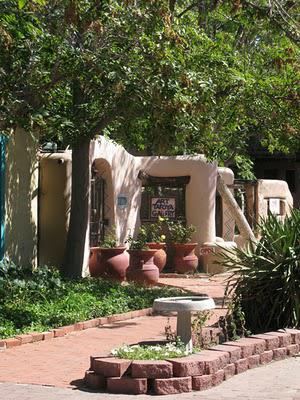 Before we headed off for Santa Fe, there was a bit more shopping to be done here in the old part of Albuquerque. We really lucked out coming across the annual salsa making contest, but that's the kind of thing you cannot plan for on a trip, but you do treasure forever.
I'm doing this blog from our little 'condo' in Santa Fe. We've been belting along Route 66 at such a rate that we've decided to hit the 'pause button' for three or four days and take it easy in this beautiful adobe town. Pammy wants to do some paintings, and believe it or not I have some more blogs to write as well. I want to tell you all about our condo, about Santa Fe and, oh yes, rattlesnakes.