EW gushes about getting advanced copies of the first three episodes of True Blood Season 4 and they promise that they do not disappoint!  Yea, we're so looking forward to seeing them.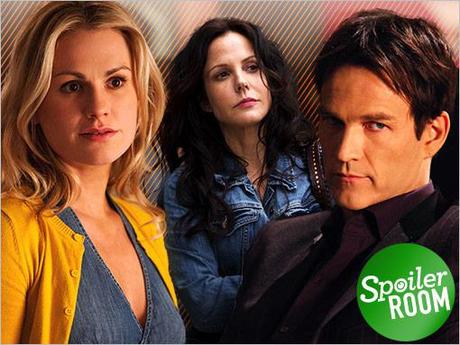 In the meantime, they have been asking  on Twitter if anyone had specific True Blood questions about the first three episodes, here's what they could share:
Will there finally be a steamy sex scene(s) between Eric and Sookie? – @StephanieSnow1
Sworn to secrecy, but know that it's a key plot point in Charlaine Harris' fourth installment of the book series.
It would be fang-tastic if you could tell me how long I have to wait to see Eric/Sookie heat! Thanks, Ellyn — @mindonlost
Honey, there's always heat. And there's a lot more to that "It's not a dream" scene that you saw in the HBO-released promo where Eric caught Sookie wearing nothing more than a pink towel.
Eric & Sookie please! Alcide & Sookie maybe? I love Allan Hyde, so will we get more Eric/Godric flashbacks? #TB Oh, and I would love some Jessica & Hoyt if possible. Thank you! #tbwithdrawal — @bronzia88
That's a mouthful! I'll take Jessica & Hoyt. Actually, I'm glad you asked about them, because they have a prominently featured arc this season, that begins in episode 1 with a HUGE —–.
source: insidetv.ew.com