"What's for lunch?" was the first thing I asked when I heard I was doing a Rome Market Tour.  Eleonora, our knowledgeable guide from Context, smiled as she shrugged and explained that in Rome you don't go shopping with a list, you buy what's fresh and what looks good, then plan your meal from there.  I was up for the challenge and ready to put my detective skills to good use and suss out the finest ingredients just like the Romans do.   – even if it was in sharp contrast to how I go to the grocery store every week armed with a list.  Clearly I have a lot to learn if I want to eat like a Roman, but since I was attending Gladiator School the next day, I figured when in Rome….(sorry, but I've always wanted to say that when I actually was in Rome!)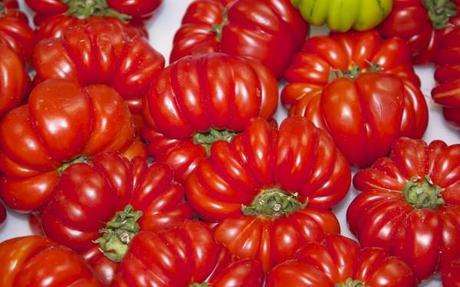 Pomodori ribbed tomatoes
I love tomatoes, but had never seen Pomodori ribbed tomatoes before.  Eleonora recommends eating them with Spaghetti which we did, seeing that they were fresh and passed her inspection.  She scoped out our lunch on our Rome Market Tour by looking for vendors that only offer a few different types of items and small crates of those items – both signs of quality.  Starting with fresh, high quality ingredients is one of the not-so-secret mysteries of delicious Italian food – soon to be made in our apartment in Rome with a fabulous view of the Colosseum!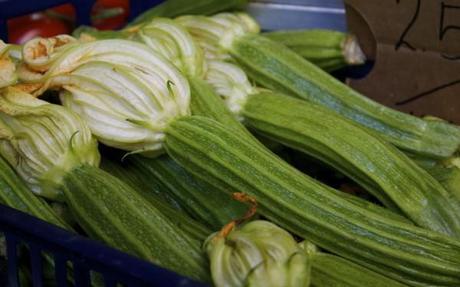 Roman zucchini
The next mystery to be solved were the Roman zucchini, which looked different than the plain variety of zucchini that I normally buy.  Eleonora recommended stuffing them with mozzarella cheese.  The very suggestion had my mouth watering.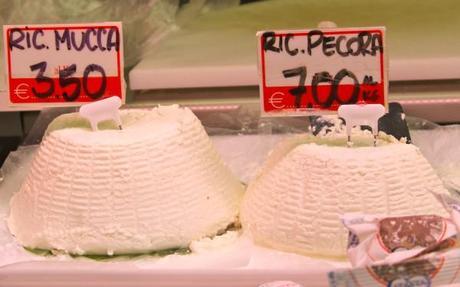 Ricotta cheese
Speaking of cheese, I love my cheese and I'm no stranger to ricotta, but I was surprised at how large it was and how good it tastes with a rather mysterious item….honey… served on a slice of bread!  Honey and ricotta has become my new favorite snack, despite my initial trepidation over the pairing.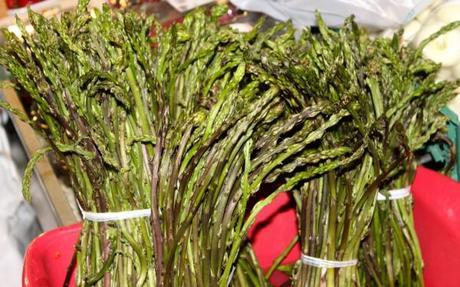 Hand-picked wild asparagus
I didn't try the hand-picked wild asparagus since it was € 25/kilo, but it did get me curious as to how much different it tastes from regular asparagus.  The real mystery here is where to find wild asparagus.  Purveyors will never tell!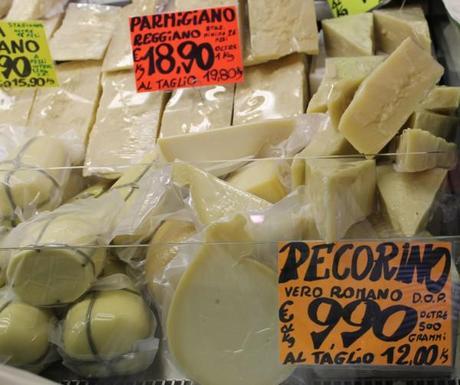 Pecorino cheese is a popular cheese in Rome and goes well with pasta or served at the end of a meal.
Pecorino is a hard Italian cheese made from sheep and produced mainly on the island of Sardinia.  It's very popular in Rome and often served with pasta or as a dessert.  I ate it everyday I was in Rome, even though it had remained a mystery to me before my trip to Rome. I need to go on the hunt for it again now that I'm back in Munich – the whereabouts of Pecorino cheese in Munich is one mystery I will not let go unsolved!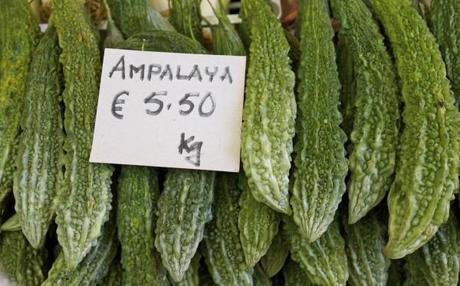 Ampalayas are a bitter tasting gourd.
The next mystery food on our Rome Market Tour was ampalayas.  I didn't taste them, but apparently they are quite bitter.  From everything I've heard about them, the mystery would be finding a way to make them taste good!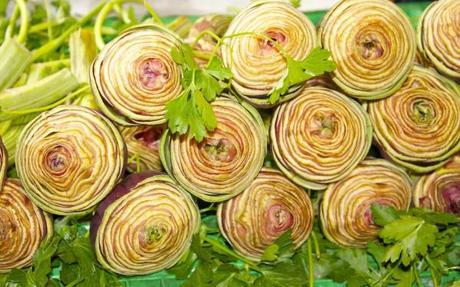 The last mystery item on our Rome Market Tour were these round looking thingies, (very scientific description I know) which I failed to catch the name or what to serve them with -a mystery that remains unsolved – and a good excuse to come back to Rome!
Know Before You Go on a Rome Market Tour
Rome Market Tours can be organized through Context Travel
The tour also includes a lunch which may be different every time, depending on which ingredients are available
The tour is definitely a foodies tour as it includes lots of history, how to pick out the produce and a lunch that you help prepare