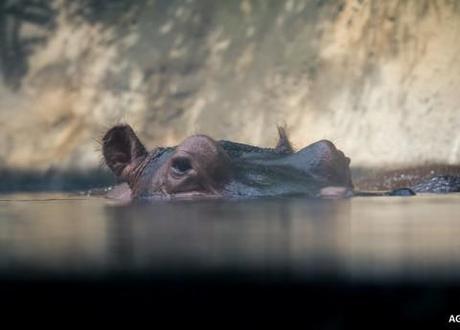 A hippo, but not Solly, who has sadly died before being rescued from the pool in which he was stuck.
Solly, the rogue hippo who became trapped in the pool at a game reserve lodge in South Africa, died of a heart attack on Friday before authorities were able to rescue him, the BBC reported.
The 4-year-old hippopotamus, who had been forced out of his pod by the dominant males, became stuck in the pool at at the Monate Conservation Lodge, north of Johannesburg in Limpopo province, on Tuesday. He was perfectly happy paddling around in the 10-meters long, 2 meter deep pool, which had no stairs, but became visibly stressed when rescuers began to drain the pool. The plan had been to drain the pool, sedate the hippo, and use a crane to lift him out.
Solly's ordeal occupied a good chunk of local news coverage, but some worried that it was eclipsing "real" news out of South Africa, including the increasing political and economic turmoil after last week's massacre at the Lonmin platinum mine in Marikana.
Here, we've got the best of the Twitter reaction:
Is it true Solly the hippo is dead?I love animals but really, thank god.Now we can focus on the fact that this country is falling apart.

— kgomotso matsunyane (@MotsoMatsu) August 24, 2012
Balanced between a hapless hippo called Solly and a tragic mine called Marikana. Country of smiles and tears.

— Ferial Haffajee (@ferialhaffajee) August 24, 2012
Julius Malema calls for the resignation of the president in light of Solly the Hippo's death. A charge of murder has also been laid with God

— Oliver Hermanus (@OliverHermanus) August 24, 2012
BREAKING NEWS : Solly the Hippo has died. Malema expected on scene shortly.

— Sbusiso Leope (@iamDJSbu) August 24, 2012
Is Solly the hippo the same hippo on the Chomp chocolate bar? Please say no :'(

— Malume (@lebolukewarm) August 24, 2012
Breaking: Solly the Hippo gives up fight against doping charges after dominating headlines in the pool

— Neal Collins (@nealcol) August 24, 2012
More in world

South Africa in turmoil as mine violence spreads
 Christian Pakistani girl jailed for blasphemy, could face death
Islamist sect found living underground
Pussy Riot sentenced to two years