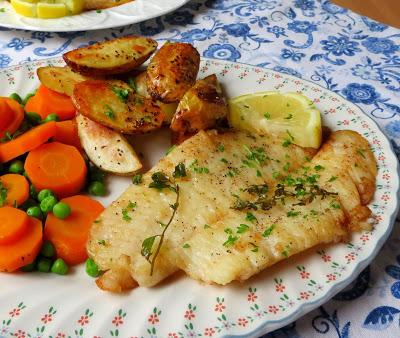 I think Sole has to be one of my absolutely favourites of all the fishes in the sea.  There are two types of Sole which we enjoy here in the UK, Dover Sole and Lemon Sole.  Both are highly-prized, delicately flavoured fishes.  Lemon Sole is slightly less expensive than Dover Sole, but in my opinion is just as delicious and that is what we enjoyed today.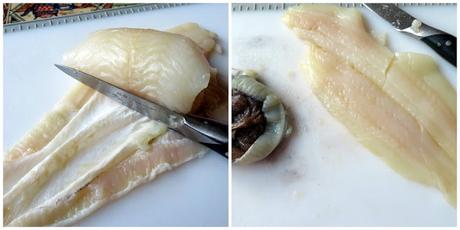 My sole came from
The Fish Society.
  The Lemon Sole comes two fillets in a package, and in a variety of sizes from small to large.  Mine were medium sized.  They had the skin on, which I didn't necessarily want.  The skin of Sole can be quite rubbery, so I quickly removed it and disposed of it. Its very easy to do if you have a sharp knife.  Just make a small cut through the flesh at the narrow end of the fish, and then, angling your knife slightly, grab hold of the skin and wiggle it through beneath the blade of your knife, pulling it gently away from the fish. I am not sure if I explained that correctly, but I found a
video on YouTube
that explains it perfectly.  Its a lot easier to do than it is to explain!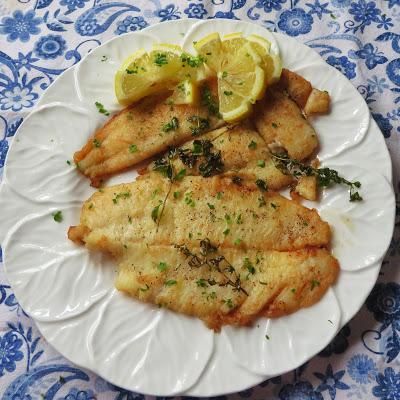 This is really a beautiful piece of fish, and I have to say, I am always really impressed with The Fish Society and its service.  Every piece of fish I have ever gotten from them has been lovely and of the highest quality.  

It arrives frozen and well packed, ready for you to thaw as and when you need it. With overnight delivery available I just unpack it and throw it right into the freezer when it arrives. Easy Peasy.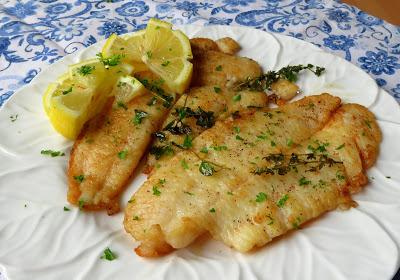 A fish as delicate and delicious as sole is deserves the simplest treatment when you are cooking it. You want to keep everything as simple as possible. You don't want strong flavours over-powering the flavor of the fish . . .  and with fish this nice, the more simplistic your method of cooking the better.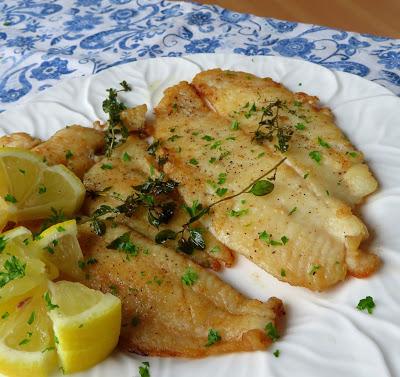 One thing I love about fish is how very quickly it cooks. This  cooks in about six minutes from start to finish to make sure any side dishes are ready and waiting to be served. You won't want to start cooking it until everyone is almost sat down at the table!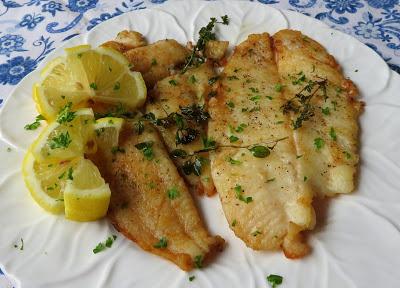 I seasoned my skinned fillets with kosher salt and black pepper on both sides and dusted them lightly with flour, shaking off the excess . . .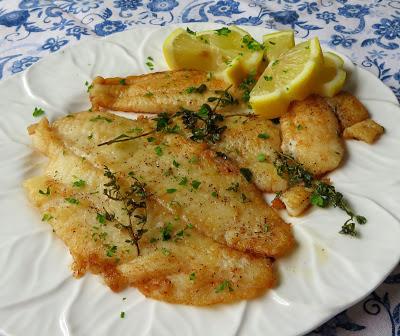 I added a knob of butter and some canola oil to a large skillet and heated it just until the butter began to foam, over moderate heat.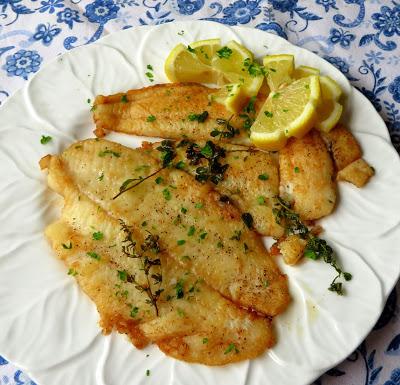 I threw a few sprigs of fresh thyme into the pan to flavor the butter and then applied the fish fillets, presentation side first. (Presentation side is the side of the fish you will want showing when you plate it up for service.)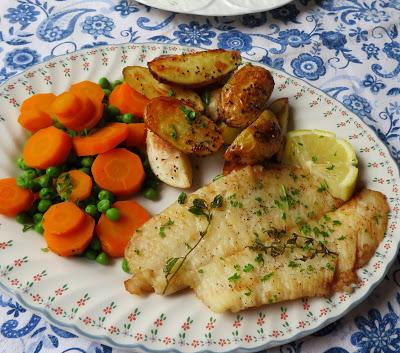 You want to fry it just until it is golden brown on that side, which should take about 3 minutes, and then carefully flip it over to brown the other side.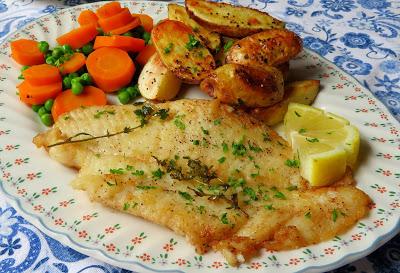 That won't take very long either. Two to three minutes maximum.  Remove it from the heat and scoop it onto a serving platter, placing some of the crisp thyme sprigs with it to adorn it and sprinkling it with some chopped fresh parsley.  That's it!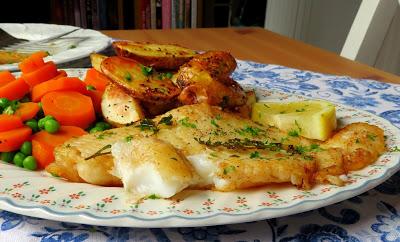 You could squeeze fresh lemon on it while it is still in the pan, but I prefer to pass lemon wedges at the table for diners to squeeze onto their individual servings.  This helps to maintain the crisp exterior of having fried it in butter . . .  why bother if you are just going to soggy it up before you serve it?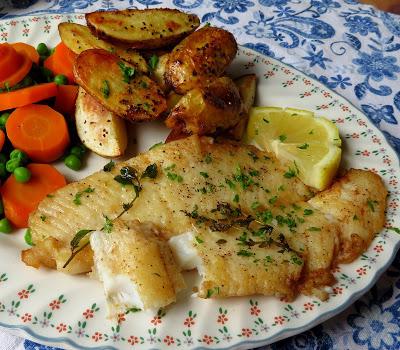 In any case these were beautiful fillets of sole . . .  perfectly cooked and golden brown.  Todd enjoyed his with some roasted baby new potatoes and peas/carrots.  He was in fish heaven.
Sole Fillets with Lemon & Thyme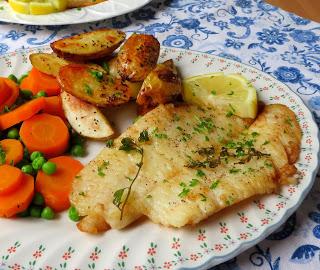 Yield:
4
Author:
Marie Rayner
Sole is a wonderful fish, which stands out with the simplest preparation. This way its delicate flavor and texture is highlighted to the highest level. In order to keep the coating on the fish crisp for serving, I pass lemon wedges at the table rather than squeeze it over the cooked fish in the pan.
ingredients:
4  (6-oz) boneless, skinless sole fillets
1/2 tsp fine sea salt
freshly ground black pepper
70g plain flour (1/2 cup)
2 TBS butter
1 TBS flavourless oil
several sprigs of fresh thyme
chopped fresh parsley to sprinkle
fresh lemon wedges to serve
instructions:
How to cook Sole Fillets with Lemon & Thyme
Season your fish fillets on both sides with salt and black pepper.  Dust with flour, patting it in and shaking off any excess.
Heat the butter and oil in a large skillet, over medium high heat,  until the butter begins to foam.  Add the thyme sprigs.  Place the fish fillets in the pan, presentation side down. Cook for about 3 minutes until golden brown. Carefully turn them over using a fish slice/spatula and brown on the second side, a further 2 to 3 minutes.  Remove from the pan to a heated serving plate.
Sprinkle with chopped parsley and serve with wedges of lemon for squeezing over top.
Created using
The Recipes Generator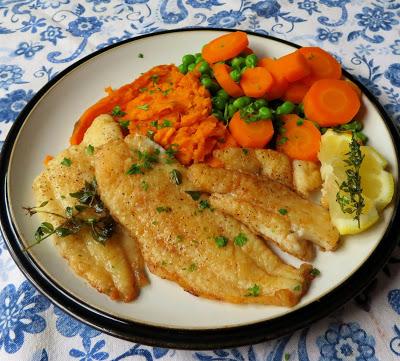 I enjoyed mine also with some peas and carrots, and a bit of mashed sweet potato.  I do love sweet potatoes.  Oh my but this was some of the best sole I have ever eaten.  I found myself wondering why why don't we eat it more often than we do. It is just excellent
excellent
fish. Quality speaks for itself. 
The Fish Society
has all kinds of fish, fish that you normally won't find in the shops. Its like having your own private fish monger on line and on tap!  They have everything from Abalone to Zander and they deliver right to your door in a timely manner.  Shell fish.  Sea food.  All Sashimi grade.  I have never been disappointed, as Todd says, best fish ever.  You can't go wrong.