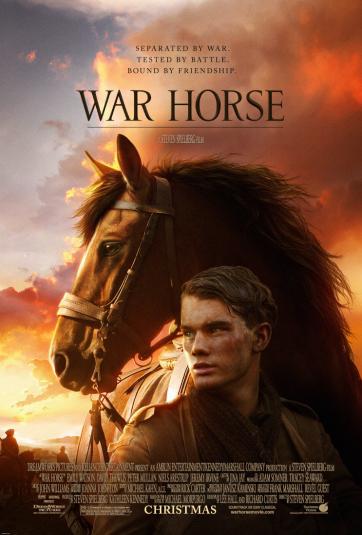 Set at the dawn and during World War I, "War Horse," the literal and proverbial dark horse of the Osacr best picture nominees is everything you would think it to be.  It's epic, beautiful and tugs at the heart-strings.
Directed by Steven Spielberg, "War Horse," blends together the 2007 stage adaptation and the original children's novel (by Michael Morpurgo) on which it is based.
Joey, a thoroughbred colt living in England defies the odds from an early age. He is purchased at auction, by a man (Peter Mullan) who can't afford him, and raised by his son, Albert (Jeremy Irvine).
The two form a bond which is severed when WWI begins, and Joey is sold to the highest bidding officer (Tom Hiddleston).
With a promise that he will be returned to Albert, if possible, when the war is through, Joey is shipped off to the battlefields of France.
He sees all sides of the war, from the English officer to the a German medic (David Cross), and the innocent (Celine Buckens) who happens to be in-between the two opposing forces.
Joey soldiers through it all, until he finds himself trapped between the two sides, a moment which the whole film seems to be a build-up to.
Despite the odds, Joey finds his way home, or home finds him, rather.
With the swiftly changing settings and constantly rotating cast of human characters, "War Horse," at times has you longing for a bit more of an emotional connection. The bond between Joey and Albert is sweet, but feels a little weak and forgotten at some points during the film.
With its animal-rights, anti-war, and "sticking up for the little guy" messages it can get a little heavy-handed at times. However, in the end this heart-warming tale always seems to find its footing and pulls us through.
________________________________________
Check out more of 2WC's film reviews: The Crusade on Cinema
…just for fun:
Advertisement