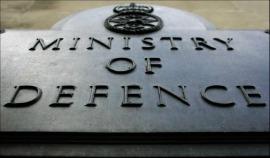 THE MOD is doing all it can to cut its costs.
It is already in the process of downsizing its staff and selling land and buildings all over the place, and now the government department is looking to embrace renewable energy.
The Ministry of Defence hopes if it swaps regular batteries for solar power they can save £100,000 a year normally spent on powering water metres across the country
.
After a successful trial Severn Trent Costain, a joint venture between engineering firm Costain and water supplier Severn Trent, is looking to extend the roll out of special solar-powered water meters to 1,200 Ministry of Defence sites.
Not only will this stop the use of 7,700 conventional batteries, the PV metres will also require fewer maintenance visits, again cutting costs.
In addition, the transmitters that have been replaced with a photovoltaic panel can be recycled as spares for other equipment.
The small solar-powered water meters lend themselves perfectly for use in remote sites which are often located a considerable distance from a mains power source.
Severn Trent Costain initially trialled the environmentally friendly meters at 20 MOD sites as part of a wider contract which sees the company provide water and wastewater services to 1,300 MOD sites across England.
Severn Trent Costain kept a close eye on the data provided by the trail solar panel systems and found out that the system could be maintained even under adverse conditions such as extremely low light levels.
The solar panel system has also improved the continuity of measurement for leakage and consumption. Ultimately, the system allows the sites to reduce electricity consumption and cut the carbon footprint and environmental impact of the various MOD sites.
A spokesperson from The Eco Experts said: "It's fantastic news that the MOD have realised that by switching to solar PV, they can save a vast amount of money every year. They are also really helping the environment and we would encourage them to continue to install solar panels where they can."