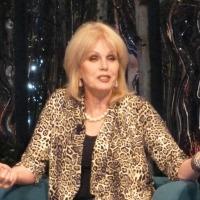 JOANNA Lumley has declared her love of renewable energy, insisting it should be mandatory for all homes to have solar panels.
The Avengers star and national treasure was speaking at EcoBuild, a sustainable building conference, in London today (March 6).
She said: "I absolutely love the idea of solar panels, and I think they should be compulsory and I don't think a new house should be built without solar panels.
"There are so many people on the planet and the world is soon going to be swamped. I believe we should use less and less and less (energy) and be more clever."
She added while she hated the wind farms plaguing the Scottish countryside, she yearned for the government to invest more in renewable energy, and for wind turbines to line the motorways instead.
Ms Lumley is an environmental ambassador for Marks and Spencer and a long term supporter of environmental and animal charities.
Though she failed to answer how green she was personally, admitting to long haul flights and a love of her hair dryer, she said she had always been an environmentalist and thought people should think more about how they were using energy.
A spokesperson for the Eco Experts said: "It's great we have high profile figures like Joanna backing the solar industry. Not only are they good for the environment, they are also a fabulous long term investment. You can see a return on investment of 11-13%, far more than your high street bank.
"As energy prices continue to rise, and the future of energy supply looks unstable, investing in producing your own renewable energy seems to be the only sensible option, as Ms Lumley says."