I love surfing the Internet for new and trending technologies, apps, softwares, gadgets and more. Yepp, I'm a tech junky! So this little craze of mine recently brought me across a new messenger that's been creating a buzz in the market these days. This messenger named "Softros LAN Messenger" is being talked about since quite some time now and I decided to add my share of analysis to this trend. So allow me to dig deep into the details, goods and bads regarding Softros LAN messenger.
Softros LAN Messenger
Softros LAN Messenger is a LAN messaging platform for exchanging messages within a corporate network. It is a user-friendly network messenger for your company office with support for file transfers, message broadcasting and encrypted conversations. The biggest benefit of this app is that it has strong privacy protection and offers both person-to-person and multi-user messaging.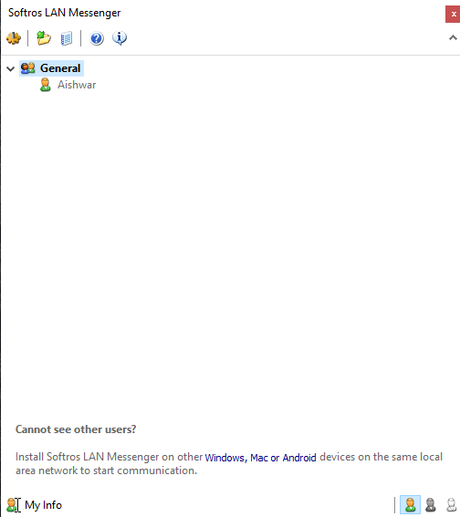 It will automatically detect any client that is currently connected to the network and does not require a server or Internet connection. This messenger includes features like group messages, message history log, sound notifications, away/busy statuses and more. You will find glimpses of the old school daddy Yahoo messenger!
Product and technical details
Here is a quick break down of the key details you should know regarding Softros LAN messenger.
Product details
Softros LAN messenger was developed and published by "Softro Systems, Inc." Users can choose from three enterprise pricing licenses. The official prices per running copy of the product are:

The most updated version it runs is the version 8.1.2.
Last updated on August 5, 2017.
Technical details
Supports devices running on the following OS platforms:
Supported languages:
Highlight features
Softros LAN messenger has a host of interesting and compelling features that make it one of the most trending instant messaging software for corporate networks.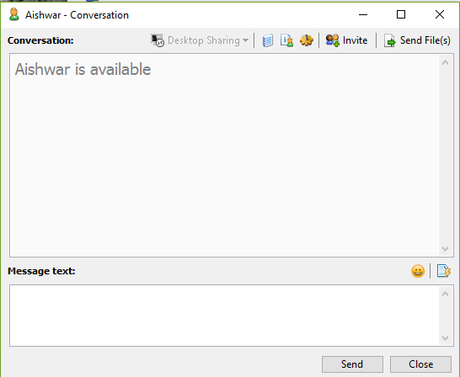 No servers and Internet connections involved.
AES-256 Data encryption: Communications are end to end encrypted for both Individual and group messaging.
Offline messaging
User groups
File transfers
Message history
Remote desktop sharing.
Active director and domain support.
LAN, WAN, VLAN and VPN support.
Importing and exporting user settings.
Restricting user access.
Terminal services support.
Email and telephone support options.
Pros and cons
In case you got lost amidst the technical terms and details mentioned above, here is a rapid pros and cons section that will make it easier for you to figure out whether Softros LAN messenger is really worth your time and money or not.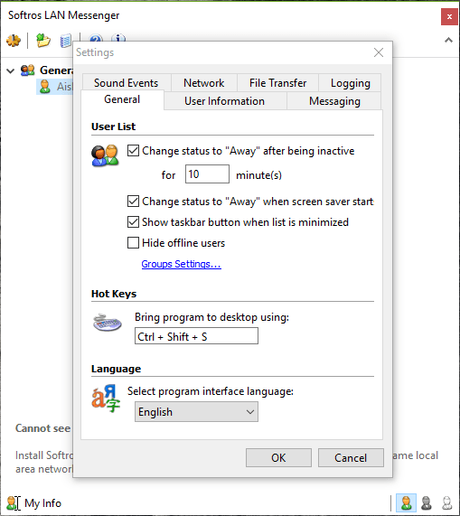 You may also like:
Clean and easy to understand user interface. Toggling through the features and settings is a delight.
Strong security and privacy protection. End to end encrypted chats for all messages, be it individual or group. FEEL SECURE!
You can chat with anyone who's connected to your company's LAN. All communications remain private as there is no need to connection to the Internet or a dedicated local server.
Works on LAN, WAN, VLAN and VPN support.
You can send offline messages to your colleagues.
Remote desktop sharing. Taking a page out of the "TeamViewer" and "Chrome Remote Desktop" playbooks, Softros LAN messenger provides the feature of operating your colleague's desktop without physically accessing it.
Additional telephone support service along with the usual Email support service.
You can import and export user settings through this messenger between fellow coworkers.
No monthly or annual subscription payments to keep your account active. Just a one-time payment for the product. (Prices mentioned in product details section)
Mobile application also available for Android devices.
Coworkers and colleagues need to be connected through the same LAN network to communicate through Softros LAN messenger.
Mobile application not available for iOS and Windows users.
Mobile devices should be connected on the same wifi network to communicate through Softros LAN messenger.
My final opinion?
Frankly speaking, initially, Softros LAN Messenger would seem like any other regular instant messaging software and you may wonder what's so new or different about it to spend your penny on it. But the concept of a "LAN" messenger brings the big twist. The fact that the software does not require any server or internet connection gives privacy and security an ultimate boost.
An easy user interface makes file transfers and message broadcasting a smooth experience. The layout of the software reminded me of the good old days of Yahoo messenger. And honestly, I loved Yahoo messenger! Plus, I loved the remote desktop sharing and offline messaging features. It scores on the financial side as well as there are no monthly or annual subscription charges involved. It's just One-time payment software. It is the best messaging platform for communicating within a corporate network.