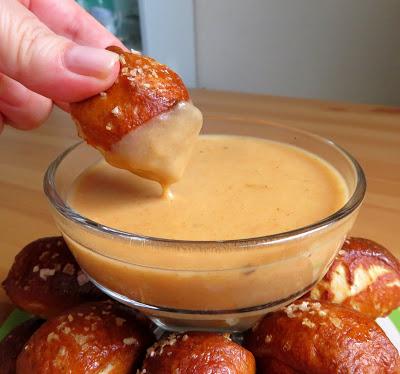 I confess I was a Soft Pretzel Virgin until I made these fabulously tasty Soft Pretzel Bites!  I was inspired by a recipe I found on
DIY & Crafts
. They sounded really simple to make.  First of all I was inspired by one of the products in my latest Degustabox.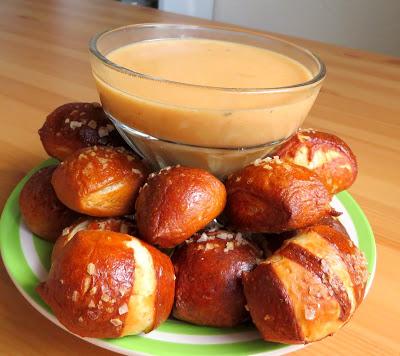 I had seen a really delicious looking Beer Cheese Dip on
How To Feed a Loon
, and there was the perfect bottle of beer in the box, a light Pilsner.  I love those Loon guys. Their recipes rock and they seem like a couple of really fun and nice guys. So I made the pretzel bites from the first recipe and the dip from the Chris and Wesley's recipe.  Let me tell you now, altogether . . .  AMAZING!  But first I must tell you about the box.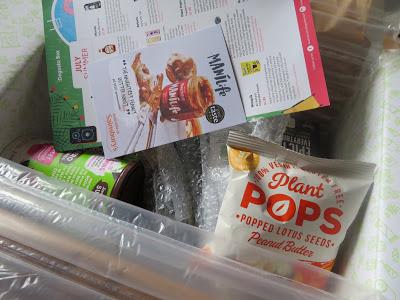 As those of you who have been reading me for a while know, I am the lucky recipient of the gift of a Degustabox each month. Once a month, around the middle of the month, I am gifted with one of these lovely
boxes
which contain a delicious
assortment
of all things foodie.  I just love these boxes.  Each one is always a lovely surprise.   Opening each one feels a tiny a bit like
Christmas
to me. Always a surprise, and always filled with things that pique my interest and desire to try.
Degustabox
is a monthly foodie subscription service that sends out a range of 10 to 15 specially selected foodie
products
. I even have a code that  can give you which will  give you a £3 discount off of your first box. I will tell you about that at the end. I have been getting these boxes for a couple of years now and I have to say I have never been disappointed.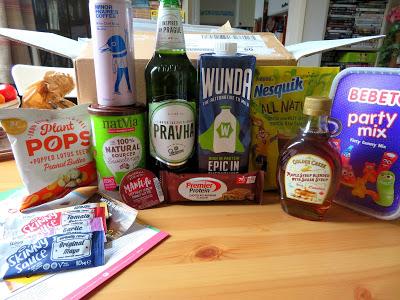 This month's box theme was the July Summer Box, filled with lots of goodies to enjoy on your own or with your family.  From the moment I saw Pravha Pilsner Beer, I was inspired to want to use it in a recipe, but first a little bit about the rest of the contents of my box.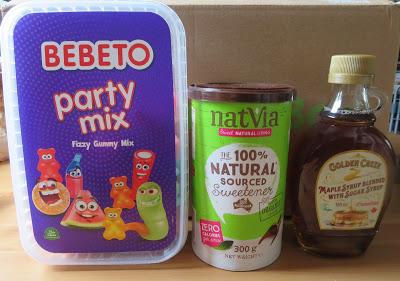 BEBETO
Party Mix Tub 1 X £2Mixed gummies, fizzy coated.  Treat yourself and enjoy the party.  Bebeto is the fastest growing brand in the UK.*Available at Morrisons, selected Spar stores and Bestways.
NATVIA
Natural Sweetener 1 X £5 Quitting sugar is easy with Natvia, a great tasted sweetener made from 100% naturally sourced GMO#free ingredients. Created from a unique blend of steva, Navia tastes sweet with no aftertaste.  Crafted for baking and cooking, it is also a grea companion for coffee and tea.  Visit
www.natvia.com
for great recipe ideas!*Available a Tesco, Ocado, Tree of Life, and Health Food Store. 
GOLDEN CREEK  1 X £2.49 A blend of pure, dark Canadian maple syrup and liquid sugar, Golden Creek is ideal as an accompaniment to pour over your favorite desserts like pancakes, waffles or ice cream. Golden Creek is perfect for you if you love Maple Syrup at a fraction of the cost. *Available on Ocado and at Home Bargains.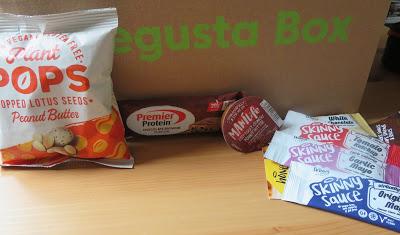 PLANT POPS
Popped Lotus Seeds 1 X £1.50 Plant Pops are the new way to snack! Made with sustainably harvested lotus seeds, popped and roased before being umbled with ground peanuts for a subtle panutty taste.  They are sweet, salty and crunchy making a moreish snack time treat and are delicious drizzed in melted chocolate or on porrige.*Available on Amazon,
www.plantpopssnacks.com
, The VeganKing Supermarket, harvey Nichols, Londis & Budgens. 

PREMIER PROTEIN
Chocolate Brownie flavoured Protein Bar 1 X £1.49We believe n feel-good energy to help you achieve your health and wellbeing goals. Our bars are packed with 20g of protein and only 1.3g of sugar. Great post-workout, as an on-the-go snack, or the perfect pick-me-up! Available in three flavours: Chocolate Brownie, White Chocolae Vanilla and Chocolate Peanut Butter.*Available at Ocado and WHSmith Travel
MANILIFE
Peanut Butter 1 X £.030Life changing natural peanut butter. An irresistibly creamy indulgence with BIG crunchy pieces. Made from th finest high-oliec peanuts sourced from a single estate farm in Argentina, roasted by experts and blended in small batches to creae an explosion of taste. Available in Sainsbury's from the 19th of July.*Available from Sainsbury's, Waitrose, Ocado and at
ManiLife.com
THE SKINNY FOOD CO
  GiftAdd flavor to any meal without ading high calories & sugars with these zero sugarm calorie syrups and virtually zero calorie suces.  There's over 70 flavours to choose from in the table top collective and you will receive X 4 servings for on the go.*Available on
SkinnyFoodco.com
, Morisons, Spar and COOP.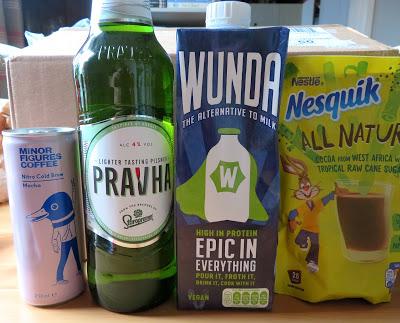 MINOR FIGURES
Nitro Cold Brew 1 X £1.95We source the best in-season tea and coffee and our slow brew process captures the purity and depth of every ingredient. The result is a light, dairy-free drink wih no added sugar. When opened, nitrogen is released to create a silky microfoam. They are ready to drink, but are best served chilled.*Available at Wholefoods, Planet Orgaic, Sourced Market, As Nature Intended, Ocado, WHSmiths Travel, Holland & Barratt and nationwide independants.
WUNDA
MilkAlternative 1 X£1.99 Wunda, a delicious, dairy-free alternative to milk that is high in protein and epic in everything! Wunda-fully versatile, you can use it in exactly the same way you use milk. Wunda-fully nutritious - high in protein, low in suga and fa, and fortified with vitamins A, D, B2 and B12.*Launching in 2021
NESQUIK
All Natural Milkshake Powder 1 X £1.89 Made from just five natural ingredients including natural raw cane sugar, Nesquik All Natural *contains absolutely no artificial flavourings or sweeteners but still has the chocolatey taste that kids love, and geat news, the paper pacaging is fully recyclable and plastic-free* Made from natural ingredients.*Available at Tesco and Sainsbury's  
PRAVA
Lighter Tasting Pilsner 1 X £2Discover Prava, from the legendary brewrs of Staropramen, Prava has ll the bold, iconic flavor of a high quality Czech pilsner yet is unexpectedly crisp, light tasting and refreshing.*Brewed in the UK. Available in the major supermarket chains.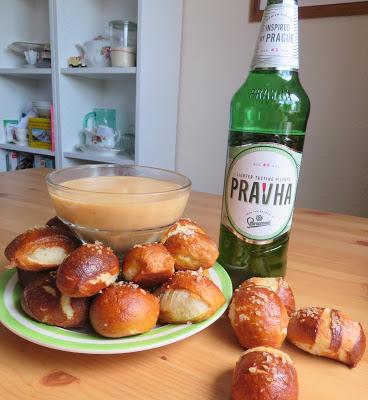 This was the perfect beer to use for this lush cheese dip/sauce. You don't want to use anything too strong.  European pilsner lager is the best for this as it is not too dark in color and has a nice mild flavor.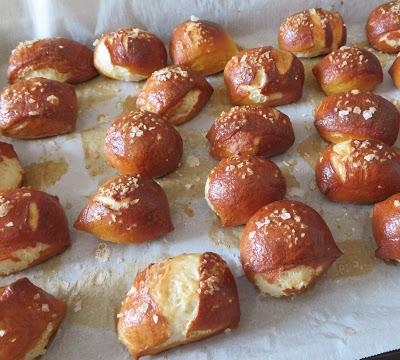 This was my first time making soft Pretzel Bites.  I had always wanted to make them, but thought they would be difficult or really time consuming. I was so completely wrong. Nothing could have been easier, and as far as bread goes, quicker.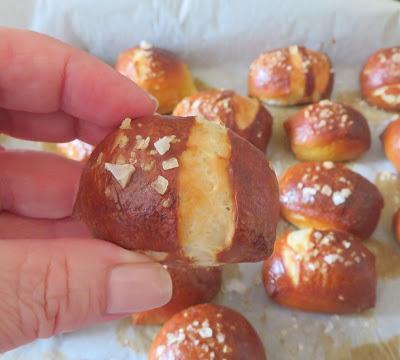 As you can see they turned out perfectly!  They had a nice chewy crust and a beautifully light interiour.  The perfect bite!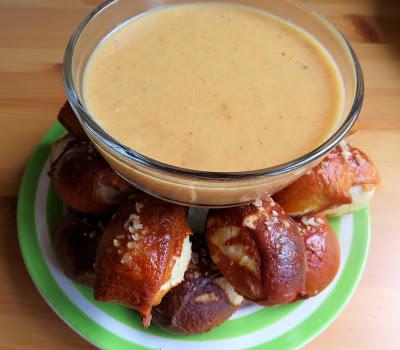 Perfect for dipping in that lush cheese sauce/dip.  The flavours of the dip are nice and cheesy. I used a good quality strong artisnal cheddar cheese (white) for the best flavor.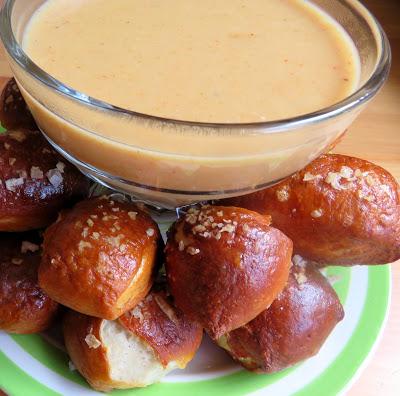 Cheddar also has great melting properties.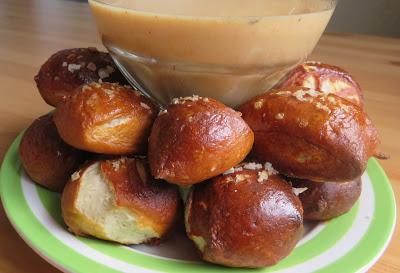 The dip has a bit of a bite from the use of smoked paprika and Worcestershire sauce, and then of course there is that mild lager  flavour, which does not overwhelm the taste of the sauce at all. You know its there, but it doesn't slap you in the face.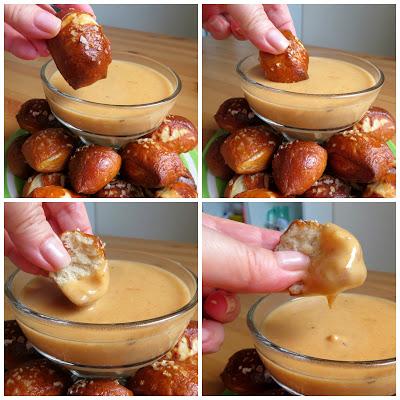 This sauce has the perfect cheesy density . . .  perfect for dipping those moreish Soft Pretzel Bites into  . . .  look at that deliciousness.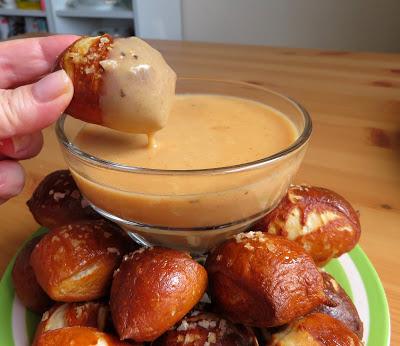 The combination of the two was gorgeous.  I can't wait until it is safe for us to entertain again!  This would be perfect as a snack for game nights or parties!  
Soft Pretzel Bites & Beer Cheese Dip
Print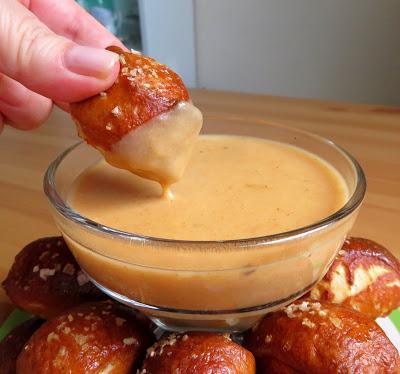 Yield: 4
Author:
Marie Rayner
prep time: 1 H & 15 M
cook time: 15 M
total time: 1 H & 30 M
Golden brown Soft Pretzels served with a delicious Beer Cheese Dip. Perfect for snacking! Soft Pretzels are a lot easier to make than one might suppose!
Ingredients:
For the Pretzels
120ml warm water (1/2 cup)
60ml warm milk (1/4 cup)
1 1/4 tsp dry yeast
1 tsp sugar
45g butter, melted (3 TBS)
1 tsp salt
280 to 350g plain flour (2 - 2 1/2 cups)
50g baking soda (1/4 cup)
950ml water (4 cups)
coarse salt and an egg wash (1 egg yolk, beaten with 1 TBS water)
For the Beer Cheese Dip
2 TBS butter
3 TBS plain flour
160ml beer (2/3 cup)
180ml milk (3/4 cup)
2 tsp Worcestershire Sauce
1 tsp smoked paprika
1/2 tsp salt
1/2 tsp freshly ground black pepper
245g strong cheddar cheese, grated (2 cups, 8 1/2 ounces)
Instructions:
Begin by making the pretzels. These will take about an hour and a half to make, start to finish.
Whisk together the warm milk and water with the sugar, and yeast. Leave to prove for 10 minutes, then stir in the butter.
Whisk together the flour and salt.  Pour in the yeast mixture and stir to combine well with a wooden spoon.  Tip out and knead until smooth on a lightly floured surface. (about 10 minutes).  Set aside in a lightly oiled bowl, covered, to rise for 1 hour, until doubled in size.
Divide into four pieces and shape each into a roll, about 6 inches in length. Cut into bite sized pieces. You should have 24 pieces.
Preheat the oven to 220*C/425*F/ gas mark 7.  Have ready a large baking sheet, lined with baking paper.
Bring the four cups of water to a boil in a large saucepan. (Make sure it is really large as it will double when you add the soda and boil very vigorously.) Carefully add the baking soda. It will boil quite actively so do take precaution.
Add the pretzel bites, no more than six at a time. Boil for 30 seconds, then scoop out and place onto the baking paper covered baking sheet.  Repeat until they are all boiled, making sure you have plenty of space around them on the baking sheet.
Brush with the egg wash and sprinkle with some coarse salt.
Bake in the preheated oven for 15 minutes until golden brown.
Make the Beer Cheese Dip while you are baking the pretzels.
Melt the butter in a medium sized saucepan.  Whisk in the flour and cook for about a minute or so to cook out the flour taste. Whisk in the beer completely. Whisk in the milk, Worcestershire, paprika, salt and black pepper.  Cook, whisking continuously, until the mixture bubbles and thickens. Stir in the cheese and allow it to melt.  Taste and adjust seasoning as desired.
Serve the  cheese dip in a bowl surrounded by the pretzel bites. The dip is delicious served either warm or at room temperature.
Did you make this recipe?
Tag @marierayner5530 on instagram and hashtag it #EnglishKitchenCreated using
The Recipes Generator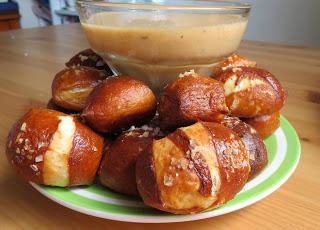 I really
DO
make great use of and enjoy many of these fabulous products I am sent each month to try out. 
Many thanks to Degustabox UK for gifting me this box. I have to say I really look forward to getting my box each month. There are always lots of things in it to enjoy and new products to try out. I highly recommend. You can also tailor the boxes to your own likes and dislikes by filling in your own Taste Profile.  If you like the sound of this box, why not sign up now! I find them to be really good value for money spent and I really enjoy trying out new products that I have not tried before.   Included is also a detailed

information

card  which tells you all about each

product

included, and other extras such as recipes, etc.   
Follow them on Facebook 
Follow them on Twitter  
So, that was the July Degustabox - a nice selection of products as always. We loved it. The price of each Degustabox is £12.99 (including delivery). To order your box, visit www.degustabox.com 
Use the code 2ROE0 to get £3 off your first Degustabox, free delivery – enjoy! 
I was gifted with the box free of charge, however any and all opinions are my own.