Share Pin Tweet Email Yum StumbleShares 0
These Soft Gingerbread Cookies will be a holiday staple! They're incredibly chewy with tons of flavor from the molasses and warm spices. These gluten-free, paleo, and vegan cookies are sure to be a hit.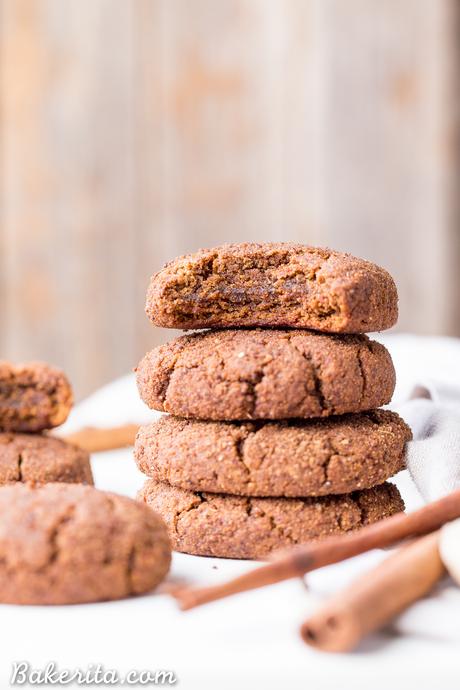 Who loves gingerbread cookies?!? If I'm honest with you all, gingerbread isn't usually my favorite of the holiday flavors. The typical super crunchy and thin gingerbread cookies just don't really do it for me – I typically prefer some chew, and/or chocolate to be involved. How about you?
We also just didn't make gingerbread cookies too often when I was a kid. We were much more enthralled with making batch after batch of Magic Cookie Bars during the holiday season.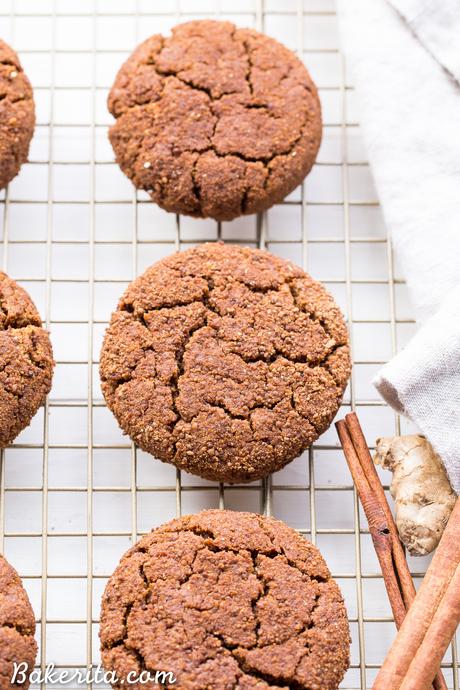 This year though, I got a few requests for soft and chewy gingerbread cookies. First, from my boyfriend, and then from a bunch of you readers! Obviously, I had to make it happen. And they had to be DELISH; deliciousness enough that even I would want to devour the whole plate.
I wanted chewy, soft, thick, and super flavorful cookies, full of deep + rich molasses flavor and just the right balance of warming spices. I also wanted them to be paleo and vegan, so they could be enjoyed by all.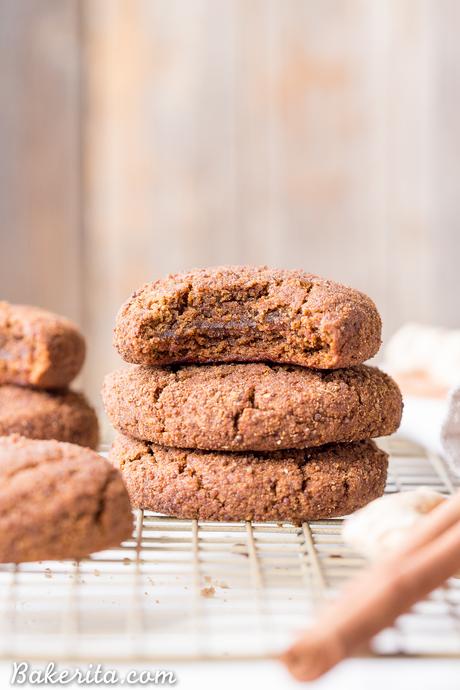 Surprisingly, I knocked these out of the park on my first try (not to toot my own horn or anything). I heavily adapted them from my super popular Coconut Flour Chocolate Chip Cookies, adding the molasses and spices to make them perfect for the holidays, along with a roll in some coconut sugar and spices before they're baked.
They come together super quickly and easily, even more easily than most gluten-filled cookies. There's no need to get your stand mixer out – these are super easy to stir together with a bowl and a wooden spoon, and the dough comes together in about 5 minutes.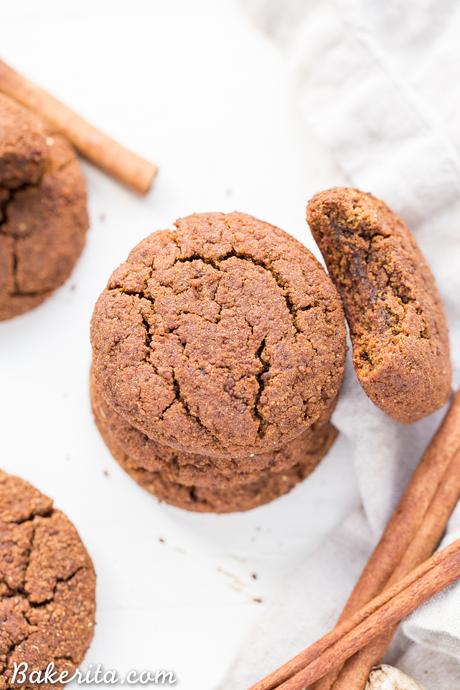 To keep them vegan, I used flax eggs. If you're not interested in keeping these vegan, you can use an egg + an egg yolk to get the same texture. For the flour, these use coconut flour! You only need 1/2 cup for the whole recipe. I wouldn't recommend replacing the flour with anything else here, since coconut flour is so uniquely absorbent.
Once the dough is ready, I recommend scooping these up with a cookie scoop, rolling the dough balls in the coconut sugar/cinnamon/ginger mixture, and then flattening them out a bit. These cookies don't spread too much, they just puff up and out slightly, so it's best to flatten them to your desired shape with your hand before baking.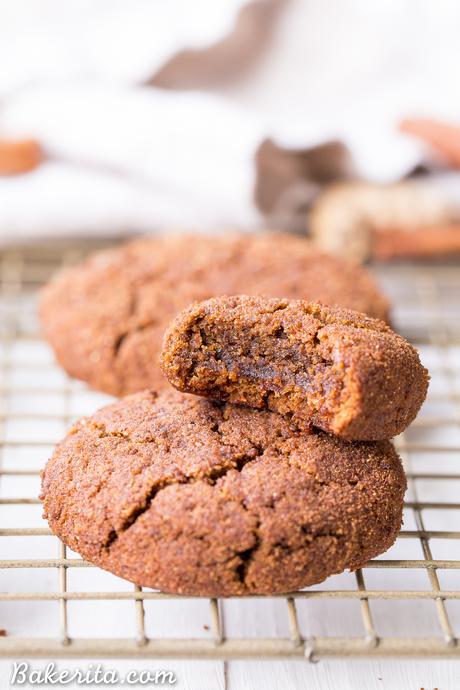 You can bake them on the shorter side, for about 10-11 minutes for a softer cookie, or leave them in for an extra few minutes if you want crispier edges. Either way, these are sure to be a hit. They're dense, chewy, soft, and pure gingerbread flavor perfection. These are the perfect treat for your holiday cookie platter, but I won't tell if you want to keep them all to yourself ;) enjoy!
Remember to #bakerita if you try the recipe!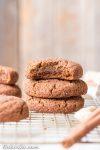 Print
Soft Gingerbread Cookies
Course Dessert Cuisine American Prep Time 10 minutes Cook Time 11 minutes Total Time 21 minutes Servings 12 cookies Calories 136 kcal Author Rachel
Ingredients
2

tablespoons

virgin coconut oil

solid and slightly softened, similar to softened butter

⅓

cup

(85g) almond butter

¼

cup

(85g) molasses

½

cup

coconut sugar

2

flax eggs

2 tablespoons flax meal + 5 tablespoons water - whisk them together and let sit for 5 minutes to gel - see Notes for info about using real eggs

1

teaspoon

vanilla extract

1

teaspoon

ground ginger

1

teaspoon

cinnamon

½

teaspoon

baking soda

½

teaspoon

salt

¼

teaspoon

ground nutmeg

½

cup

(64g) coconut flour
To roll the dough in
⅓

cup

coconut sugar

¼

teaspoon

cinnamon

¼

teaspoon

ground ginger
Instructions
Preheat the oven to 350ºF and line a cookie sheet with parchment paper.
In a bowl or stand mixer, beat together the coconut oil, almond butter, molasses, and coconut sugar until smooth. Add the flax eggs and vanilla and mix until smooth.
Add the ginger, cinnamon, baking soda, salt, nutmeg, and coconut flour to the wet ingredients. Mix until well incorporated.
In a separate small bowl, combine the coconut sugar, cinnamon, and ground ginger to roll the dough in.
Use a small or medium sized cookie scoop to form cookies and roll in the cinnamon sugar mixture. Place 2" apart on the prepared baking sheet. Press down slightly to flatten - note that the cookies won't spread very much, so press them down to the thickness you prefer.
Bake for 11 minutes or until the cookies have puffed and are cooked through. You can bake for an extra minute or two for crispier edges.
Let cool for 5 minutes on the cookie sheet and then move to a cooling rack to cool completely. Enjoy!
Recipe Notes
If you don't want/need to use flax eggs, replace the two flax eggs with 1 egg + 1 egg yolk.
Nutrition Facts Soft Gingerbread Cookies Amount Per Serving (1 cookie) Calories 136 Calories from Fat 63 % Daily Value* Total Fat 7g 11% Total Carbohydrates 18g 6% Dietary Fiber 3g 12% Sugars 14g Protein 2g 4% * Percent Daily Values are based on a 2000 calorie diet.

Related Posts
White Bean Vegan Chili Vanilla Bean Cranberry Swirl Bars (Gluten Free, Pa... Apple Crumble Pie (Gluten Free, Paleo + Vegan) Chocolate Peanut Butter Tartlets (Gluten Free, Gra... Chocolate Strawberry Oatmeal (Gluten Free + Vegan) Granola Breakfast Tarts with Sauteed Apples + Coco... Share Pin Tweet Email Yum StumbleShares 0