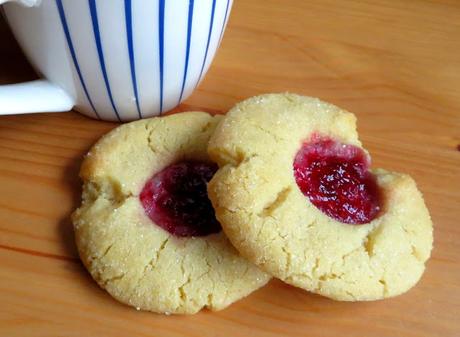 Back home there were these lovely sugar cookies that my mother would pick up for me as a treat at the Bens Bakery Outlet. They were lovely, big and soft just like pillows.  The centres would be filled with red jam. 
I loved them so much. It has been a very long time since I have had one. Thinking about them makes my heart warm because I am reminded of my mother and all the special little things she always did for her children. Oh how very much I miss her.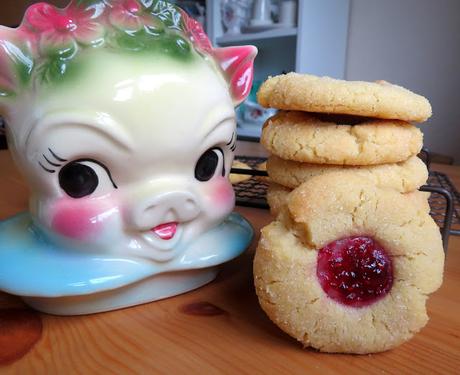 I have always been searching for a cookie recipe that would closely resemble those delicious cookies.  These cookies come pretty close. I think they would be almost exactly the same if I were to use shortening instead of butter and to skip the rolling in sugar bit. 
Maybe someday I will try them like that.  Today was not that day. Miss Piggy and I wanted something a bit more decadent and so it was real butter and sugar all the way!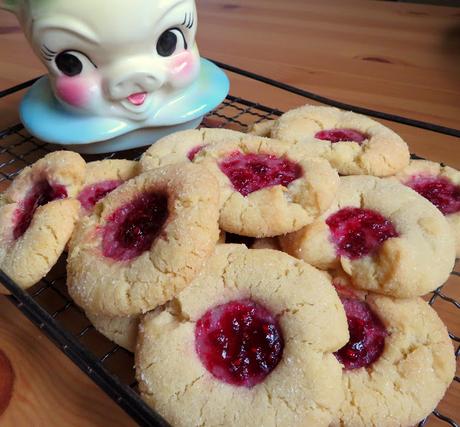 I confess as to having cut the recipe in half for us today, which gave me about 15 largish cookies.  15 largish Soft and Chewy Jam and Sugar cookies! 
I confess also to having eaten no less than three since they came out of the oven this  morning. I know, this is very naughty and I find myself somewhat relieved that I did cut the recipe in half on the one hand and rather annoyed that I did on the other!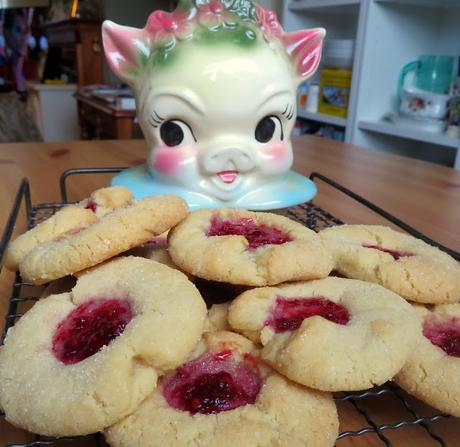 I have adapted the original recipe from one that I found on a blog called
Life, Love and Sugar
. I had done a search on Pinterest and these sugar cookies sounded very similar to what I was looking for.
They didn't quite look the same, but I love sugar cookies and so I thought I would give them a go.  I have never met a sugar cookie I actually did not like!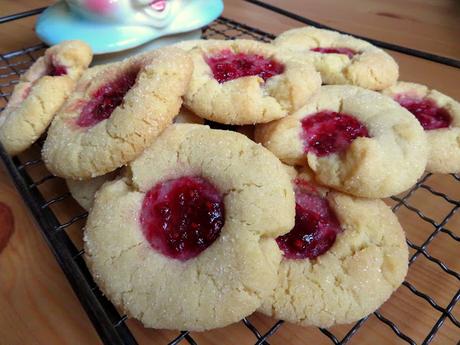 Living here in the UK I don't have any family around to share these goodies with. When I bake things like this, I cannot help but with I had some grandchildren closer to share them with. Dreams can come true. We shall see.
In the meantime these are being very much enjoyed and I have a lovely next door neighbor who has a son and who enjoyed my efforts. I also have Ariana, Jose and Grace just around the corner.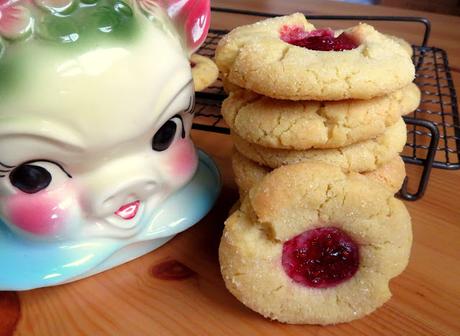 I can tell Miss Piggy approves.  She has the satisfied look of a piggy cookie jar that knows a good cookie when she sees it! 
I bought Miss Piggy at a yard sale back in Canada many moons ago for just $2. I actually had two pig cookie jars.  A cowboy one and her. My cowboy one got broken when we moved back up here from down South.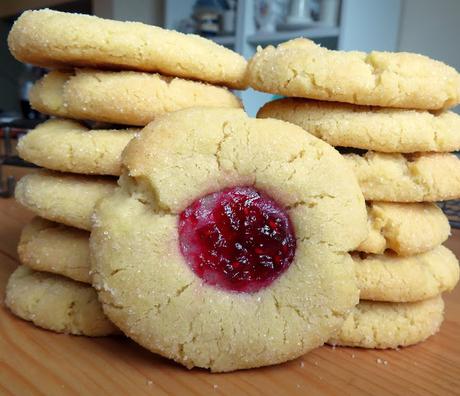 She is a vintage American Bisque Pig Girl Cookie Jar and I believe she dates from the 1950's.  I don't really know a lot about her. I am pretty sure she isn't worth a lot monetarily speaking.
She is worth the world to me however.  She holds a lot of cookie memories for me.  Many years of baking cookies for my kidlets and storing them behind her ample apron.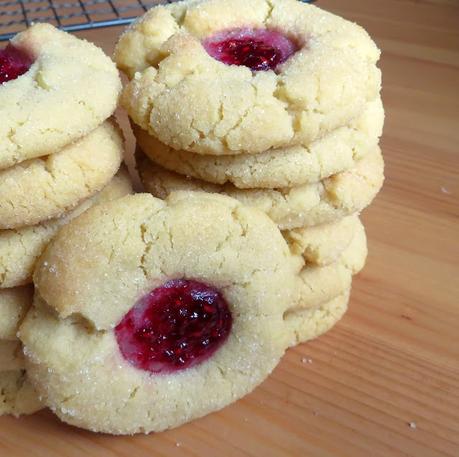 Of course that was back in the day when I used to have to bake cookies about every second day or so.  My children used to inhale the cookies I baked.  That happens when you have five children, three of which are boys! 
Cookies never seemed to stay around long in our house. I use bemoan that fact. It seemed I was always baking. How I miss those days. You young mums with all of your kids still at home, enjoy every day for the gifts that they are!  They will be gone before you know it!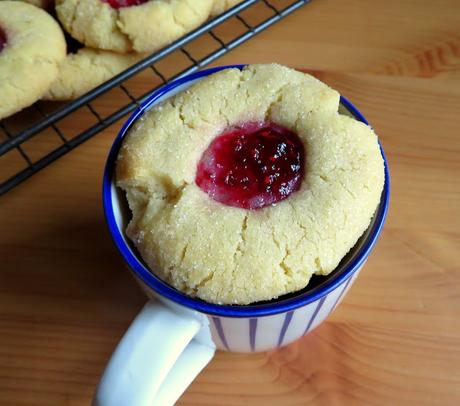 Many people like to enjoy their sweet treats along with hot drinks. Here is a handy tip to try out if you are wanting to freshen your cookies and warm them up a bit.
 It works so long as your cookie is larger than the circumference of your mug. If they are smaller, it won't work. You will end up dunking your cookie, but then again, lots of people like to dunk their cookies.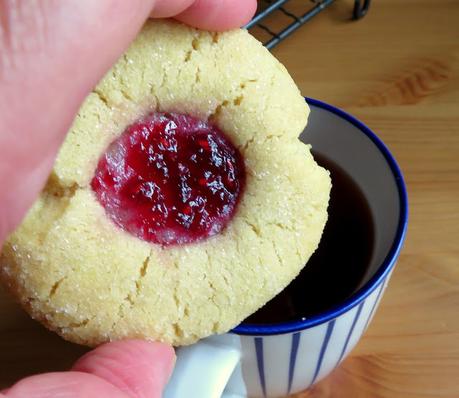 I don't mind dunking a cookie now and then.  Just not all at once! 😂😂 If you catch my drift! 
If you are fond of sugar cookies you will love these.  They are soft and chewy, with a nice sugar crust on the outsides.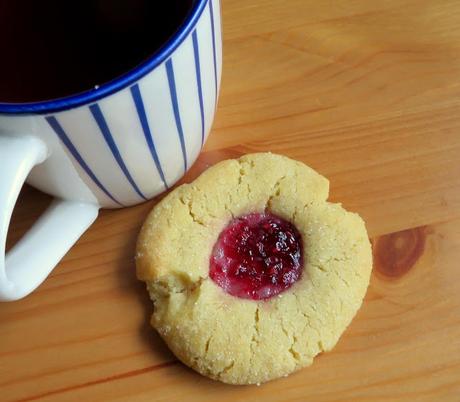 They are supposed to stay soft and chew for days. I can't speak to the veracity of that as I have only had them here in my house for a few hours, and since  did only half a recipe I doubt they will be here for too many days. 
I thought the jam added a lovely touch.  But, then again, I am a jam person. I love, Love, LOVE jam! It is one of my favorite things and a very rare treat for me these days.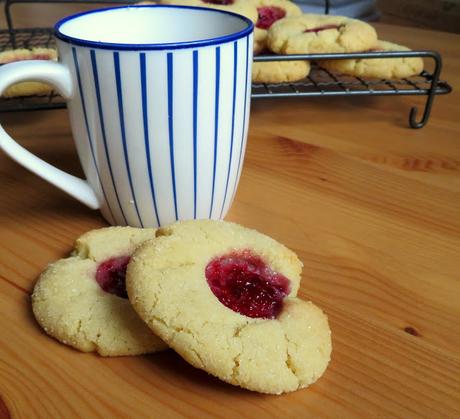 As a diabetic jam is not really on the menu for me these days. It is a very rare treat. I have discovered it is not worthy buying low sugar jams as they use fruit juice to sweeten them, which is just as bad for you as sugar.
Also those ones that use artificial sweeteners?  I am not entirely convinced that stuff is very good for you. I guess I would rather have a rare taste of the real stuff every now and then instead.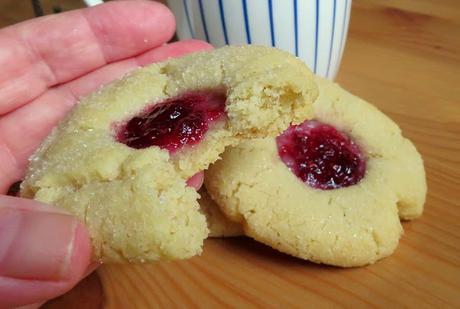 In any case, I really hope that you will be inspired to want to try baking these cookies.  Whether you bake them as they were originally intended, without the jam, or if you take a leaf out of my table and bake them with the jam you are going to enjoy them either way. 
That's a promise you can honestly bank on! These cookies are real winners!
Soft and Chewy Jam & Sugar Cookies
Print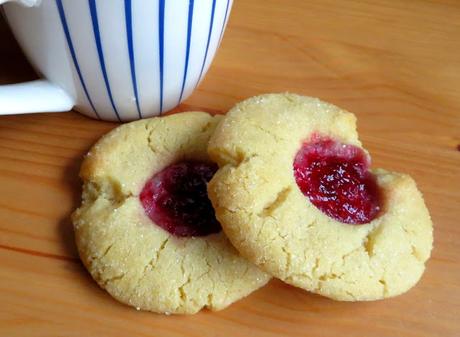 Yield:
30 to 32 cookies
Author:
Marie Rayner
prep time: 15 Min
cook time: 10 Min
inactive time: 6 Min
total time: 31 Min
Lovely soft and chewy sugar cookies with your favorite jam center. I have used raspberry but any jam will do, or even a mix of jams! Quick, easy and delicious with no need for rolling out or refrigerating the dough ahead of time.
Ingredients
2 3/4 cups (385g) all purpose (plain) flour
1 tsp baking soda
1/2 tsp baking powder
1/2 tsp fine seasalt
1 cup (220g) butter, at room temperature
1 cup (200g) granulated sugar
2 TBS soft light brown sugar, packed
1 large free range egg
2 tsp vanilla extract
You will also need:
1/4 cup (50g) granulated sugar
your favorite jam
Instructions
Preheat the oven o 180*C/350*F/ gas mark 4. Line several large baking sheets with baking parchment.  Set aside.
Cream the butter and both sugars together until light and fluffy.  Beat in the egg and vanilla.  Sift together the flour, soda and baking powder.  Add to the creamed mixture along with the salt. Mix well together. You will have a thick dryish mixture that is not sticky in the least. You can knead it a few times with your hands to make it all come together.
Put the 1/4 (50g) of sugar into a bowl.
Shape 1 1/2 TBS of the dough into a ball. Roll it in the sugar and place on the baking sheet, leaving at least 2 inches between cookies.  Repeat until you have rolled all the dough into balls, sugar and place them on the baking sheets.
Take the handle end of a wooden spoon and make a deep divit in each cookie.  Fill the holes with about 1/4 tsp of your favorite jam. Do not overfill. Less is definitely more.
Bake in the preheated oven for about 10 minutes. The cookies will spread, be puffy and the edges should be golden brown.
Leave to cool on the baking sheets for 5 or 6 minutes. Scoop onto a wire rack to finish cooling.
Store in an airtight container.
Did you make this recipe?
Tag @marierayner5530 on instagram and hashtag it #EnglishKitchenCreated using
The Recipes Generator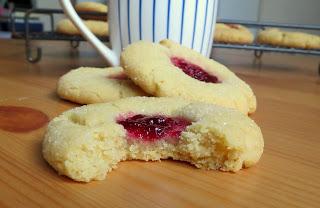 These are really lovely cookies. You can very easily cut the recipe in half by halving all of the ingredients, and using only the egg yolk instead of a whole egg. You can freeze the white for another purpose so there is no waste. 
This content (written and photography) is the sole property of The English Kitchen. Any reposting or misuse is not permitted. If you are reading this elsewhere, please know that it is stolen content and you may report it to me at: mariealicejoan at aol dot com Thanks so much for visiting. Do come again!