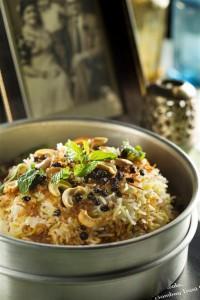 "With SodaBottleOpenerWala, we give you a concept that is unique to India; the dying legacy of the wonderful chaotic, crowded, bustling, colorful, quirky, cluttered, eccentric and so real world of an Irani café. Our way of reviving the love for the edu and the disappearing race behind the cafes".
AD, Sabina and RustomSodaBottleOpenerWala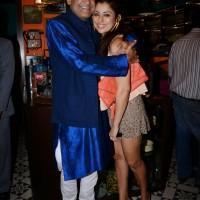 SodaBottleOpenerWala first opened its doors in November 2013 at Cyber hub, Gurgaon. At  Khan Market, the second outlet is a 48-seater located in the middle lane on first and second floor complete with a bar and an intimate outdoor balcony making it the right spot to tuck away in the heart of the market bustle and while away time.
Says AD Singh, as he shares his vision, "SodaBottleOpenerWala is a concept restaurant and bar. For Sabs and me, Bombay is an integral part of the journey of our lives and the Irani cafe is a rich part of that tapestry. We delved deep within its unique world to bring alive the nuances –both for cuisine and its atmosphere. Architect Clements and Sabs bought that canvass to life and the food menu was put together in keeping with the concept we had in mind".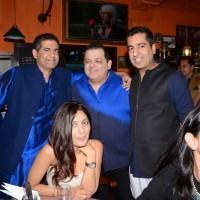 He further adds, "I am happy that now the second SodaBottleOpenerWala finds home in New Delhi at the bustling and vibrant Khan Market which is the soul of Delhi. As such, it's a perfect spot for this concept, allowing more people to discover its uniqueness and help us to resuscitate the dying legacy. We hope they will grow to love it as much as we do".
The wave of settlers from Persia gravitated towards opening cafes as a means of livelihood, which became increasingly popular and today Bombay hosts the most number of Irani cafes. Gradually the tradition of such cafes died down due to the foray of fast food concepts that flooded the country. Only 25 such cafes are now still in existence.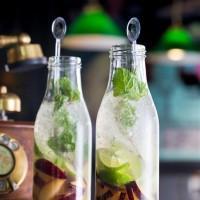 Soda is indeed popped and we hope everyone enjoys the effervescence of the soda! The love for this Bombay Irani cafe has since then spread infectiously indeed. The Parsi New Year in August 2014, also became the occasion for the (un)official video to the official SodaBottleOpenerWala in Delhi NCR. It was released to coincide with the official play in Mumbai by the same name!
Irani cafes were famous for their inexpensive food, eccentric owners and distinctive menus incorporating dishes like the stick chai (extremely sweet); bun maska (crusty bread with butter), kheema pao (mince curry with bread) and typical Parsi cutlets, patties, rolls, fruitcakes, and confectionary. Today however Irani cafes serve a wide range of cuisine.
The selection from the Irani chai bar at SodaBottleOpenerWala leaves you spolit for choice. From Irani special chai, phateli coffee, Mrs SodaBottleOpenerWala's colf coffee, sekanjebin, raspberry soda, masala pepsi etc onto challenging drink Khade Chammach ki chai, there are as many choices as your fastidious taste buds.
The signatures dishes at Khan Market are Dhanshak (veg and non-veg), Berry Pulao (veg and non-veg), Jardaloo ma Tarkari, Breach Candy Awesome Okra, Aloo Aunty's Vegetable Cutlets, Otter's Club Breakfast Aloo Paratha, Vada Pav, Tareli Macchi, Bohra Keema Pav, Goan Fish Curry, Chicken Baida Roti and Prawn Patio.
SodaBottleOpenerWala Look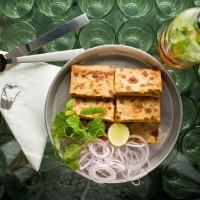 The attempt has been to be able to walk in the restaurant and experience a slice of Bombay at its Parsi best. Every item seen on the walls and on the menu is typical of Bombay and of what you most likely may find in Mrs. SodaBottlOpenerWala's home and kitchen.
Keeping most original elements of a typical Irani cafe in place, architect Clement and fashion and interior designer Ms Sabina Singh, added a few contemporary touches. Their take of Parsi Style Freddie Mercury meets Monty Python on the large mirrors juxtaposes with a play of graphics all around.
Old world dome lights from Chor Bazaar… some actual antiques, cuckoo clocks, antique framed images of life in Irani cafes and Bombay street life on the wall, barni glass jars bursting with nankatais and typical bakery items sold by the piece on the cash counter, tin boxes, locks, old paraphernalia and bric a brac, armed with the most important ingredient – the Bombay Irani Café menu is what makes it comes alive.
SodaBottleOpenerWala's Menu
They say Iranis don't feast with their eyes but with their nose!
Nostalgia warms your heart as you navigate through the menu, bringing a smile to your lips as you choose from a comprehensive selection. Parsi Specialities include Dhanshak (Mutton)(Classic Parsi dish of mutton with lentils and served with caramelized rice and kachumber), Tareli Macchi (Parsi styled fried fish), Chicken Berry Pulao and Mutton Berry Pulao, Prawn Patio (A tangy prawn preparation, sweet, sour and mildly spicy), Parsi Mutton Masala Roast (Roasted mutton served with Parsi style masala) and in Veg section Jardaloo Ma Tarkari (Parsi style vegetable curry with apricot), Veg Berry Pulao and Bharuchi Paneer Akuri (Parsi style scrambled cottage cheese with cashwenuts) to name a few.
One of the key signatures of SodaBottleOpenerWala is its extensive Bombay special menu that serves an extensive selection of 22 picks. Be it Bun Maska Pav, Kanda Bhajji, Bombay Rasta Sandwich, Breach Candy Awesome Okra, Eggs Kejriwal, Bhendi Bazaar Sheekh Parantha and Bacon Keema Macaroni or Tardeo AC market Mamaji's Grill Sandwich – the truth of Mumbai life and its soul is reflected in this menu.
The Irani Bakery Menu serves everything freshly baked in the morning and sold by the piece.  The selection include delights like Khari Biscuit, Ginger biscuit, Nan E Badami, Berry Nan Khatai, Shrewsbury biscuit  onto Mawa Cake, Lagan nu Custard and Apple Pie with Custard.
A selection of 18 drinks from Irani chai bar leave you spoilt for choice. Irani Special chai, Mewa Nu Chai (brewed..not boiled), Pheteli Coffee Hot onto tempting coolers of MrsSodabottleopenerwala's Cold Coffee, Gannu Nu Ras, Sekanjebin (Persian dried plums and mint cooler), Raspberry Soda and Irani Falooda
SodaBottleOpenerWala Team
Mohit Balachandran, is a passionate food blogger "Chowder Singh" devoted to celebrating street food of India and has been with the Olive group for many years. From Olive Mehrauli to launch of contemporary Japanese restaurant ai, Olive Bistro in Pune and Hyderabad, Mohit has rich experience in the group and is currently leading the kitchen and food production at the SodaBottleOpenerWala and The Moving Kitchen (Olive's catering division).
The head chef for SodaBottleOpenerWala is Chef Kulbeer who has lived six years in Mumbai and has long years of experience in working in leading hotels and restaurants in India. He is aided by the unique talent of cuisine authenticator, Parsi Chef Manager Anahita N.Dhody. After studying at IHM – Aurangabad, Anahita worked in four different hotels in three different cities before she took off to pursue her dream to gain the Le Grand Diplome from Le Cordon Blue. Bakery and confectionary is her passion and her adventurous journey with food gets a home coming with SodaBottleOpenerWala to be close to her Parsi roots.
Says AnahitaN.Dhody laughingly, "We Parsis are a hard lot to get. I've been confused most of the time as I'm still pretty young, but they are complex characters, with highly developed senses, from humor to food! I come from a family of creative people (and crazy like any other Parsi home), where there is always something hustling and bustling and never a quiet moment. Like every household in India and across the globe, women hold a special place, and this is not because they cook, it's because they care and thus cook for the family.My mother and grandmothers were more ambitious. They know lots and lots of dishes, different cuisines and been increasing their knowledge bank for years with magazines and books…Parsi cuisine is simple as its complex. I could go on and on, but simply it comes down to "say a small thank you every day' and ChaloJumwaChaloJi! – (come let's have a meal). It has become the most important and popular chant at any Parsi celebration–we look forward to serving you".
Watch out for the jovial and cantankerous Parsi gentleman closely guarding the cash register with a beady eye and follow the 'Rules of the Establishment' propping yourself on an Irani chair gobbling up a bun maska, as the member s of the British Royal Family stare down at you.
FACT SHEET: SODABOTTLEOPENERWALA
Address: 73, Khan Market, New Delhi – 110003
Timings: 11am to 12.30am
Average Meal for two: Rs. 1,500 Bar License: Awaited
Contact no: 01143504778, 011453504878 and 9810877701
Facebook: SodaBottleOpenerWala
Credit cards: Accepted