Spring is coming, maybe some of you can't wait to put on high heel pumps, flat loafers, take off snow boots to allow your foot and legs to take some fresh air. Exactly, Spring means we could dress up our foot with a pair of beautiful shoes. Look forward to unique retro elements owned by SOCOFY to hitting you.
SOCOFY brand is specialized in making genuine leather retro look women shoes. Focus on designing and manufacturing female shoes with characters of comfy and good looking. Speak of Genuine Leather, by the way, most of SOCOFY shoes are made by Cow Leather, which is characterized by small pores, round shape, uniform and close distribution, bright and smooth leather surface, full and fine texture, flat and soft appearance, solid and elastic texture when touched by hand.
SOCOFY Retro Element one: Splicing Florals, leaves
This pair of shoes reminds me of withered autumn leaves, the color is sorrow and silent. Every girl might have a princess dream, when I was a little girl, I dreamt about wearing a whole retro princess look, just like Disney Princess, Snow White, Cinderella, Bella.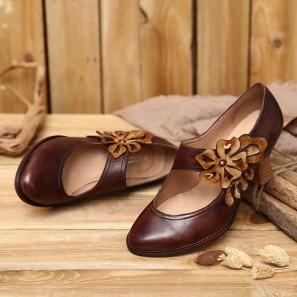 does the color of leaf look like maple? As if dyed by sunset. Canada – Land of maples, people there Walking under the maple tree, trampling gently on the falling maple. If you go traveling there, you should bring this shoes with you    Occasion: Park, Walking, Travel, Shopping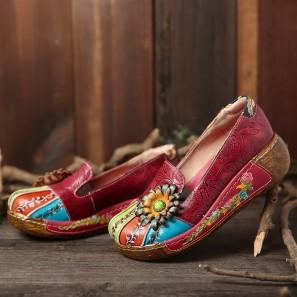 Compare with two shoes above, this one is full of vigo, the sign of Spring. Vivid green, the beginning of one year. Green Rattan strap design, making people when they first met you, i bet they would be 100 percent belive you are a energy and positive girl. If you change workplace , or want a new beginning , or you are in a period down mood, i thoght this shoes is a good choice. Occasion: Party, Office, Ball, Holiday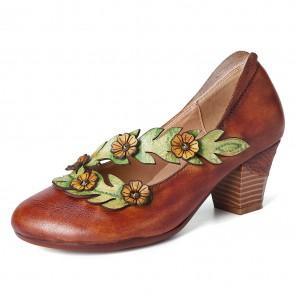 Colorful Small Flowers patten is one of the SOCOFY most popular element. If you look deep on the shoes, you can find out there seems a mini garden, Uncountable small flowers,
different colors.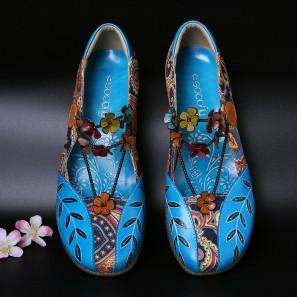 Highly recommend this series of shoes when attending a Ball or Party , flowers of this series are made by one specific and unique materials,Cause it looks gorgeous and graceful, matched well with wedding and Ball. Occasion: office, Ball,party, holiday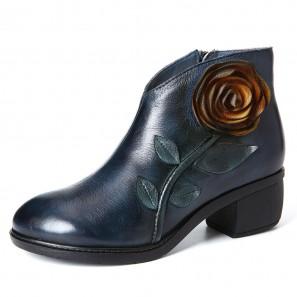 The pattern on shoes is style of water colored Lotus, perhaps painting enthusiasts will have a crush on it. If you mostly time is in art creation , then this pair of buckle strap high heel pumps may your creation partner. Occasion: art studio, office, holiday, party, ball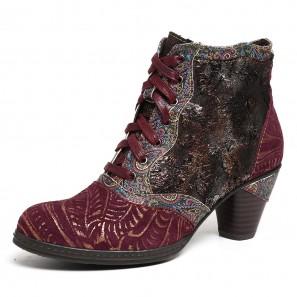 SOCOFY Retro Element three: Folkways style
New arrivals Popularity top 1: Textured upper, with slightly glittering, can't stop to touch. Folkways style series is more suitable for mature female, so it would be great as a gift on Mother's Day. You can try SOCOFY folkways series shoes too, change a style is a good thing. In my own opinion, we should try more, nothing can prevent a woman from dressing up. Occasion: office, holiday, party, ball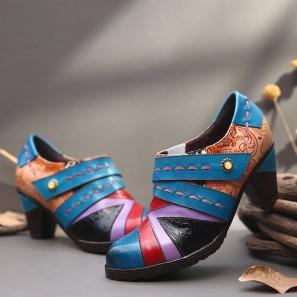 New arrivals Popularity top 2: It looks like a piece of Handicrafts, each detail is complicated but delicate. The sole is soft and skid resistant, strap design can stop shoes slipping off the foot. Casual, pretty , convenient, that's why it has became Spring new arrivals top 2  Occasion: office, daily, park, garden, shopping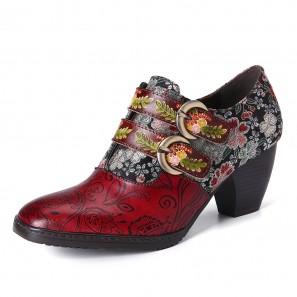 The gospel of the girls who bothered by height: Sometimes tired of wearing high heels, or incapable of wearing high heels well, then you need a pair of shoes like this one! Thick sole but soft, easy to lift. Occasion: office, daily, shopping