Social Profiles – Twitter Profiles and More

When setting up your social profiles, which do YOU set up first? Do you start with your own photo or do you start with your branding logo? I've done them both ways and I think I see a trend. Please whatever you do –  be sure not to start with an egg head! A major no-no on Twitter or anywhere on the web.

(Feel free to embed or link this social profiles image: http://inspiretothrive.com/2013/06/social-profiles/)
Why You Should Set Up Your Personal Profile First
People love engaging with other people. They are more apt to engage with you on the social networks.
A face is more personal. People will get to know you and then they will want to know more about you and your brand.
Once you build a following with your personal profile it will be easier to get a following for your brand profile.
Why You Should Also Set Up Your Brand Profile
Your brand profile (logo) is a great branding tool for your blog or website. People will get to know it and recognize your brand's logo.
It shows you have a brand or product. Your logo will become more recognizable.
It gives you more links back to your website or blog.
Don't Forget Gravatars for Your Social Profile
Check out Mitch's post on 5 reasons you need to have a gravatar. Not only do you need gravatars across the social profiles but you will need them for commenting on blogs and websites across the web. You want to engage out there right? People will want to know who you are before they engage with you! You would not let a stranger into your home, why let them into your blog?
I saw this pattern with personal vs. brand social profiles before I started my new Twitter account for Inspire to Thrive – feel free to follow me there.  I will be more focused on the Inspire twitter handle on SEO, blogging and social media vs. my personal one. The personal one is a little more varied as my profile suggests. How do you use your social profiles differently if you have two or more different profiles?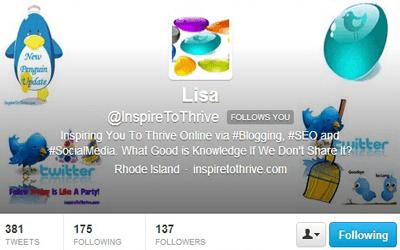 Social Profiles All In One Neat Place – Rebel Mouse
You may have missed my guest post on BasicBlogTips Saturday – you can read more on
Rebel Mouse here. 
It's an easy set up for your social profiles to appear all in one place.
(Good for link juice too!)Do you use your personal social profile and / or branding social profile across the social networks?