Business Social Media Strategy 2013
It's the end of January my friends and all the reality is setting in. You made a resolution to use social media to grow your business but did you write down how to do it? Do you have a plan of attack? If you are going to organize your Social Media for your business you need a plan. What do you need to post? Where do you need to post? How often? What time is the best? 
5 Tips to set real goal for your social media in business.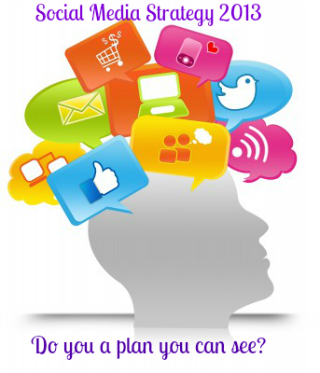 Set Real Goals for each Platform
After you set up your business profile on a social media platform decide how often and what you will post on each platform. Timing is so important. You have to study and see when your clients are engaging with your content. Make a goal you can plan from like a certain number of posts each day at these times. Go back and adjust what isn't working. Set a goal and then plan the post using your goal as a guide.
Decide what you will Post
If all you do is talk about your business and throw out links to your product, you aren't going to get much if any following. This is SOCIAL media. Put content out there that people can interact with like a question to be answered, helpful advice about your industry, or even something funny. People come to social media to be entertained and let their hair down. Mix your marketing with fun and you'll see better results. There are platforms that are all business like LinkedIn. You still need to be creative in your approach. 
Get Real Metrics for platforms
There are many ways to measure results for social media. If your goal is to increase blog traffic to your business website then looking at your Google Analytics is a good way to see where traffic is coming from. You will see which platform is sending the most traffic and what customers do on your site when they get there. 
Know The Platform User Base
 Each platform has a different audience that spends their time there. Twitter has a younger audience, Facebook has more middle aged, Pinterest has 85% females on it, and LinkedIn has more higher level income subscribers. Google plus is really new and pretty wide open with a high percent of men than women and a more techy following than the rest of the social media playgrounds. Each platform has a style of post that are more popular as well. Hint – a picture is worth a thousands words! Learn to say it with a picture. Even the text base twitter is getting into the photo sharing. The fastest growing social media platform Pinterest is photo – based with few words. People buy with their eyes first! Make it Pretty!
Have a Written Strategy
I want to see you reach your goals this year. The best way to reach a goal is to write down specific measurable goals. The who,what,when, and where strategy to get you where you want to be in 2013. I have a social media strategy template to help you get started managing your social media strategy. Just sign up below and I'll send you a copy to help get started on setting real goals for leveraging social media. Let's make 2013 your year in business.
I want to know how you plan to attack your social media strategy for 2013? What do you plan to do? What do you plan to change? Leave me a comment below and share with us your goals!