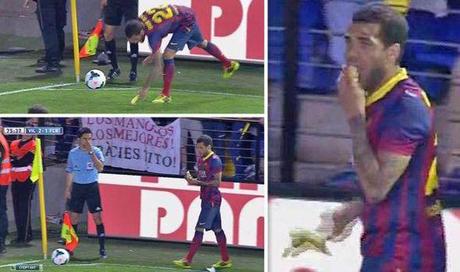 Social media backs Dani Alves
Barcelona football club player Dani Alves caused a storm that worked in his favour after a racial incident that saw him hailed a hero and sparked social media activism for #NoToRacismInSport. Whilst the footballer was about to take a corner kick in Barcelona's fixture against Villareal on April the 27th, a Villareal fan threw a banana on the pitch – a famous symbol for racism that means 'people of color are monkeys.' Dani Alves proceeded to pick up the banana and ate it before delivering the corner kick. The Brazilian went on to score a goal and set-up 2 others.
What transpired after the incident has been pure social media storm:
Dani Alves inadvertently sparks social media banana campaign against racism in football http://t.co/E5NJtybexm pic.twitter.com/mMg2qWFs9w

— The Telegraph (@Telegraph) April 29, 2014
NO to Racism YES to Banana. pic.twitter.com/tAR9T8pVhe

— 9GAG Troll Football (@9trollfootball) April 28, 2014
When life throws you a banana… pic.twitter.com/68x4of3JpR

— 9GAG Troll Football (@9trollfootball) April 28, 2014
While Alves's humorous reaction poked  fun at the racism situation, the social media family quickly threw its weight behind him with messages of support and an anti-racism campaign started. See below for the tweets:
What @DaniAlvesD2 tolerated last night is an outrage. We must fight all forms of discrimination united. Will be zero tolerance at #WorldCup.

— Joseph S Blatter (@SeppBlatter) April 28, 2014
Dembele and Chadli kicking racism out of football via @JoshuaWynne. #THFC pic.twitter.com/kpkvtJHSzi

— Hotspur Related (@HotspurRelated) April 28, 2014
Utterly brilliant reaction from Alves. Treat the racist berk with complete disdain!

— Gary Lineker (@GaryLineker) April 27, 2014
With my colleague Marta from Brazil we say #NoToRacism. We are all equal. pic.twitter.com/0kWLsaAgwP

— Sergio Aguero (@aguerosergiokun) April 28, 2014
As the graphs below show, the banana incident sent "Alves" mentions into Twitter overdrive,
"Alves" Twitter Mentions – April 2014
…and he (@DaniAlvesD2) benefitted handsomely as a result.
@DaniAlvesD2 Twitter Follower Graph – April 2014
What can companies learn from this chance event that turned into a positive social media experience?
TAGS > Bananas, Dani Alves, Neymar da Silva Junior, Racism in sport