The tale of a Tweet
I have a confession to make – I loathe promoted tweets. They feel like an intrusion, as if someone were to break off in the middle of a face-to-face conversation and read out the script of an advert. Just recently I have taken to blocking everyone who sends them out.
Funnily enough, I don't mind promotional tweets. If someone with whom I have chosen to connect wants to tell me about their latest project or something on which they have been working, I am every bit as interested as I would be in the course of a conversation. If they can tell me in a way which is witty, or captivating, or illustrated with a photo, so much the better.
Stuck on the front of our large church building are two very small 'smiley' bricks. I have indicated the position of one of them in the photo below: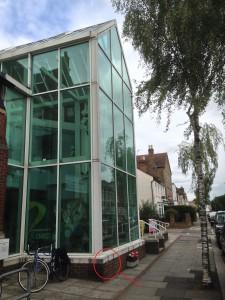 Just for fun, one week ago, I decided to tweet a photo of one of them, asking whereabouts in the town of #Teddington it was to be found. To say that I was "surprised" by the response would be something of an understatement. Maybe it is because social media is intended to be interactive and …social. When we try to make it carry content which is too heavy for that medium, it starts to keel over like a little boat and tips its contents out into the sea of data never to be seen again.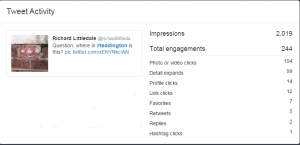 CLICK to see full size
We have just started a review of current communications here in the church where I work. Some of the communications which score highest are the most unusual ones – such as the donkey, the prayer post-its…and now the smiley brick.
Why do you think that is?