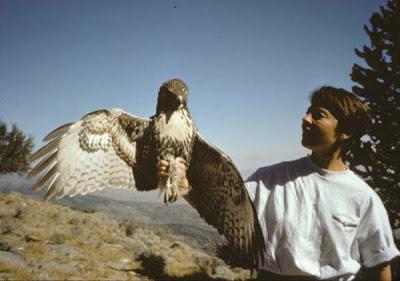 Caroline with Red-tailed Hawk, Goshute Mountains, Nevada
I love learning about birds.  My first published book was
Five Nests
, which came out in 1980 and was illustrated by Ruth Sanderson.  It was an easy-read book about five species of birds and their different modes of parenting.
Birds have been a favorite topic in many of my books and have always been part of my life.  As I child I used to get up early to go birdwatching with my father and for many years my husband, Art, studied birds in his research at UCLA.  My book,
Birds, Nature's Magnificent Flying Machines
, focuses on flight and all the ways that a bird's body is adapted to make it an expert flyer.
The picture above, of me holding a red-tailed hawk, was taken at a banding station on top of a mountain in eastern Nevada when I was researching my book,
Hawk Highway in the Sky: Watching Raptor Migration
(Harcourt Brace, 1997).  Every fall thousands of birds pass over this mountain top on their way south for the winter.  A few of the birds are caught, banded, and released.  My plan had been to spend a week at the site and take notes that I would later use to write the book.  As it turned out, the banding station was so busy that week they needed my help, so I got to learn what I needed to know by doing it myself.
For my
Measuring Your Wingspan
activity, go to my post for April 30, 2012.
My most recent bird book is
A Bald Eagle's World
(Picture Window Books, 2010), illustrated with my own cut paper art. My older books are out of print, but you can look for them in your library.  My other titles about birds include: 
Ostriches (an Earlybird Nature Book) (2001)
On the Brink of Extinction: The California Condor (1993)
House Sparrows Everywhere (Carolrhoda, 1992)
Flamingo (Morrow Junior Books, 1991)
Ostriches and Other Flightless Birds (a Nature Watch Book) (Carolrhoda, 1990)
Penguin (Morrow Junior Books, 1988)
Five Nests (Dutton, 1980)