Let's get into a lather about something: soap.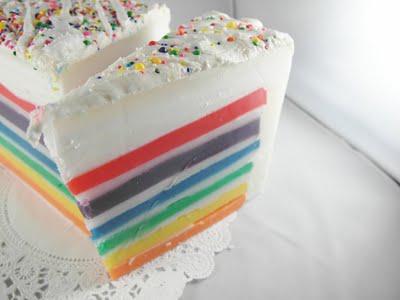 And more importantly, 
Soap that is shaped like food on Etsy.
On my look-out for more vegan products I came across one seller's shop; Frosted Crossbones where a selection of aforementioned soaps are sold. You can buy almost any kind of food-stuff shaped soap your heart desires; cakes, gummy bears and even deviled eggs. Pretty cool, right? What's better is that it is 100% VEGAN. I was lucky enough to interview the Frosted Crossbones creator (isn't the Internet glorious?) and I'm going to share it with you right here:Cara (that's me, the author of this blog): What gave you the idea for making soaps that look like food?Frosted Crossbones: I actually started with making real food and then moved onto making soap that looked like food out of an interest for making items for people like me that were utterly obsessed with food just like me! I of course still enjoy making food but I'm now in a kick where I make sweet foods look savory and savory foods look sweet. My brain craves strange stuff!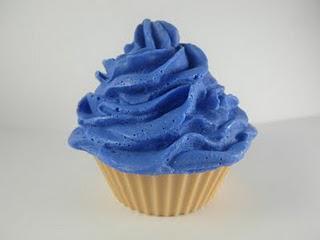 "What inspires me most is food."
C: 
What are your top 3 favourite shop items?
FC:
I hate picking favorites because I love making everything but if I had to rank them it would go as follows; 
1: Rainbow Soap Cake (pictured above.)
This item was a time consuming nightmare but turned out to be a beautiful item that all of my customers adore!
2: Is a tie ( I told you I hate picking!) between
Bacon soap and
Macaroni soap - 
Both of these items are made using molds that I made myself and are found no where else. I was very proud to make a leap into mold making for myself. Plus, who doesn't love bacon?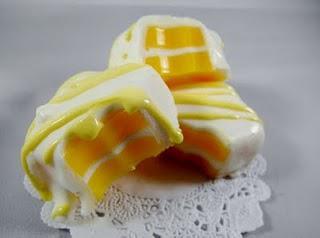 3: Petit Fours Soap (pictured above) - These little beauties came out of boredom one day while watching tv with my husband. I just felt like doing something new. Plus I adore lemon desserts. I plan to start producing these in many new scents and colors soon!C: Which other hand crafters do you feel inspired by? What inspires you?FC: Twinkie Chan is a personal favorite of mine as she is always coming up with new fun food themed items. I'm continuously stalking her new items and am in the works to try to convince her to make me a toilet paper cozy. Another fave crafter of mine is BoxHounds. I originally bought my first Etsy item from her a few years back with was an amazing computer bag and cozy that I love and still use today. What inspires me most is food. I'm addicted to the look, smell, taste and presentation of food. I actually have 3 different iPhone apps that consist of something called food porn, which before you get the wrong idea is just pictures of the most delicious looking foods you've ever seen!
C (by this point I am getting the impression that Frosted Crossbones is a girl after my own heart): Sum up your shop in a sentence:FC: Oh jeez, that's hard. My shop is for the fat kid inside of all of us!
C: (
laughing head off. A lot.)
C: Finish this sentence; "If I had a million dollars..."FC: If I had a million dollars I would buy a small building to make and sell my soaps and jewelry out of and I would lock myself inside for 4 days a week just so I could make fun stuff with out being interrupted!
As a special thank you to one lucky winner Frosted Crossbones has agreed to give away
to followers of this blog one of her most favourite items: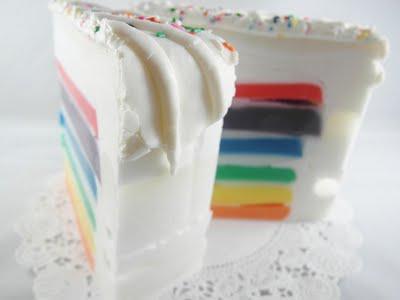 Rainbow Soap Cake (normally $7.50.)
So, what do you need to do in order to win?

1. Follow this blog HERE and comment below with your favourite Frosted Crossbones shop item.
Shop can be found here.
Extra entries mean higher chance of winning. Want extra entries? Sure thing!
1. Follw
 Three Six Five on Facebook and 
drop me a comment on here so I can count your extra entry! :)
2. Favorite (American English spelling) Frosted Crossbones on Etsy 
and 
drop me a comment on here so I can count your extra entry! :)
3.
R
ecommend a friend to the blog, have them follow and comment with your friend's username. Comments allow me to count your extra entry!
Good luck! Oh and HURRY UP if you want to win as:Give away ends Monday 20 June 2011 
(winner annouced at 12.00pm GMT)