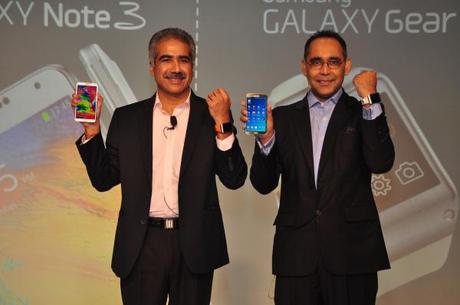 "Mr. Vineet Taneja, Country Head, Mobile & IT, Samsung India and Mr. Manu Sharma, Director, Samsung Mobiles unveiling the Samsung Galaxy Note 3 and Galaxy Gear in New Delhi on 17th September, 2013
So, the newest edition of Samsung's GALAXY Note family has arrived in India. Yes, the much awaited device called the Note 3 was launched on 17 September. It will be made available across India by the 25th of September.
I remember, when the first GALAXY Note was launched, there were a lot of people wondering whether anyone would really like using such a huge phone. Well, as things progressed, we know that we do. The Note series has made the big screened phones so popular, in fact, that now the big screens aren't just considered trendy and as status symbol, but almost a necessity even by those consumers who don't really understand smartphones all that well!
But anyway, what Galaxy Note introduced, Note 2 bettered. And now, Note 3 is here. So what new goodies does it bring with it? Here let's see.
Samsung GALAXY Note 3 comes with a better and bigger screen packed in a slimmer and lighter body, greater multitasking capabilities, and several very handy S Pen features that combine to enhance the user experience and make Note 3 a far more capable, swifter and convenient device, especially for people involved in creative pursuits.
Speaking at the launch of Note 3, Mr. Vineet Taneja, Country Head, Samsung Mobile & IT, said, "The GALAXY Note 3 represents the next evolution of the GALAXY Note experience. It meets the needs of consumers for a smarter larger screen, makes everyday life easier with the S pen and is much slimmer, lighter, more powerful, and comes with a beautiful design. At Samsung, our goal is not just to make great devices, but to empower consumers to truly experience…enjoy…and fulfill their busy life with our devices, like the Note 3 and the Gear."
So, again we come to the question, what's new? Well, here are some of the most important new features and capabilities that Note 3 comes endowed with: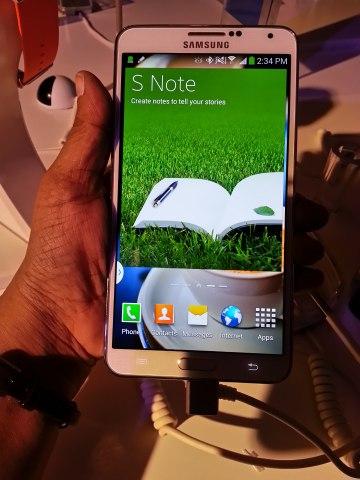 Bigger, but Lighter: The recently launched GALAXY Note 3 comes with a bigger screen, packed in a slimmer and lighter body. It has 5.7 inch (14.48 cm) full HD Super AMOLED display. It weighs just 168g and boasts of a sleeker and slimmer body with the dimensions of 151.2 X 79.2 X 8.3 mm (HXWXD). The bigger screen delivers an enhanced video viewing experience, especially while watching Full HD content, makes sure of distinct clarity while reading and provides an ample canvas for the consumer's content creation needs.
Hardware Specifications: Note 3 comes to India with 1.9 GHz Quad + 1.3 GHz Quad-Core Processor. It is powered by more powerful and longer lasting 3,200mAh battery and boasts of greater power and speed thanks to its 3GB RAM. Note 3 comes with 32 GB internal storage, expandable upto 64 GB with Micro SD. Note 3 has Android 4.3 (Jelly Bean) Operating System. And it comes equipped with Accelerometer, Geo-magnetic, Gyro-sensor, Light Sensor, Proximity Sensor, Barometer Sensor / Temperature & Humidity Sensor, Hall Sensor
Premium Look: Note 3 hasn't just come up with technological advancements over its predecessors. It comes packed in a more aesthetically designed body that adds to the premium feel of the device. It has a soft and textured-touch back cover with delicate stitching. There is a serration pattern on the side of the device, reminding one of the classic notebooks. In terms of colors, Samsung GALAXY Note 3 is available in three colors. These are Jet Black, Classic White and Blush Pink. However, for those looking for more color choices, Samsung promises a greater variety of colors for the exchangeable back covers.
More Advanced S Pen: The new S Pen comes with a several very significant improvements and added features. One of the most useful features of Note 3′s S Pen is called the Air Command. To invoke this command, the user just needs to press the S Pen's button and hover the pen over Note 3′s screen. This one single command makes available five useful features. These are: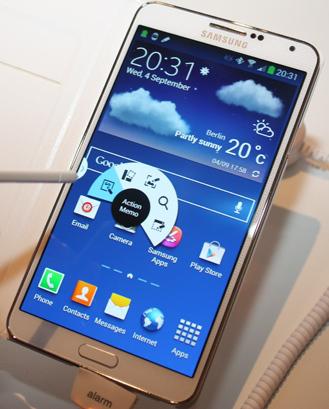 • Action Memo: Stores quick notes and can use the handwritten information to execute a function like placing a call, sending mails etc. For example, if you just note down a name and a number in the Action Memo, you can use it to create Contact, or call the person right from the memo. That is, information noted in Action Memo can add to contacts, initiate a call, search an address on a map, search the web, note down a task etc.
• Scrapbook: Capture, organize and track down content and information from various sources like websites (URLs and content on page), YouTube, Gallery etc. All these are stored in your Scrapbook and can quickly lead you to the original content on web.
•  The Screen Write: A screen capture feature to take snap shot of the full screen image of the current page on the device. The user can then scribble comments and information on this captured image.
• S Finder: For quick search of the content on the device, including images, hand written notes, documents etc.
• Pen Window: Enables quick access to applications, while working on another application. This feature adds to the multi-tasking capabilities of Note 3. While working on any application, the user can access another application simply by drawing a window of any size, anywhere on the screen.
Other Features: Note 3′s S Pen also offers several other features like the Easy Chart Feature, Easy Clip Feature (capture any image on web by just roughly drawing around it with S Pen. The Note 3 converts the roughly cropped image into a precisely cropped one).
Greater Multi-Tasker: Note 3 comes with several enhanced multi-tasking features. These include:
• New Multi Window: Using two different apps simultaneously on the same screen is no longer a new feature. What Note 3 adds to this feature is that the users can now use the same application in two different windows. For example, running YouTube in two windows to watch two different videos simultaneously.
• Drag and Drop: While using two different apps, users can now easily drag and drop content from one app to another using the S Pen.
• Pen Window: By invoking this Air Command, users can easily access popular applications without halting their current task or app.
Camera: Note 3 is equipped with a 13 megapixel primary camera with Auto Focus, Smart Stabilization, high CRI LED flash and Zero Shutter Lag,BIS, Note 3′s has Full HD 1080p video Recording Resolution. Note 3 also supports full HD recording on its secondary camera. The secondary camera is 2 MP.
Camera Features include Dual Camera, Dual Shot, Dual Recording, Dual Video Call, Animated Photo, Sound & Shot, Drama Shot,, Best Photo, Best Face, Beauty Face, Night, Eraser, HDR (High Dynamic Range), Sports,, Panorma, Golf and Surround Shot
More Secure: Note 3 comes equipped with Samsung KNOX & Find My Mobile. Samsung KNOX allows the user to store and run applications and data in protected execution environment which is called Container. KNOX offers protection against hacking, malware and phishing attacks.
Using the My Mobile feature, the users can disable and track Note 3 and erase its data  in case it gets lost or stolen. The enhanced user authentication abilities of My Mobile prevents the stolen phone from being reset.
Other Features: Note 3 is loaded with several other useful features like Group Play, Share Music, Share Picture, Share Document, Share Video, Play Game, S Voice Hnds Free, S Health, Samsung Adapt Display, Samsung Adapt Sound, Auto adjust touch sensitivity (Glow friendly), Safety Assistance, Samsung Link, Screen Mirroring, Story Album, S Translator, Smart Scroll, Smart Pause, Air Gesture, Air View, Samsung Hub, ChatON (Voice/Video Call Share Screen, 3 Way Calling), Samsung WatchON
Compatible with Gear: And of course, Note 3 is compatible with Samsung Gear! To know more about Gear, check out Samsung GALAXY Gear.
Note 3 and Gear are to be available in Indian markets from 25, 2013. Consumers can also pre-book the device on the Samsung mobile e -store. Note 3 is also available for pre-booking at http://www.homeshop18.com/
The GALAXY Note 3 will support 11 regional Indian languages including Hindi, Punjabi, Bengali, etc. It is priced at Rs 49,900. As an introductory offer, all Samsung Note 3 customers using  Vodafone 2G services will get 2GB Internet per month free for two months on Vodafone 3G/EDGE/2G Networks. Note 3 comes pre-loaded with apps like Evernote, Dropbox and sketchbook pro. And through the special zone called Content Gifts, users can enjoy offers on wide range of services like NY Times, Bloomberg Businessweek, Bitcasa, Oxford Dictionary and Angry Birds Star Wars 2 (starting 1st of October.)
*******************
How far can a person go to fulfill the dreams of someone else?
Find out in the pages of Dream's Sake,
a general fiction novel by Jyoti Arora.
For more information and free preview of first chapter click  visit: www,jyotiarora.com