Photo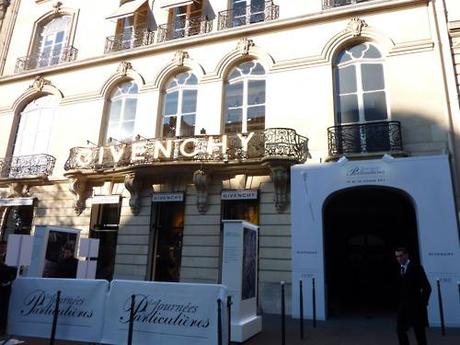 Zoom
So unfortunately photos were not allowed at the Givenchy open day.
Infact although I am glad to say that I was a part of the first ever open days of one of the most exclusive brands in the world, I have to say that it wasnt as i expected.
We were not infact treated to a special view inside the ateliers and worshops but instead a fake mock-up of some of the work spaces which exist in the salon. A short silent film about the production of an Haute couture piece introduced us to the first floor rooms, normally used for fittings for the likes of the Princess of Monico and Madonna. Then we were swiftly moved through to a second room which housed the current Givenchy collection by Riccardo Tisci. This by far was the most interesting part as we got to meet the managers of the Haute couture workshops who talked us through the pieces and answered our questions - well except questions about price that is :p
From there we were shipped into what i thought would be the most magical part of the tour - the workshop (well in fact a staged set, designed to look like a workshop). There were 4 women at 4 tables working on various bits and pieces from the collection, they were not allowed to speak to us and we could not get up close to see the intricate work that they did because a wall separated us, allowing only a window for us to peer through. and then it was goodbye and time to go back into the cold and allow the next group in.
Although It is a huge step for these houses to allow the public even mount the steps to the first floor, I found that I saw nothing and learned nothing that I cant find on youtube. I didnt get up cose and personal to the real behind the scenes, I saw a stage, like i could see in many museums, for me this remains closed rather than open.
But hopefully if the open days are a raging success, perhaps LVMH will eventually grow in confidence, giving guided tours of the REAL Haute Couture - even private paid tours would be well worth it (yea i forgot to say that the tour was free, so maybe i cant really complain :s) 
Tomorrow Im off to another of these mornings, and again I will be up at 6am and standing in line by 8 in order to secure my place at the front of the queue :)
Until then xoxo LLM