Just because I'm getting married, doesn't mean I'm getting all fancy and "adulty" on you. Ha! That'll be the day. I'm still the same little coquine who gets in mischief, mayhem and madness. Also the same little coquine who is still looking for a job and is broke.
And with that, I introduce my second installment of Diva Does Parisian Divebars, my quest in finding the perfect dive bar in Paris. This edition was spent over at Le Motel, a bar that whisked me back to my East Sunset Boulevard bar-hopping days of flirting with guys with 2% body fat, gossiping with girlfriends over cheap cocktails and indie jukebox classics.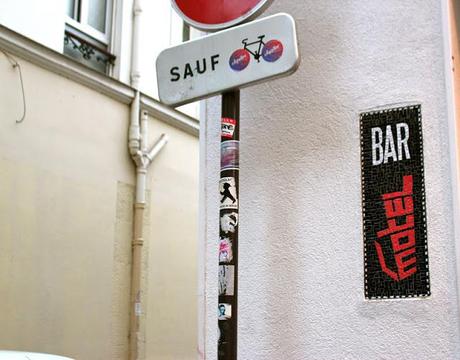 I stand firm in my belief that no one does the dive bar quite like LA where they manage to make a 40 year rundown bars with Bukowski-esque patrons and Eastside gang hangouts, somehow hip. LA also does hype better than any other city too, so that may have something to do with it. But I'm digressing here. 
Le Motel met my requirements that go into a great neighborhood find and in true LA hipster fashion, was a total people watching bonanza making me forget that I was in the company of Séb and his best friend Aurélien. Girls in skinny jeans holding their Rough Trade for Agnes B. tote bags were coyly biting the straw planted in their empty cocktail glasses, guys sporting their Sonic Youth t-shirts and striped cardigans looking cool and bored surrounded the bar, and of course the soundtrack of Animal Collective, new wave classics and whatever music will be on Nova radio next year permeated the room over the low hum of bar chitchat. I remember the days when all of this was important. Now in my 30's, I'm in it for the nostalgia and the cheap drinks.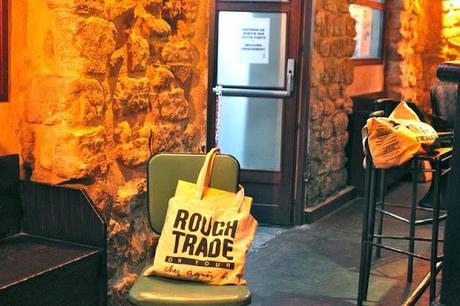 Despite the total Anglo vibe the bar has, the Frenchness has to creep in somehow (doesn't it always?) and we ordered a plate of munchies for 5 euros.
Was it chips? No. A hotdog? Pish! Beer nuts? Come on.
Even hipster dive bars aren't exempt from the assiette de charcuterie et fromage! Welcome to France.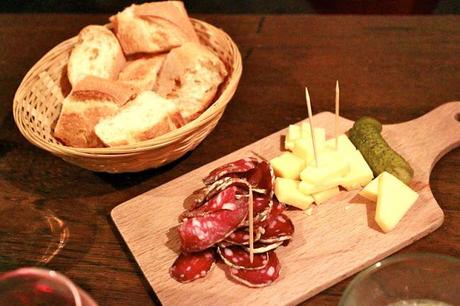 Just as I was crowning the place as the best dive bar I've been to in Paris - something happened. Something big happened. The bartender pulled himself away from ferociously chopping mint for the dozens of 4 euro mojitos he was banging out and made an announcement.
It was trivia night.
What you should all know is that I am freakishly competitive when it comes to trivia. So much that my mother refuses to watch Jeopardy! with me. She says that I take all the fun out of it. Despite the misleading exclamation point in the title, Jeopardy! is not fun. It's an exercise of survival skills and quick thinking. Don't think those kids who participate in Kids Jeopardy! have me fooled. They know what exactly what they're doing. They're just as evil as the students on College Jeopardy! My mom has usually has exited the room by the time I get to this part of the rant. Can you blame her? I sound insane.
The theme for trivia night was movie studios. Each team was given a piece of paper that revealed a fraction of 10 different studio logos. We had to figure out the studio name based on the image provided. It sounds a lot easier than it was. While we were struggling with the answers, someone had texted me and as I was responding, a boy in a tight plaid button-down charged across the bar to accuse me of cheating. For the first time in my shitty phone history, I was proud to flash it to prove that I was not cheating. Upon seeing my phone from 2001 that clearly has no internet functionalities, the guy looked at me as if I was a motherless child wandering the streets and offered his condolences before swifty returning back to his team.
Once I realized that everyone was cheating as they were all hovering over their smart phones, and that the prize was a bottle of champagne, it was on. "Séb!" I howled like a beast out of a cave, "Take out your Adroid and let's win this thing!" With that, we took a photo of the paper and sent out a frantic email to all of our friends who work for Hollywood studios and networks and demanded their participation. 
With LA being nine hours behind, we didn't get our answers until 1 am that night. We didn't win. Our score was a sad 20 out of 40. It also didn't help that I took out my rage on the paper we were tallying up for a competing team, calling them cheaters and MoFos. What's wrong with me? I may never be allowed back at Le Motel for creating a scene on trivia night. Perhaps once the dust has settled (meaning, I cut and dye my hair and get a face transplant), I will go back to The Motel...preferably not on trivia night.
In the meantime, I suggest you all check it out. It's definitely a place to see if you want a break from the brasserie and wine bar scene, and especially if you're into good music, great cocktails and a relaxed bar atmosphere that us Americans just love. 
Le Motel
8 Passage Josset  
75011 Paris