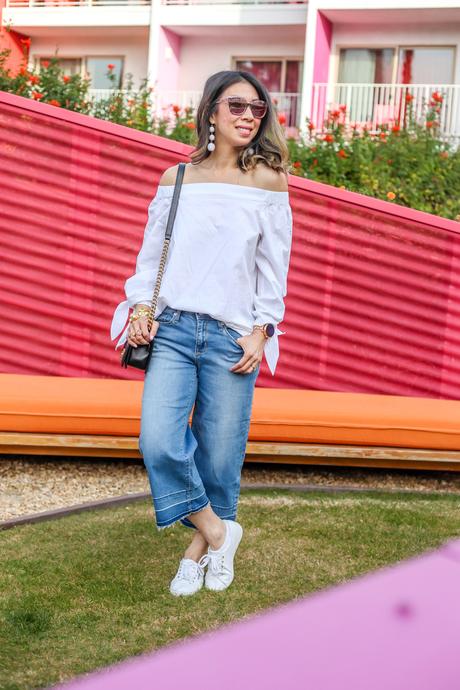 I'm finally sharing pictures from Palm Springs during Alt Summit in February! I wore this off the shoulder top and denim culottes (or wide leg crops) on the last day for an easy travel outfit, styling everything around my creeper sneakers! LOL! That's such a funny word.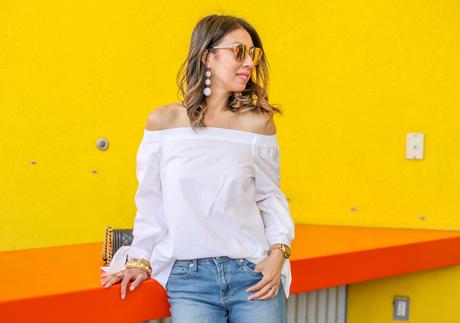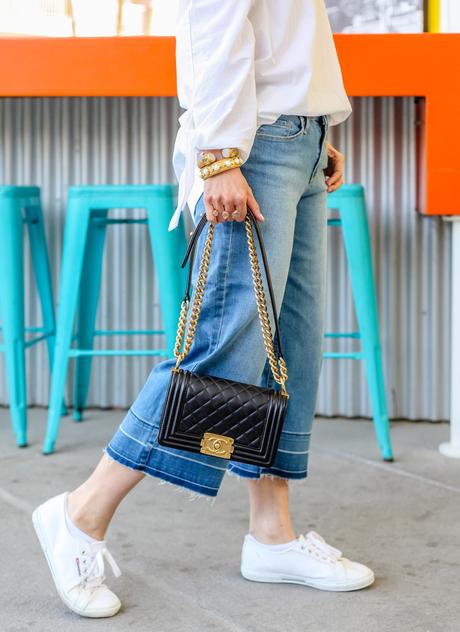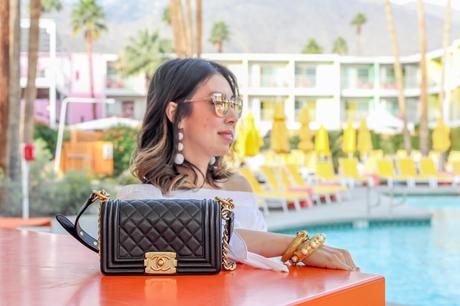 // Photography by David Coe //
You've seen this off the shoulder top other times on the blog too ( here with the gals and an all white look)! It's a really versatile piece. And you KNOW I a huge fan of culottes (see here, here, and here)! But it all boils down to SHOES!!! If you've seen my Instagram, then you know I'm OBSESSED with shoes!
I LOVE the look of creepers. They are "dressier" than regular sneakers which Mr. S always urges me to wear when we travel! #NO #YesitwouldsaveroominmyluggagebutNO Creepers give off a modern and cool vibe and pair well with ANYTHING... like dresses, skinny jeans, shorts, skirts, and my fave culottes! #ImaNinetiesGal
THE STYLE Rx: Look chic AND be comfortable in a pair of creepers! All the cool kids are doing it! Just kidding! I'm sure that as I soon as I hit publish, then Who What Wear will be saying they are no longer in! Get a pair of creepers for a different take on sneakers that makes any casual outfit look modern.
FIT DETAILS: (top) Wearing size small on the top because I have broad shoulder but could have done an XS for the middle section. (cropped jeans) Wearing size 0/size 25 because they have a lot of stretch but could have gone bigger for a more relaxed fit. NOTE: I usually have to wear a belt with Target jeans because they stretch out. (creepers) Size down. I got a size 38 and I normally wear a size 39.
Do you own a pair of creepers? What do you wear them with?
Happy Monday Friends! Thanks for all of the support and comments on Instagram about the littles. They are still on antibiotics, and there is still a lot of poo poo! However, they are getting better! AND last night was the first night they slept in the same room. She is 10 months old, and he is 3 and a half years old. Are we crazy?!! Anyhow, none of us (except for Mr. S) got very much sleep last night! They were SO EXCITED to be in the same room! Little M is a light sleeper, and Baby M SCREAMS (happy squeals of excitement) when she wakes up! Wish us luck on this one! Ha!
P.S. Did y'all see the cute LiketoKnow.it he(art) mural on my Instagram?! It's a new wall in Dallas celebrating the LiketoKnow.it app! (You can read more about it here!) The wall was painted by Alli K and is super happy! I'm a huge fan of hearts! <3
GET THE LOOK
OTS top FREE PEOPLE {currently on sale!}
cropped jeans TARGET
earrings BAUBLEBAR c/o
bracelets JULIE VOS c/o, JULIE VOS
smartwatch FOSSIL c/o
creeper sneakers SUPERGA x TARGET {also love these and these}
sunglasses DIOR {love these for less}

// LOVE these creeps! //