Let me rewind to 2007 when the front garden looked like this: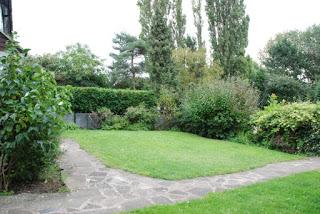 I declared this front garden boring and decided a knot garden was what it needed. I sometimes wonder if I should have left well alone. Yes it was dull, but the front garden seems to have been a constant battle I have never really won. I could just have mown it once a fortnight, yet that was just not what I wanted to do.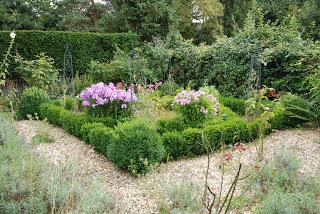 The garden was laid out as tiny box cuttings in the spring of 2008; by 2013 it looked like this. Yes even then the lavender hedge was a bit sprawly but it had a lot to redeem itself with. In the summer it was always alive with bees and butterflies and it was a joy to brush past as the scent would be released. I did love the lavender edge.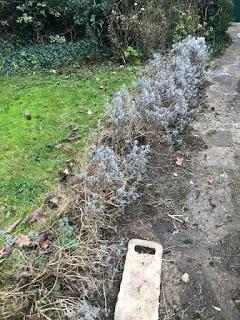 But then the lavender edge got old and sprawly. I kept it pruned but it was long past its best. So the other day I was weeding under the (out of shot) Magnolia tree and I started to weed along under the lavender edging. This was going quite well, there has been no rain for a couple of days so the soil is quite friable and weeds were coming out relatively easily. Then, the new year mood hit me, why was I persisting with this edging that was way past its best? I have been thinking about removing it for far longer than is reasonable, a good couple of years. My hesitation was not because I thought it could be redeemed, it was because I could not decide what to put in its place.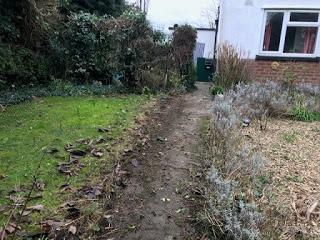 The muse was upon me, 'out with the old, in with the new' I declared to no-one in particular, and I dug up the first lavender bush.
Work commenced well and quite quickly. Day 1 I removed the edge from the side lawn and then I weeded along to remove the weeds had invaded around the roots.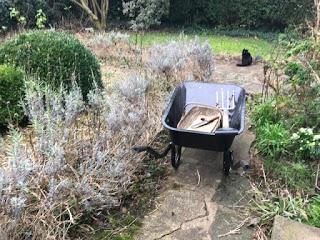 Day 2 was remove the edge from around the Knot Garden itself. This edge is a couple of years older than the side lawn edge and so even more scrubby.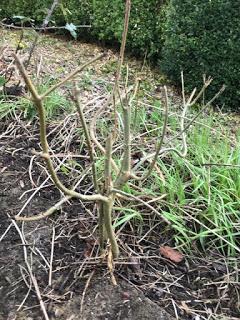 This is a prime example of the 'weeds' lurking in the edging. Many small trees and also brambles. It was a double-issue of the lavender getting old and the problem of weed removal that made the edging so problematic to me.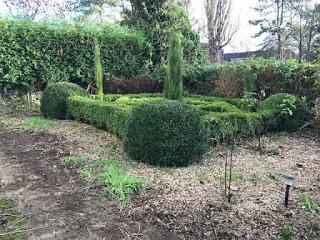 Whoomp! they were all removed.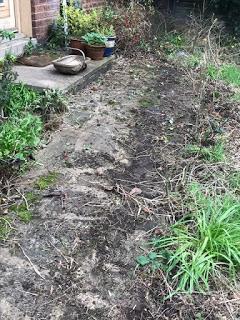 Look at how much path I have recovered! It is twice as wide as it was. I am sure delivery people will be very grateful.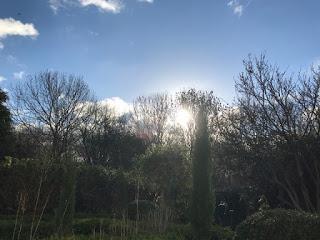 To celebrate my achievement the sun appeared, which was very welcome.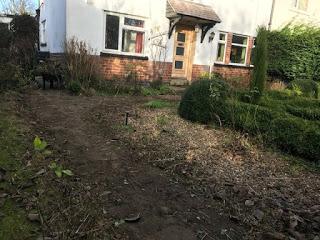 I am pleased with the results. I saved one lavender plant right at the top of the side lawn, it will not replace all that the bees have lost but it is better than nothing. I will ponder on this further as I am keen to support the bees.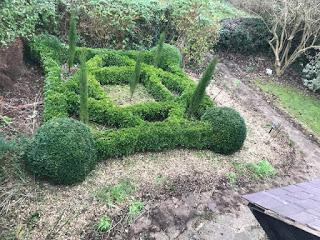 I did the check from the bedroom window, a very important check for me. This helps me guage what it looks like from a distance and whether it is working or not. I remain pleased with the results.
Hang on a minute I hear you say, you mentioned above that your delay was due to you not knowing what to put in its place, so what are you going to plant?
............ well......
I still do not know. I have a couple of possible ideas that are brewing gently, but I think I have to live with it for a while and work out what I want to do. I always say the garden tells me what it wants me to do and so I am going to listen to it for inspiration.