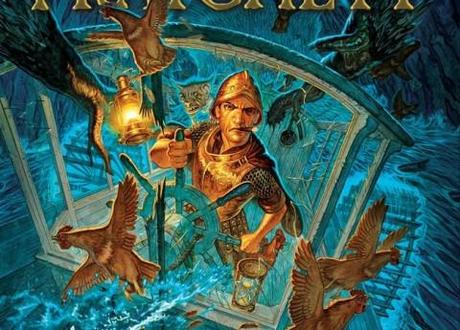 Cover for Snuff by Terry Pratchett
Snuff, by Terry Pratchett, his 39th Discworld novel, (from a series of books set on a world that spins on a disc on the back of four elephants which, in their turn, sit on the back of a giant turtle), sees Commander Vimes, now Duke of Ankh, going on a trip to his wife's country house, where he finds a smuggling ring that sends hard drugs ("slab" and "slide") to the city. The ring is organised by the local gentry. More disturbingly, they also trade in goblins, who, since they are not classified as sentient beings, can be bought and sold. The goblins, incidentally, believe in the religion of "Unggue", which means they have to collect bodily excretions. Critics, including the distinguished novelist A S Byatt, and writer Francis Spufford, have lined up to throw laurels upon the author, whose recent admission of Alzheimer's has led some to worry about the quality of his output.
It's masterful. The book, said A S Byatt in The Guardian, plays on a double meaning of "snuff" – as "an old-fashioned stimulant", and as "arbitrary and unpleasant deaths." Pratchett draws a parallel with "venal aspects of our own society". Vimes is, as usual, "streetwise and dogged", and the book climaxes in a "breathtaking chase." Pratchett is drawn to the underdog, and in Snuff he gives us the goblins: "a dim, feeble collection of creatures" who live by stealing chickens. Vimes "takes up the cudgel" to defend them. Pratchett's qualities as a storyteller are on splendid show here: he's "endlessly inventive", a "master of complex jokes".
And moral. Snuff, said Kerry Fried in The Washington Post, does indeed show Pratchett at his best. It "darlingly links the demonization of goblins" to "slavery and the Holocaust"; whilst some people might find this offensive, Pratchett "doesn't make such connections lightly." As a writer, "his magic has long since been set in strong moral mortar."
And magic. But maybe too much? Pratchett's novels are "a warm, silly, compulsively readable, fantastically inventive, surprisingly serious exploration" of our world, gushed Francis Spufford in The Evening Standard. "Watching Pratchett grow his characters … has been like seeing recombinant narrative genetics running with almost magical efficiency at almost magical speed." Pratchett, unlike any other author, manages to give us more and more comic characters. Sam Vimes has been in eight – and it becomes harder and harder for the author to keep him viable. Though the pleasures of this novel are still "magnificent", maybe it's time Vimes had a "genuine holiday."