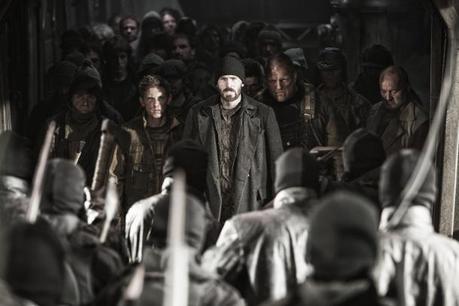 Global warming has been a staple in the science fiction world. Many books and films, from fiction to documentaries have discussed this topic and speculated with its immediate and long-term consequences. South Korean director Bong Joon-ho takes on this issue in his English-language debut, titled "Snowpiercer." With familiar faces like Chris Evans, Jamie Bell, Tilda Swinton, John Hurt, Octavia Spencer, Ed Harris and a few Korean actors, the film can attract a lot of attention just from the cast itself. Beautifully shot and with a compelling plot, the film will most likely have a fun ride during its American release.
Set in the near future, the story follows a group of human survivors that live on a train called the Snowpiercer. After humans develop an experiment to fight global warming, things go wrong and all life on Earth is eradicated and forces a new ice age. The train, which runs on a perpetual-motion engine in a track that travels around the entire world, has a very clear class system. The privileged are in the front, with many luxuries, while the tail is full of humble and poor people who are forced to eat protein blocks.
The story unfolds when Curtis (Chris Evans) decides to start a revolution and take control of the train. With scenes of utter violence to plain weird and disgusting throughout the path to the front, we are able to see our world with a very interesting perspective. Whether we want to realize it or not, our world is classist in essence. People with few resources are seen as second-class citizens at times. While some governments strive to follow the "all men are created equal" motto, it's very likely that come a global disaster, life wouldn't be all that different from the class system in "Snowpiercer."
As the plot continues, we find out surprising details, experience a few twists and hear sordid phrases that not all audiences will like, but are to be expected from a situation that is far from normal and that forces human beings to stop acting rationally. The film has very few low points and is able to keep you hooked until the very end. However, countless questions will probably surface as you watch the feature and not all of them are addressed. The director hasn't addressed the possibility of a sequel, but the ending is open enough that it could be picked up for another chapter.
Despite its flaws, especially in character development and depth, the movie doesn't disappoint and has performed well at the box office. All of the gross revenue so far ($80 million) has come from foreign lands, garnering the most money in China and South Korea, where it was originally released. Keeping in mind that the film has yet to debut in America and the rest of the world, there's a high chance that it could become a surprise hit in a summer packed with highly anticipated blockbusters. Debuting in South Korea in August 2013, the official stateside limited release is set for June 27th.