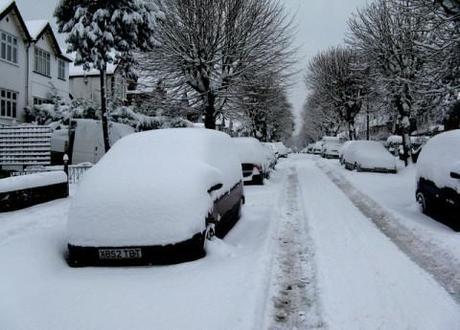 Prepare yourselves.... Photocredit: http://www.geograph.org.uk/photo/1181176
It's …. snowmaggeddon! Or at least, coldmaggeddon. Or, colderthanusualmageddon. Yes, a vicious cold snap that has left people dead in its wake across Europe is all set to hit Britain – by this very weekend. Shiver me timbers – literally, as easterly winds sweep in from Siberia and Scandinavia. Snow, reported The Daily Telegraph, is forecast for some regions in Wales and the far west of England.
More seriously, the Department of Health has issued a warning that around 1,500 may die in February and March in "normal winter weather" – but this figure may rise during colder weather. Last year, the death rate in England and Wales was up by 21 per cent in the big freeze. These are likely to be the elderly and vulnerable. The Met Office, meanwhile, has upgraded its cold weather alert to Level Three, meaning there is a 100 percent probability of severe weather this week. Motorists in Devon and Cornwall are being advised not to go out unless it's strictly necessary.
The reason there is so much hysteria about the forthcoming weather conditions is that last year nobody was prepared for the big freeze – which resulted in many schools being shut down, as well as Heathrow Airport having to close.
The people of Croydon, though, are likely to escape snow this week – so at least they're happy.
"We advise people to check local weather forecasts for the latest updates. We are working closely with local authorities to ensure vulnerable people stay well and get the help they need within their communities," said  a Department of Health spokesman, quoted on The Mirror.
Prepare for the worst. 
It's the "Beast from the East!" screamed
The Daily Express,
referring to the approaching weather from Russia, Siberia and Scandinavia; whilst the 
The Daily Mail
was equally excitable. It reports that the country will be "even colder than the South Pole," with temperatures plummeting to – 8C and -10 C on Friday. It's a boiling – 6C in Antarctica at the moment, by contrast. This cold spell will break what's been one of "the warmest winters on record", and is likely to stick around for the whole of February. The Army has been "put on standby" to help with clearing roads of snow to hospitals and surgeries.
But you can make an opportunity. The "light to moderate" snowfall predicted this week, said Realbusiness, could be "a major weakness" to business. Last year the snow cost Britain 124 million working hours in one week. Whilst businesses can "lose custom and confidence" – such as Heathrow Airport – from being unable to operate, it's also a time for businesses to show they can "take blizzards in their stride." Being prepared is "key." Make sure you have a strategy for dealing with being snowed in – and make sure everybody knows it.