This year Little Ponton Hall opened for its annual snowdrop weekend on the 11th/12th February to raise money for the Lincolnshire Down's Syndrome Support Group.  Only being open for one weekend means that waiting for good weather is not an option.  This weekend did not see good weather.  It was probably the uniformly most cold weekend of the winter that barely reached above 3 degrees.  It also decided to stay uniformly gray and alternate between rain, sleet, snow, drizzle and rain etc.  The weather was quite frankly unpleasant.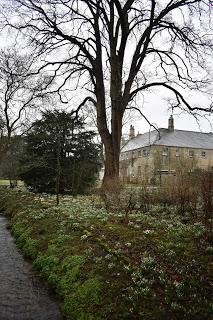 So we dressed for the weather: waterproof coats, hats, scarves, gloves and good waterproof boots.  When we arrived at the hall we were directed to the yard to park in as the pasture that is usually used was already very very muddy.  We strode out boldly to view the snowdrops.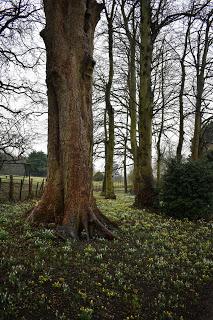 Here at Little Ponton it is always a close-run thing to decide if you see more snowdrops or aconites.  They compete for your attention.  No matter how many gardens I visit at this time of year I still think that Little Ponton is the one with the most winter aconites.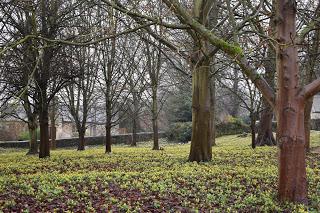 Even with the late start to the season, the aconites were making yellow carpets under the trees.  I do not think I could ever tire of this sight.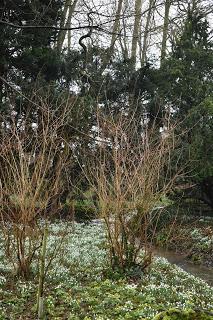 The snowdrops are also plentiful.  I always like this view along the stream that runs through the grounds.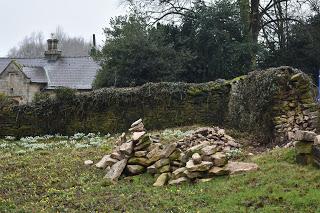 I also like how the snowdrops cluster around the wall,almost holding the aconites back.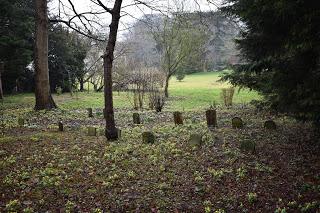 There was a nod of hello to the dogs' cemetery.  It cannot be a bad place to spend eternity, in a pause in the wood surrounded by snowdrops and aconites.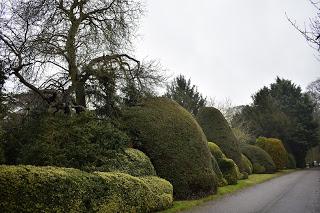 I always love this bumpy hedge as well.  It shows its long life in how smooth the bumps are.  There might have been proper shapes once, but now it has evolved into these fascinating shapes and colours of the different shrubs and trees forming the line.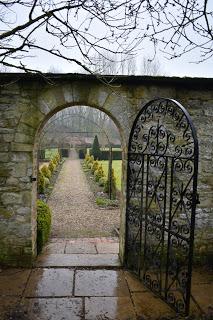 We then wandered back towards the kitchen garden.  Again this is a well maintained, beautifully kept part of the garden.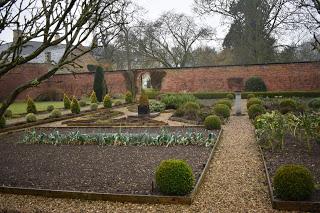 The beds look beautifully prepared and ready for the new growing season.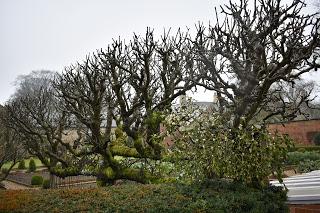 We paused briefly to pay our respects to this fantastic old apple tree.  It clearly has considerable age.  It also delightfully has this low clump of mistletoe.  I had serious mistletoe-envy.
This year we were very restrained and did not buy lots of plants.  We did buy some snowdrops because it is rude and (as I repeatedly say) against the law not to.  You cannot visit a snowdrop garden where they sell snowdrops and leave without any.  They will check you at the gate and, more importantly, you will regret it as soon as you leave.
Despite the weather we fueled ourselves and kept our spirits up with soup and cake and had a thoroughly nice time. We pondered whether we were crazy for wandering around outside on such a vile day, but we agreed it was better than staying at home and doing domestic chores.
Other snowdrop visits this year:
Hodsock Priory
Easton Walled Gardens