I first saw kokedama being described on Gardeners' World earlier in the year.  Kokedama is a plant that is growing in a ball of moss, held together with string and then tied up so that they dangle.  Just think 1970s macrame plant hangers but with a twist (or should I say more moss?).  I confess I was not totally bowled over by what  I saw of them and dismissed them to the back of my mind.
I went to Easton Walled Gardens the other day where I saw some close up for the first time.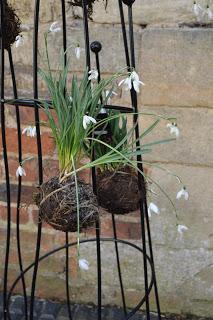 and I was rather taken with them, particularly as they were so simple and understated with these snowdrops gracefully nodding in them.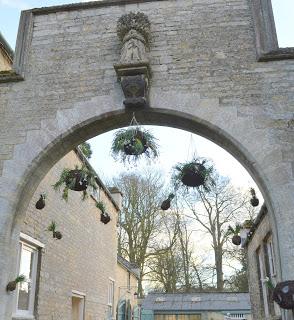 They formed part of this rather wonderful entrance display.  I am also not a huge fan of hanging baskets, but....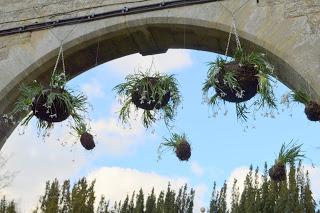 ..... these are a cut above the usual hanging-basket-fare.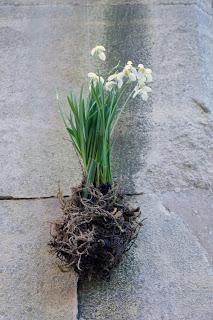 These small clumps were sconced onto the wall.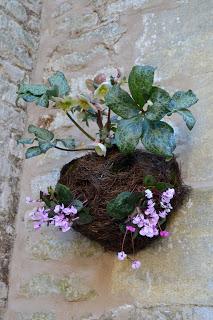 and these baskets with cyclamen and hellobores formed part of the display.  I would never had thought of baskets like this and I thought they were wonderful in their simplicity and use of plants.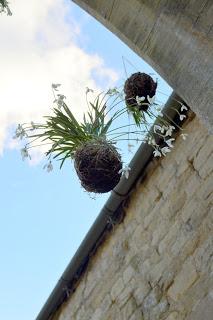 I was hugely taken with the whole effect.  I think I might be a convert.
These beautiful creations were made by Alexandra.
More about visiting Easton Walled Gardens to see snowdrops can be found here.
Postscript:

As I was writing this I was humming CopaCabana by Barry Manilow, well, actually I was humming CocaCabana, a song Barry Manilow did not write but I have misheard for the past 38 years.  It was only when double checking I was spelling it correctly for this blog that I learned my mistake.  I gift this earworm to you, pronounced however you wish.