Yesterday we went sledding.  We haven't been outside of Tashkent - with the exception of going to America this summer - since February, when we went sledding on leap day.  There has been lots of rain down in the city, and even a little snow, so we knew that there would be lots of snow up in the mountains.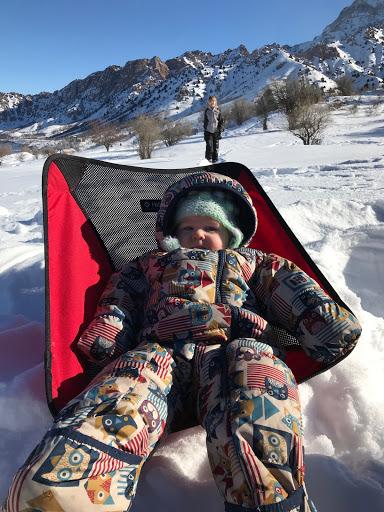 The children have had school off for the last two weeks, and Brandon has taken some extra days off each week, so we planned to go sledding over the break.  We were planning on sledding with friends (because, friends, finally) and it fell out the best day to go sledding was this past Saturday.
In case you weren't paying attention, this week was the New Year's holiday, which is a big holiday in Uzbekistan where they celebrate most everything that we celebrate for Christmas.  We thought that if we went on Saturday, we could miss some of the crowds that like to go up to the mountains for the weekend, because maybe everyone would be sleeping off their hangovers from partying on New Year's Day (spoiler alert: we were wrong).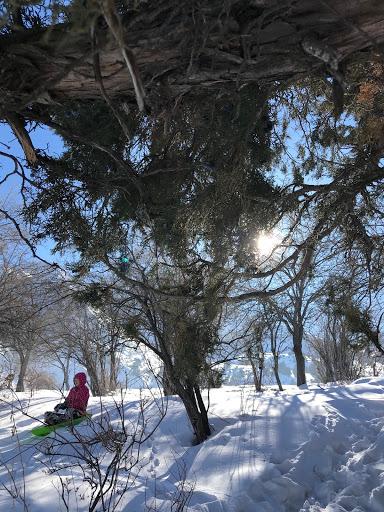 The day started off well, and we got to enjoy a very quick trip up to the mountains, thanks to a new road that skipped all of the terrible in-town traffic.  The drive was mostly foggy and gray due to a temperature inversion that has kept everything trapped down in the lowlands and the temperatures sub-freezing for the last two weeks.  But when we started climbing into the mountains, the fog cleared, the temperature warmed, and we broke into a sparklingly clear, sunny day.
The mountains were covered in a thick blanket of snow, and as soon as we had parked and gathered our sleds and picnic things, everyone rushed up the mountainside to go play in the snow.  We were able to find a nice open meadow to set up camp and the children were soon breaking in a few sled runs in the pristine snow on a nearby hill.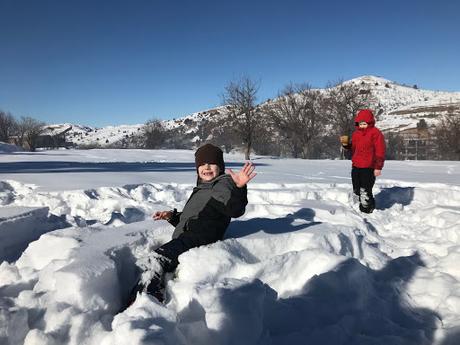 Elizabeth was entranced by this fluffy white stuff, and kept sticking her hands in it so she could play with it.  But as soon as the cold set in, she would begin howling at the pain and demand comfort.  And then after her hands warmed up, she'd go back to the snow, hoping that this time, it wouldn't hurt her hands.  The rest of the children, thankfully, didn't yell so much when they got snow on their own hands.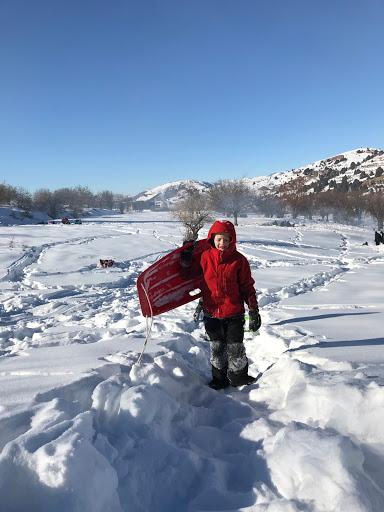 Everyone enjoyed a nice snack and cup of hot tea before going back to their sledding and snow play.  Thankfully everyone had enough warm clothes that they were able to play and play without getting too terribly cold.  Slogging up hillsides through knee-high snow also helped keep everyone warm.  I got warm enough to unzip all three of my coats.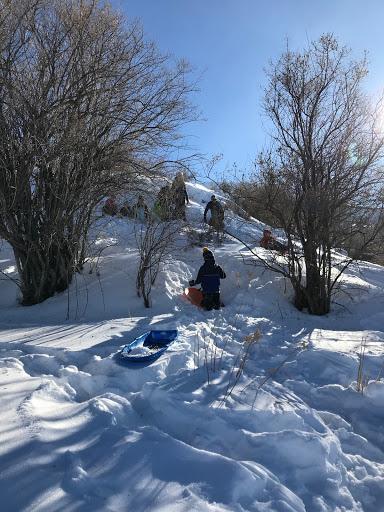 As everyone played and snacked and played, the hillside filled up with Uzbeks who had had the exact same idea we had, minus the playing in the snow part.  By the time we had left, parties dotted the hillside, and shashlik (kebab) fire smoke filled the air.  I saw families haul up large plastic sheets, dig out an area to sit on, lay cushions and blankets on top, and then lay down to hang out - after taking their shoes off and hanging them up in available trees.  Some brought music to play, and I saw one party that had hauled up an iron and wood table and chairs.  It looked like everyone was hanging out at the beach - except it was January and there was almost 2 feet of snow on the ground.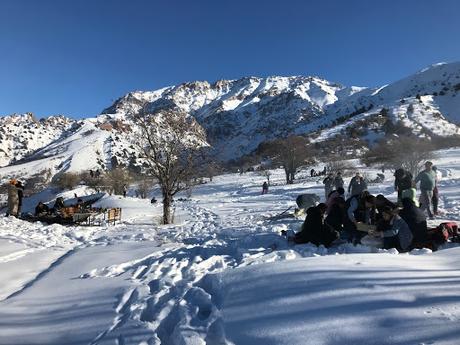 By 2:30, some children had gotten cold and others needed a nap, so we decided to head home.  That's when the real fun started, as we got to squeeze past double-parked cars, other cars trying to get in to the parking lot, and join the long line of cars on the road.  As we passed the main ski area of the hill, I realized that we had been in the sparsely populated area of the mountain - the main area had horse rides, snowmobile rides, sleds, skiers, restaurants, plastic covered tapchan booths, and about ten thousand Uzbeks milling around, enjoying the sights.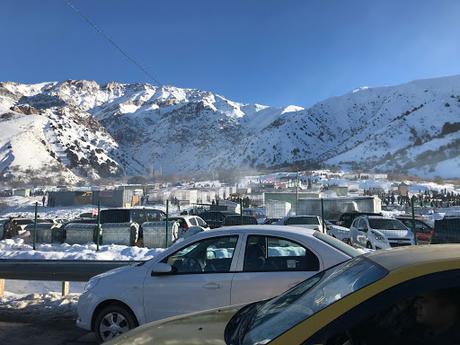 Our drive home got an extra 45 minutes to an hour tacked on to it and Brandon and I had flashbacks to Azerbaijani driving as a two-lane two-way highway got turned into a four-lane one-way highway by impatient drivers who couldn't stand waiting in the stop-and-go traffic returning to Tashkent.  
But in the end, however,we made it home and our car didn't have any new scrapes added to it, so the day was a success.  Next time, however, we're not going sledding on a holiday weekend.