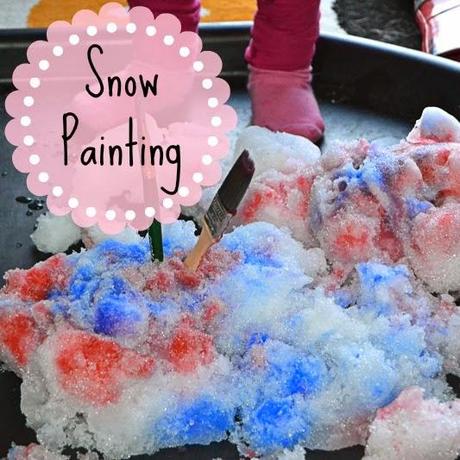 It snowed again! Much more than two weeks ago when I posted some pictures of us out in the snow, I measured it (I know that's quite sad) at 4 inches. Nothing compared to what a friend in America has - she has 2.5ft!
My nephews and sister-in-law came over to play today and we went out in the snow for a while. Isabelle hated it. She has no problem at all touching the snow with her hands, but she absolutely refused to stand in it. I guess she doesn't like the feel of it beneath her feet - and it is a weird sensation as it crunches and compacts.
So, playing in the snow with her was a no go. My nephew, who is 3.5 years loved it! He made some snow angels and then he and I built a snowman together. A pretty poor one in fairness, and its head had fallen off before I got to take a picture!
When they went home, I decided to bring some snow inside for Isabelle to play with instead. I piled some onto the tuff spot and she enjoyed picking it up and playing with it, and we made a mini snowman inside.
I then decided to recreate an activity I saw someone post on Facebook and do some indoor snow painting. I squirted a splodge of poster paint into a takeaway box and then mixed it with some cold water to give a brightly coloured, very runny, paint.
Using our normal paint brushes, Isabelle then painted the snow with her red and blue paint. The paint seems to soak through the snow as it spreads itself and dilutes the color. We enjoyed painting the snow for about fifteen minutes, before it of course began to melt. Luckily, we have lots more snow out in the garden, and even more falling right now, so we can paint again tomorrow. I would like to be able to do it outside....if only I could convince Isabelle that the snow wasn't so horrible to stand on!