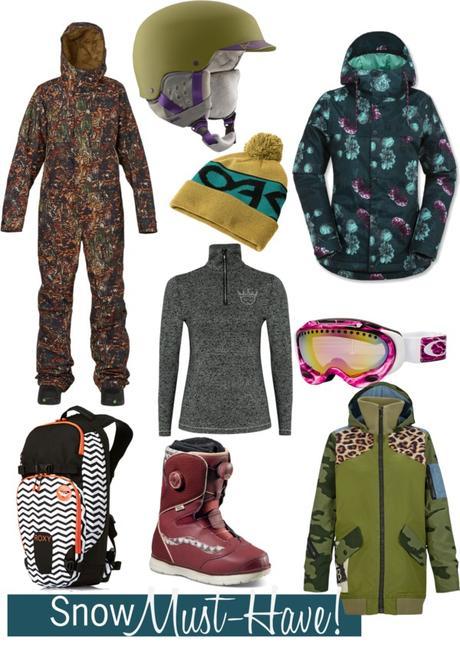 The end of the winter season is approaching. I just got back from Tignes so felt I'd share some of my must have pieces in case you're heading for a last minute snow fix. To be honest the later the season you go, the better it seems because you've already had a good amount of snow and the weather tends to be pretty awesome too.
Burton Riley One Piece The all-in-one deemed as a bit of a no-no many moons ago, only to come back around as being super cool. This one piece from Burton is absolutely amazing. The all in one is probably your best friend on the slopes because when you bail (hopefully you won't) snow won't visit anywhere it shouldn't - winning!
Anon Aera HelmetMe and hubby were eyeing up these helmets in resort. Big fan of a peaked helmet particularly one with tear warmers, because being sat on a lift with the cold wind on you really really feel it on your ears! You should always, always wear a helmet. 
S'No Queen Thermal topYou may have spotted me wearing some S'No Queen thermals on my previous trips to the mountains. They've been ace for keeping me super toasty and also great for just relaxing in the hotel/chalet.
Volcom Bolt Ins JacketI've loved Volcom since I was at school but I've never actually had any of their snow gear. My hubby has and I actually pinched his jacket when were recently in Tignes! Really comfortable and always on trend. Love this more girly one - not sure if I'd wear it on the slopes but I'd certainly have it for walking about resort or for a bit of acres ski.
Oakley Crowbar Snow Prizm GogglesI had a pair of Spyoptic goggles that I've had since 2009, they finally gave up the go on the last trip with the foam finally decided to fall off.  Not ideal! So I picked a cheap but good pair from Decathlon and now I'm now on the hunt for some newbies. Oakley are known for their amazing eyewear so goggles should surely be up there with the rest?
L.A.M.B x Burton Misfit Bomber JacketHow did it slip past me that Gwen Stefani's fashion label L.A.M.B had collaborated with Burton?! I actually spotted a helmet in Tignes with the logo for L.A.M.B on it, at the time I kind of recognised it but only when I was having a hunt for a new coat did I discover it! Edgy Gwen's classic leopard print teamed with khaki grunge in the form of snow gear - what's not to love?!
Vans Aura Snowboard BootsMy first pair of snowboard boots were black DC boas, then I went onto to Vans gray lace ups, so maybe it's time I went for a bit of colour!
Roxy Tribute BackpackI got this just before I went away recently because before I either always stuffed everything in my pockets or just took a bog standard backpack with me. Hubby recommended I finally invest in a decent snowboard backpack.... ta-da! My beautiful new Roxy one. It was super although every time I got on a chairlift I took it off, I had this paranoia I'd be sat too far forward and fall off. Obviously I didn't and the bag was perfect for carrying all my cameras, food, board and other stuff for the day. 
Oakley Factory Cuff BeanieLast but by no means least is a classic beanie hat from Oakley. You should always wear a helmet when on the piste but when you stop for lunch or just for generally walking around the town your ears might get cold. 
Anyway there you go my top picks of snow bits to keep you going through March!