If you want a memorable trip to Panama, don't miss the opportunity to go snorkeling in Bocas del Toro or San Blas.  Both of these Caribbean island groups are beautiful above the water, of course, and they are just as pretty beneath the waves.
I recently posted an account of our exploring Bocas del Toro, and a reader asked us if we saw any starfish there.  The answer is yes, absolutely! There were plentiful brittle stars, as well as orange sea stars, basket stars, and more whose names I won't bore you with.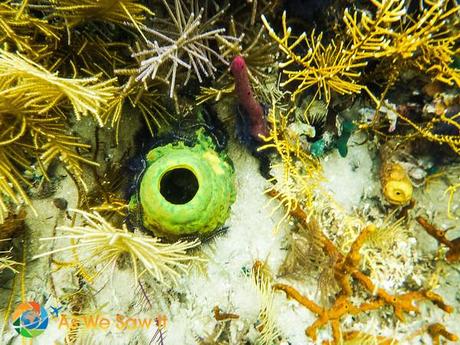 Here's a green sponge with some brittle starfish at its base.
Dan was a little frustrated by not always getting the best focus in his shots.  If you plan to take your camera on this trip, be forewarned: It's harder to focus when in the water than on land.  The photographer, the water and the fish are all moving. Besides, this was his first time to try out our brand new underwater point-and-shoot camera.  For a first time user, I think he did pretty well.  (But then, that's why he's the photographer and I'm the writer in this team!)
Underwater wildlife
Besides a variety of starfish, we saw plenty of other things, many of which we used to keep in our 90-gallon saltwater fish tank.  Here, we could look at the beautiful marine life without having to decide what we could afford!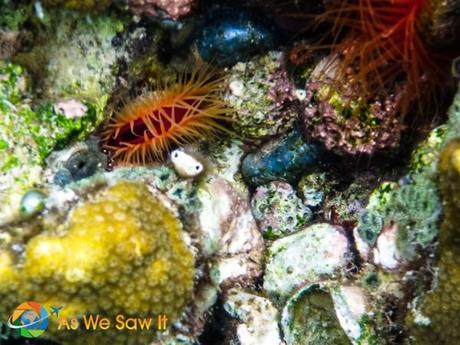 Flame scallop on reef snorkleing in Bocas Del Toro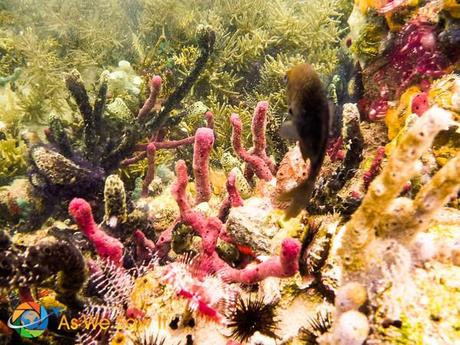 Reef shot while snorkleing
How to have a bit of fun while you're snorkeling
If you look closely at the reefs you'll see feathery things sticking out from between the rocks. Brown, purple, pink … you might think that they are some sort of coral, but they're not. They're actually a type of worm known as a feather duster. Those feathery fronds sweep microscopic particles into their mouths; that's how they eat.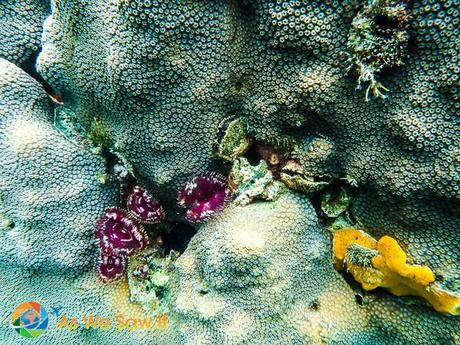 Purple, pink, brown … some feather duster worms are as big as your hand, while others are as small as a fingernail. Feather duster worms are extremely skittish, which makes them really fun to play with. Any time you get near them, they vanish back into their tubes so quickly that you'll wonder if they were there to start with!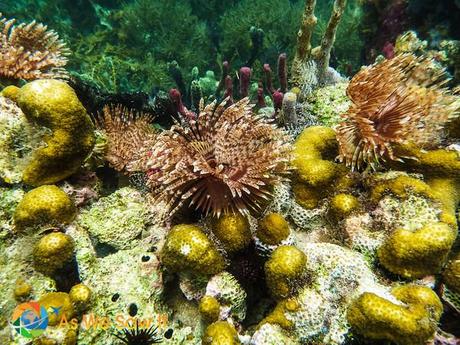 We make a game of trying to see how close we can get before they disappear.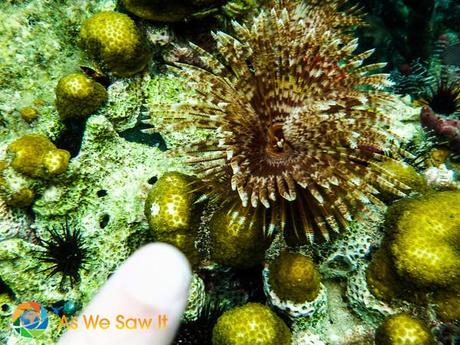 There he goes!
Life under the water
This is a type of damsel fish. It kept attacking whenever one of us got close. Damsels are very protective of their young. If you look carefully behind and slightly above the tail you will see the eggs she was protecting.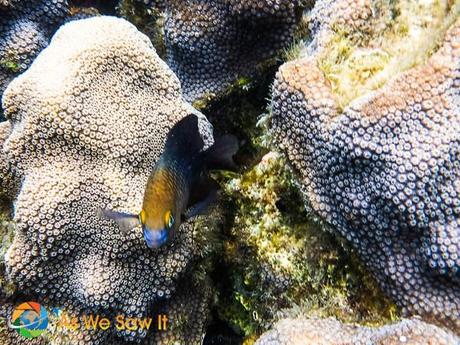 These brilliant purple sponges are actually animals. Like the feather duster worms, they too are filter feeders.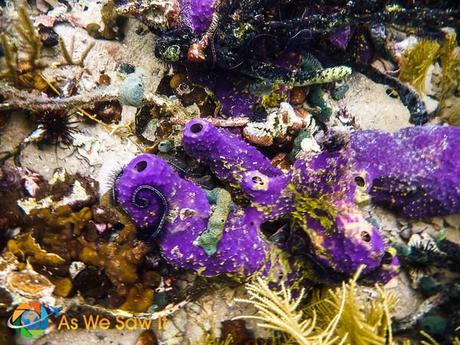 Beautiful purple sponges among the brilliant display of colors.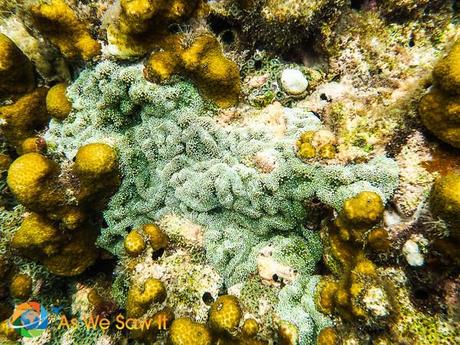 Green carpet anemone nestled among sponges.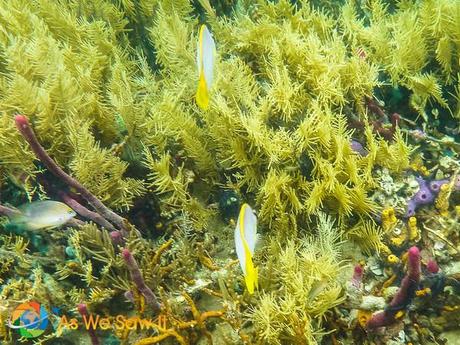 Pair of Butterfly fish fluttering away from the camera.

To see more of Dan's underwater photos, please see our Under Bocas del Toro photo gallery.
If you enjoyed this post, be sure to subscribe to our newsletter.