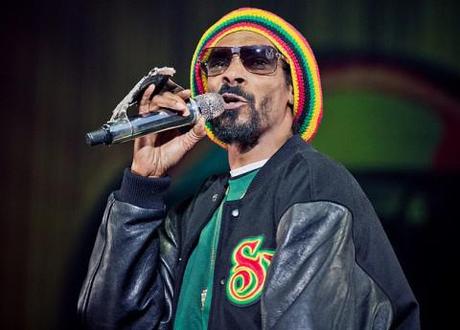 Snoop Lion, the artist formerly known as Snoop Dogg. Photo credit: NRK P3 http://flic.kr/p/cnvs9m
The background
Calvin Cordozar Broadus Jr  aka rapper Snoop Doggy Dogg is changing his name to Snoop Lion. The Californian rapper famous for hits like Gin n Juice and Still A G Thang confirmed his name change on Tuesday. Snoop's change of name and musical tack includes a new Diplo-produced single called La La La and the upcoming documentary Reincarnated, set to premiere at the Toronto International Film Festival in September.
"I have always said I was Bob Marley reincarnated," Snoop told a crowd of reporters at a news conference at Miss Lily's, a Caribbean restaurant in New York, reported The New York Times. He added: "I feel I have always been a Rastafari. I just didn't have my third eye open, but it's wide open right now."
A real change?
The Guardian US News Blog reported that Snoop's name change does seem to be more than just a publicity stunt: "The rapper says he underwent a spiritual and artistic rebirth while in Jamaica where he's been working on his next album. Rastafarian priests reportedly inspired the name change." Explaining the moment he found his new name, Snoop said, "I went to the temple, where the high priest asked me what my name was, and I said, 'Snoop Dogg.' And he looked me in my eyes and said: 'No more. You are the light. You are the lion.' From that moment on, it's like I had started to understand why I was there.'"
"While it may be easy to speculate that the rapper's venture into reggae and conversion to Rastafarianism is only fitting for one whose fame as an artist in recent years has perhaps been eclipsed by his image as a marijuana enthusiast, Snoop's foray into a new spiritual and musical world seems to go much deeper," observed Browbeat, Slate's culture blog.
More than just a name change
Snoop isn't only changing his name, he's also switching genres. Calling rap "no longer a challenge" Snoop says he'll devote the rest of his career to reggae, beginning with his appropriately titled next album Reincarnated.
"With no disrespect to other rappers, but they can't f*ck with me in rap. … I've won every accolade you can get in rap, they call me 'Uncle Snoop' in rap. When you're an uncle, it's time to find something new. … I want to feel like a kid again," enthused Snoop Lion.
Snoop Lion really can roar
Browbeat, Slate's culture blog said that the rapper can succesfully make the transformation from "iconic hip-hop artist" to reggae singer: "Snoop's ability to glide effortlessly into a softer, more sing-songy tone made him stand out from the other gangsta rappers of the '90s, cementing his voice as an instantly recognizable rap institution. A transition into reggae only seems fitting for him … "
Bit of a midlife crisis
"There was more than a whiff of midlife crisis in Snoop's remarks," sniped The New York Times. "He said he was tired of being a hip-hop artist, of the young man's macho bluster inherent in the form, and he felt the songs he had done so far did not reflect the wisdom he had gained from being a 40-year-old father of three."