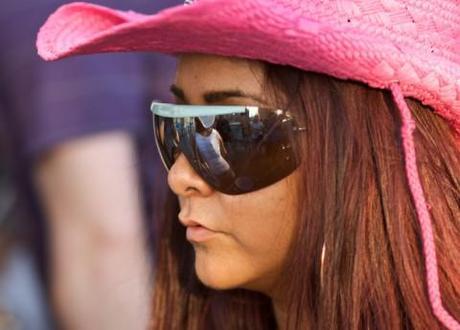 Snooki. Photo credit: NVS Inc
Reports out Wednesday claim that Snooki, the Jersey Shore's resident Oompa-Loompah, is expecting her first child with on-off boyfriend of one year, Jionni La Valle.
Snooki, known to her police and her family as Nicole Polizzi, is far and away the MTV "reality" show's break-out star: The 24-year-old, along with fellow Shore-ian Jenni "J-woww" Farley, is reportedly starring in a Shore spin-off (but it won't be in Hoboken); she published her first novel, Shore Thing, in 2010; and she's even got her own perfume [Ed. Note: We're taking suggestions on what that might smell like: bronzer and vomit? Testosterone and hair gel? Smoosh smoosh?]. And now, according to trusted news source Star magazine, she's got her own little spin-off happening: She's told her close friends and family that she's expecting; a "big announcement" will be forthcoming.
So, now that the pint-sized guidette maybe swapping "gym, tan, laundry" for "Gymboree, teething, laundry", what's the word from the media?
Twitter hints. The Daily Mail claimed that Snooki has been dropping hints on Twitter that she might be expecting a mini-guido, including tweeting on January 24, "I feel sick", before later adding "Late night craving…yogurt hits the fricken spot!" Celeb gossip site HollywoodLife added, "We expect her other cravings will include Snooki's favorite food and pregnancy staple: pickles."
What about that spin-off? According to HollywoodLife, producers for Snooki's spin-off are having to rethink their "creative direction" for the show. Said Emily Morgan on the gossip site, "We hope that change in direction includes less partying in the clubs and more 'mommy and me' time at Gymboree." Celeb blogger Perez Hilton agreed: "She does know you have to stop drinking when you're preggers, right? That's sort of a big deal … like making sure you're not pale before or after Labor Day. (Just trying to speak her language!)"
Are you sure (shore), Snooki? Hilton was happy for the Snookster, but sounded a note of caution: "It's joyous news for sure and we are NOTHING if not extraordinarily happy for her … if this is what she wants. She is still very young and she has so  many years to watch her career flourish. There's time to have a baby, but we're just not that sure if that time is now."
Is it real? Leah Beckmann, Gawker's "bloodhound journalist with a killer instinct", went to fellow Gawkerite, "Dr. Brian Moylan, PhD in Jersey Shore Studies", for reaction: Moylan suggested that though the story was likely "fake", "it is equally as likely for 'Snooki to get far too fucked up to use birth control or remember to take her pills.'"
What about her weight? Snooki had long been one of reality TV's more zaftig stars, until the end of last year when her weight plummeted to 98 pounds, according to The Daily Mail, which keeps strict records of these kinds of things. Snooki credits her weightloss to diet pill Zantrax; the paper helpfully noted that "side effects can include palpitations, anxiety, cold sweats, nausea, diarrhea, increased heart rate and irritability." Which may be why she tweeted "I feel sick" recently.