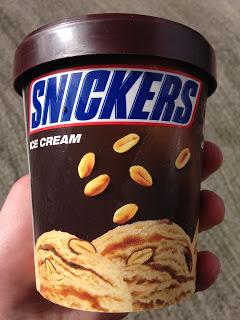 I was quite excited when this Snickers Ice Cream tub popped up in Asda recently, along with Mars and Twix Ice Cream tubs. I can't eat the latter two as both contain gluten, but this one is gluten free - huzzah!
I am sure they used to make these many moons ago, back in the 90's. I distinctly remember eating the Mars variety as a child. So they are perhaps a recycled idea rather than something completely new. Regardless, it's always good to have more peanutty products on UK shelves!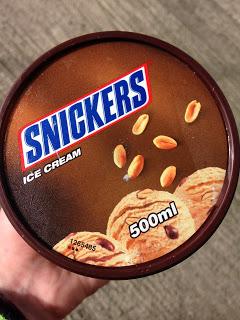 This cost £3 in Asda and is described as "Peanut dairy ice cream with milk chocolate coated peanuts, caramel and milk chocolate flavor sauce".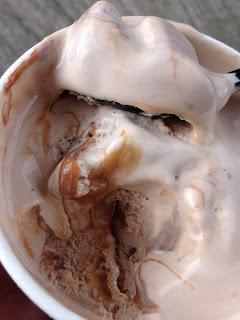 When I opened the tub a lot of the ice cream had melted, which meant only one thing: eat as much as possible to stop it spilling out of the tub! (Any excuse).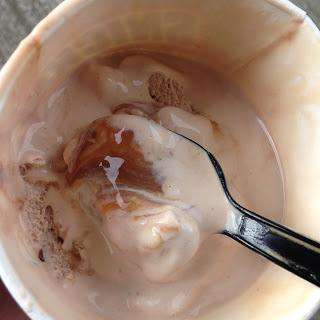 The ice cream is lovely, you can definitely taste the peanut flavor as it has that salty savoury taste going on. The caramel is a nice addition and provides some sweet gooey texture, although I didn't even realize there was a milk chocolate sauce, I just assumed it was all caramel. The peanuts are interesting: they're well roasted and stay true to those found in Snickers bars, being whole and crunchy.  Presumably their chocolate coating is what stopped them going soggy amongst the ice cream. They're what makes this ice cream stand out compared to all others really - usually, you just get pieces of chopped nuts in ice cream (like Jude's Peanut Butter Chocolate Ripple for example) or nut paste, but here they're giving you whole crunchy peanuts. They were a bit strange to crunch on whilst also eating soft ice cream, but I did enjoy them. They've stayed true to the Snickers formula for sure.
Overall, this is a very tasty ice cream indeed, if anything I would recommend buying it just for the crunchy peanuts. At £3 a tub it's quite good value too compared to the likes of Ben & Jerry's and Haagen Dazs when they're at full price.
Suitable for vegetarians. 
Nutrition (per 100ml/2 scoops): 190 Calories, 10g Fat, 21g Carbohydrates, 16g Sugars, 3.7g Protein.
8.5 out of 10.