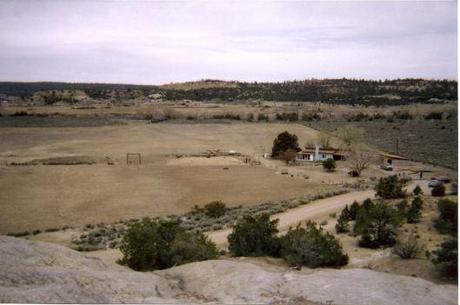 Whenever I eat a snickerdoodle, this is where I am — on the hills above my grandparents' home in Northern New Mexico. Anytime I eat/see/see something resembling a snickerdoodle, the association is so strong that I immediately think of this view (it's like Proust and his madeleine, only mine tastes better!)  When my family would visit, which was often because we lived just a couple hours away, one of the first things my sisters and I would do (probably even before saying hello to our grandparents), was check the cookie jar to see if it was full. It usually was, and it was usually full of snickerdoodles. For many years, my grandmother's snickerdoodles were the only snickerdoodles I saw anywhere, and when I was little, I used to think she had invented them.
My sisters and I would raid the cookie jar and then head outside, cross the cattle guard, and climb the hills, spending hours exploring, making hideouts, and wearing out our jeans by sliding down the hills. Eventually, someone would come out of the house, call our names, and wave us in for dinner.
I inherited my grandmother's 1950s Better Homes and Gardens Cookbook, and her snickerdoodle recipe is taped in the beginning of the cookie section, one of many taped and inserted recipes scattered throughout the cookbook. My mother recently gave me  that cookie jar, and my grandmother's snickerdoodles are the only cookie that should go in it.
The recipe she used was developed at McCurdy School, a K-12 in Espanola, New Mexico, by a home economics class, whose teacher had a great name — Gwyn Pringle. The clipping doesn't have any date or publication information, so I don't know where or when it appeared, but I love the fact that at one time, newspapers printed recipes from a high school home ec. class.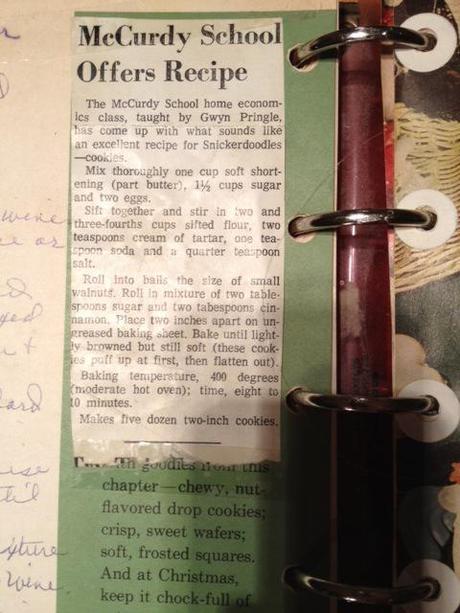 Snickerdoodle recipe in my grandmother's cookbook
McCurdy School Snickerdoodle Recipe (with my modifications)
Mix one cup soft shortening (part butter) with 1 1/2 cups sugar and two eggs. For the shortening-butter mix, I use half shortening, half butter.
Sift together and stir in 2 3/4 cups sifted flour, two teaspoons cream of tartar, one teaspoon soda and a quarter teaspoon salt. [Confession: I don't usually sift ingredients.]
Roll into balls the size of small walnuts and roll in mixture of two tablespoons cinnamon and two tablespoons sugar. [Confession: Even for a cinnamon lover like me, this is still too cinammony, so I usually add another tablespoon or tablespoon and a half of sugar to the mixture.]
Place two inches apart on ungreased cookie sheet and bake at 400 degrees for 8-10 minutes (but, I usually find they're done closer to 8 minutes) until lightly browned but still soft. [Confession: My cookies are usually less than two inches apart, so I can fit more on the tray.]
Cookies initially puff up but then flatten out.
Makes five dozen cookies. [Confession: I must sample a lot of dough because it doesn't matter the recipe, I never seem to get nearly the number of cookies you're supposed to.]
When the snickerdoodles are cool, fill the cookie jar.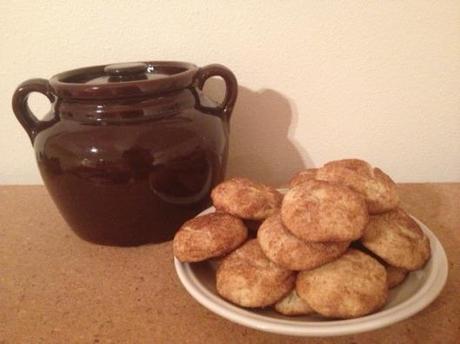 Snickerdoodles and cookie jar
""