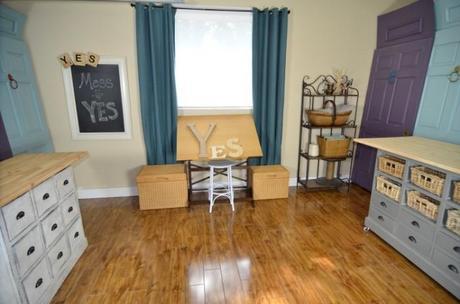 Between speaking, giving webinars, writing, and planning for Serving Up Style, I was afraid I'd never get the studio set up the way I wanted it. I drew out a few designs and finally settled on what would become the final layout, but finding the right flooring, doors, knockers, paints, and everything else proved to be a much larger task than I'd planned. After painting and repainting and attaching wheels and legs to the doors and tables, the kids and I cleared our weekend and pushed through to the finish line.
Through the magic of time lapse photography you can see how everything came together over this last weekend! I'm excited to have turned what was a cluttered and dreary corner of the garage into such a welcoming and multi-functional space. It also means that after all the chaos of moving, we're ready to go with Season 3 of our Mess to Yes DIY series!
I can't wait to get started on some new projects, so leave a comment if there's anything you'd like to see!