(I first posted this on my recipes blog, whoops, sorry!)Hiya guys!  I was noticeably absent for Halloween.  Didn't post about and special festive treats or recipes.  Sorry about that.  Life has been keeping me busy, and I didn't get into any creative food prepping for Halloween.  Last Friday I finished my edits, and that gave me the weekend to decorate the house (I thought I posted photos once before, but looks like I haven't.  I started some frenzied Halloween decorating before we even had children.  Now there's no turning back, must decorate every year, and it's a big job!).  Add on weekend activities and getting sorted again for Monday's Halloween happenings - yeah, making spider cupcakes or pumpkin cookies was just not on my radar.
But, here's what is on my radar: Jerk Chickpeas!  This is a new recipe from LTEV.  I love this one.  As I said in my last post, I love bean recipes, and this one is spicy and flavorful.  I made them today for dinner tonight, and thought "enough, I can't keep back all the photos any longer!".  So, here is Hannah's splendid photo of my Jerk Chickpeas.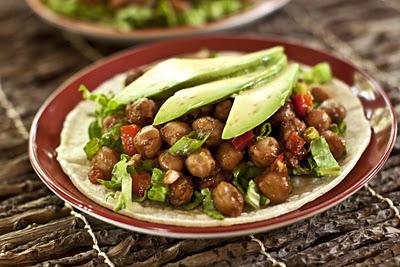 You can serve these chickpea on rice or quinoa, but I especially like to fold them in warm tortillas with slices of avocado, which is how we presented it here.  The cool avocado offsets the spicy marinade so wonderfully.
A little sneak peak for you.  Hopefully you can wait another few months for the recipe - yes?